Children and their families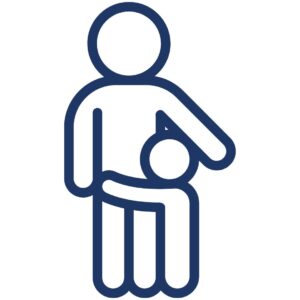 From emerging global health issues to the complex role of social media in how we live to cuts in public education and social programs, children and their families face new and difficult pressures.
The Children and their Families field of study prepares students for practice with children and their families at various levels of intervention — from individual and systems work, to community practice and program and policy development. This field of study is informed by a social ecological/developmental model that considers children as dynamic individuals interacting with their environment.
Given the central role that families play in a child's socialization and other systems that impact children and adolescents, building on family strengths is key to achieving positive child and youth outcomes. The developmental perspective adds an understanding of child functioning, critical stressors, protective factors, and sites of resilience in children, youth and their families. A trauma informed lens highlights the prevalence and impact of adverse childhood events and experiences of trauma.
Approaches taught are informed by current research evidence and empirically supported interventions within culturally responsive contexts. It is recognized that social work practice with children and their families intersects with important policies. Knowledge of these polices and their impact is crucial to informing competent, culturally based, ethical practice.
Coordinator
Professor Michael Saini (Michael.saini@utoronto.ca)
Core faculty
Required course offerings
SWK 4620H: Social Work Practice with Children and Adolescents
SWK 4608H: Social Work Practice with Families
SWK 4625H: Intersection of Policy and Practice with Children and their Families
SWK 4514H: Research for Practice with Children and their Families
Two half-credit graduate level electives
SWK 4702Y: Social Work Practicum II
MSW Program with Advanced Standing complete the above courses plus, the compulsory course: SWK 4510H Research for Evidence-Based Social Work Practice. SWK 4510H must be completed before taking any of the required research courses in this field of study. Students take this course in the first terms of the MSW Program.
Related elective examples
Examples of of electives related to children and families include:
The electives listed above are offered most years depending on instructor availability.
Practicum examples
Practicum opportunities include: 1) children's mental health centres and juvenile justice systems 2) child welfare settings 3) school boards 4) hospital settings 5) child advocacy and ministry
Organizations:
Yorktown Child and Family Services
Sick Kids Center for Community MentalHealth George Hull Centre for Children and Families
Child Development Institute
Hospital for Sick Children
Sunnybrook Medical Centre: Adolescent Unit
Toronto District School Board
Children's Aid Society of Toronto
Native Child and Family Services
Office of the Children's Lawyer
Covenant House
Evergreen Youth Services
Woodgreen Services
Peel Children's Centre
Centre for Addictions and Mental Health – Child and Adolescent Unit
The practicum examples listed above are offered most years, depending on supervisor availability.
Career prospects
Graduates of the Children and their Families field of study obtain employment in areas of children's mental health, child welfare, school settings, and health units.
What competencies can I expect to gain from this field of study?
Students will become familiar with the social ecological/developmental model which views children as interacting with and affected by their whole environment, an approach that is informed by the most current empirical research. Child mental health and the various issues that children and youth are referred for services will be covered.
Students in Children and their Families can expect to learn how to engage children and their families and conduct assessments and evidence-informed interventions across systems levels. Students will learn to critically analyse policies and identify impacts on children and families. Evaluating practice and programs and developing proposals for service funding will also be part of the student learning experience. Students will leave the program with networking and advocacy skills and knowledge of program and policy development.
---
Children and their families: faculty and students in the news