Teaching to impact
Preparing students to respond to the complex needs of 21st century societies is among our major priorities.
---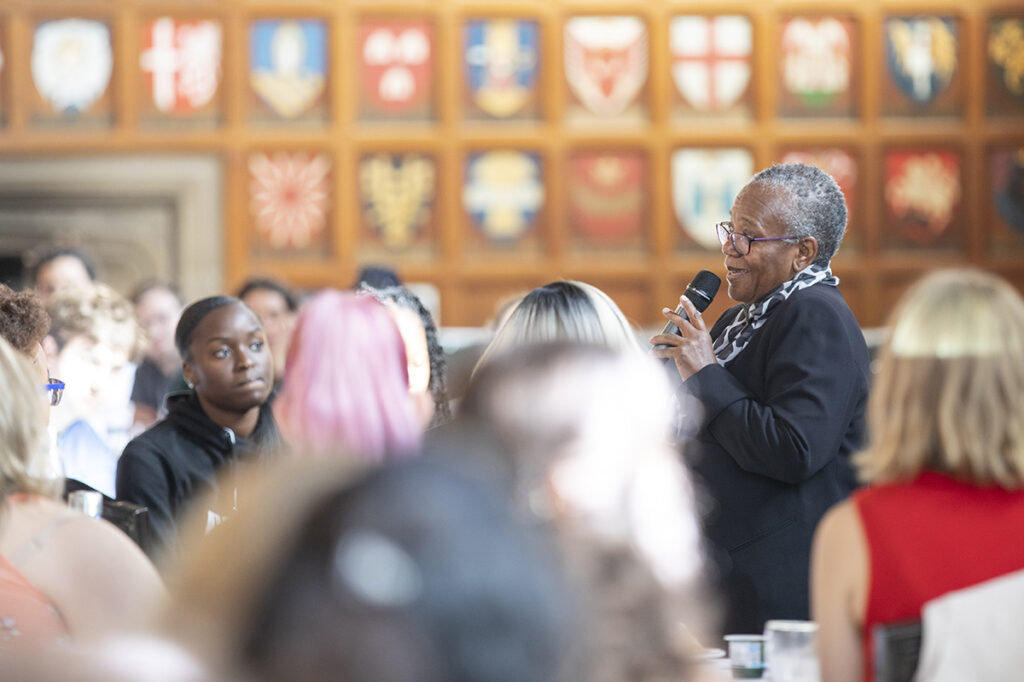 Senator Wanda Thomas Bernard welcomes news students 
In September, Senator Wanda Thomas Bernard, shared insights learned over a lifetime of breaking barriers and making change with MSW students starting their first semester at FIFSW. Speaking at Hart House, Bernard described her journey from East Preston, N.S., where she grew up in "absolute poverty," to Dalhousie University and the hallowed halls of the Canadian Senate. Her inspiring talk was part of our annual introductory conference at which students heard directly from social workers in fields such as as policy, child welfare and health equity for immigrants and refugees. During the 2020-2021 academic year, Senator Thomas Bernard will be a Distinguished Visiting Community Scholar at FIFSW.
---
Community in the classroom
Assistant Professor, Teaching Stream Keith Adamson (pictured with his class, top left) created a new course co-developed and co-taught and by members of the disability community titled "Social Work and Disability Practice: A Client and Family-Centred Approach." This course is one example of the community of learners model that we are amplifying with the Faculty.
This teaching model "has the potential to shift power relations inherent in the professional helping relationship," wrote Anna Aksenovich for the U of T publication Re:Think. It's an approach that could be applied to other social work courses as well. According to Holland Bloorview, which, along with Surrey Place and UHN, collaborated with Adamson on the initiative, the course — the first of its kind in Canada — elevates family and client voices.
---
Classrooms without walls
FIFSW's Classrooms Without Walls is part of our five-year strategic plan and aims to further de-silo the relationship between universities and communities. As part of this effort we held classes in community settings and invited agency participants. This year, Associate Professor Ellen Katz taught Advanced Topics in Family Therapy at SickKids Hospital; Assistant Professor Samantha Anthony taught Social Work Practice in Pediatric Health Care, also at SickKids; and Sessional Lecturer Kenn Richard taught Social Work Practice and Aboriginal Peoples at the Native Child and Family Services of Toronto.
---
Curriculum and Innovation committee
Comprised of faculty, student and alumni, a new 2020-2021 committee was established to examine how diversity, Indigenous, anti-racism and decolonizing content can be better incorporated throughout FIFSW's implicit and explicit curriculum. A key goal is to further align our curriculum to the mission of social work while making it more accessible and inclusive to a wider and more diverse group of students and communities.
---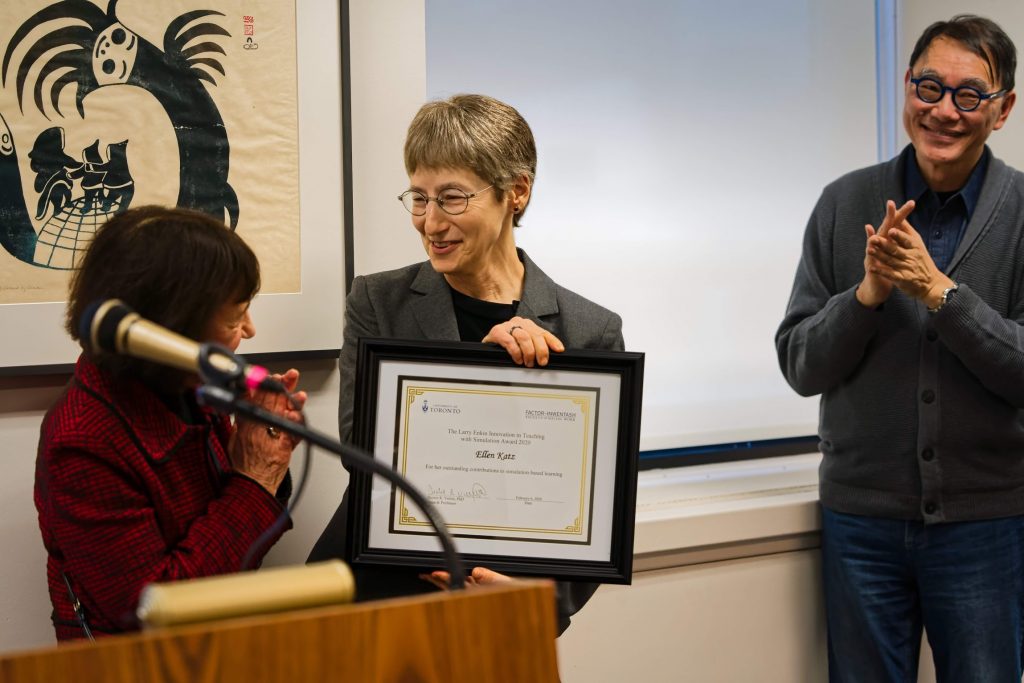 Ellen Katz receives the inaugural Larry Enkin Innovation in Teaching with Simulation Award
Simulation is FIFSW's signature pedagogy, and on February 6, Associate Professor Ellen Katz received the inaugural Larry Enkin Innovation in Teaching with Simulation Award. This award acknowledges her outstanding contributions to elevating simulation. Professor Katz introduced simulation learning to her mindfulness course in clinical practice, and has shown dedication to reviewing and refining her approach and publishing on this topic.
---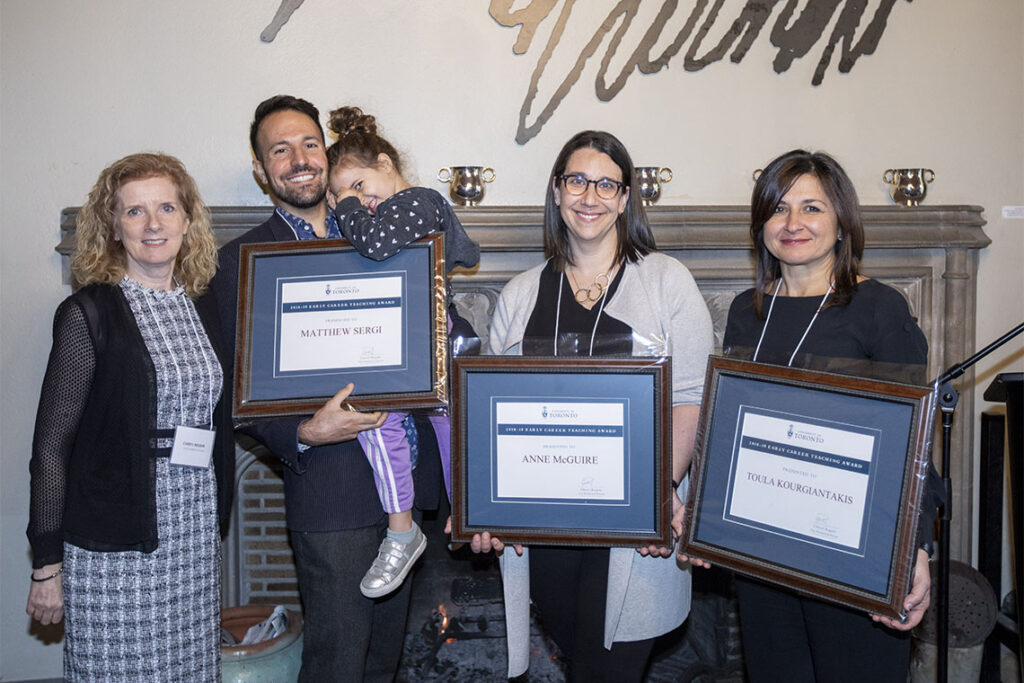 U of T recognizes Toula Kourgiantakis with an Early Career Teaching Award
U of T's Early Career Teaching Award recognizes faculty members who are effective teachers and demonstrate an exceptional commitment to student learning, pedagogical engagement, and teaching innovation. Our own Toula Kourgiantakis (pictured above) an assistant professor, teaching stream, earned this award in fall 2019. She has been instrumental in the development of "Practice Fridays" – where trained actors, field instructors and industry professionals provide MSW students with the opportunity to practice foundational skills. Professor Kourgiantakis has focused on improving the FIFSW's capacity to address mental health in the social work field.
---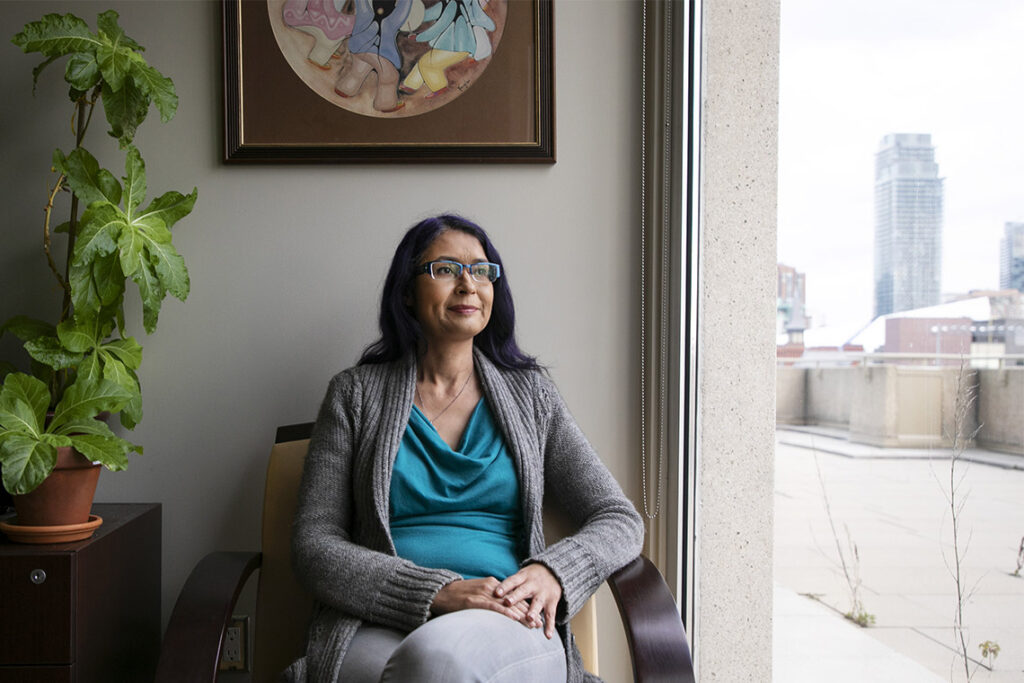 U of T News features FIFSW's Indigenous Trauma and Resiliency Program
Launched in 2016, FIFSW's MSW-ITR program was inspired by seven Indigenous women – Kim Anderson, Maria Campbell, Suzy Goodleaf, JoAnn Kauffman, Sylvia Maracle, Rebecca Martell and Jane Middelton-Moz – and a unique collaboration among the Ontario Federation of Indigenous Friendship Centres (OFIFC), the Middelton-Moz Institute and the Factor-Inwentash Faculty of Social Work (FIFSW). The two-year master's program prepares its graduates to help individuals, families and communities affected by historical and generational trauma. It focuses on theoretical knowledge, personal development and skills-building through face-to-face, week-long courses, online distance learning and field placements. "I keep in touch with the graduates of our program and a large number of them have already been put into executive director positions," said Middelton-Moz. "We couldn't be happier." Read about graduate Julie Blair, who celebrated her convocation from the ITR program this past November.
---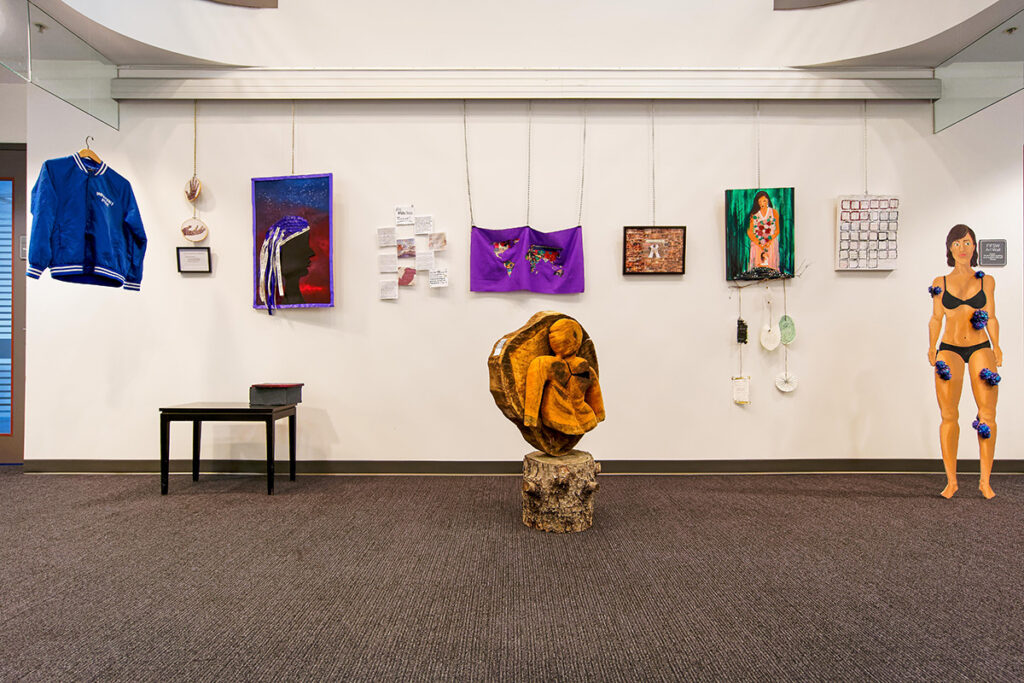 Strengthening community, communication and research through art
Associate Professor Izumi Sakamoto led the launch FIFSW's Art Wall in 2005 with help from then-staff and alumna Chery Mitri. Sakamoto's current research includes an examination of contemporary artistic practices and activism related to the wartime incarceration of Japanese Canadians. She is also part of a California-based working group that facilitates roundtables on increasing the use of art in social work practice and research.
The Art Wall located outside the elevators on the third floor of FIFSW's building, has become the showcase for artwork by students, alumni and other members of the FIFSW community. This past fall, Professor Ramona Alaggia challenged her students to create work that acknowledged the 30th anniversary of the Massacre at École Polytechnique in Montreal. Of the 24 students in the class, 14 chose to complete an art project for their final project versus writing a traditional paper.
---
Student experience and support
In the past academic year, FIFSW has:
received a renewed gift of $225,000 to the ITR program from the Fu Hui Education Foundation, which will be matched,
dispersed emergency COVID-19 funds to support students in need,
increased summer and fall course and practicum flexibility to support COVID-19 uncertainties,
raised funds for our new Student Leadership Academy, created to support 10 second-year MSW students in developing critical skills needed to emerge as social work leaders,
increased student communication via five community-wide update meetings; monthly Dean office hours for students, faculty and staff; and weekly Associate Dean, Academic Student Digest.
Support for international students
This year, we increased the number of admitted international students to our program for the 2020-2021 academic year by 300%. To improve sustained support for our international students, FIFSW has appointed Ms. Megan Davies, MSW, to the role of International Student Coordinator. In this role she is responsible for overseeing the liaison among the Associate Dean Academic, Practicum Office, the Centre for International Experience (CIE), the Admissions and International Student Advisors, and the Graduate Centre for Academic Communication (GCAC) at the School of Graduate Studies (SGS).
In addition, Associate Professor Izumi Sakamoto will serve as the FIFSW International Liaison during the 2020-2021 academic year, providing training to staff and faculty on the unique needs of international students and best practices for supporting international student success.
Student Leadership Academy
Coming soon, 10 second-year MSW students will be inducted into our new Student Leadership Fellowship Program, created to support and develop our already exceptional students for leadership roles within diverse sectors. Student Leadership Fellows will receive a stipend, plus highly tailored mentorship from top civic, business, and government professionals who will help them develop the critical skills needed to emerge as social work leaders. Course work and special workshops will support leadership acumen, and involvement in this fellowship would count towards practicum hours. More information on the program and how to apply will be shared in the months ahead.
FIFSW Alumni Mentoring Program
FIFSW alumni provide inspirational examples of what our graduates accomplish. In sharing their experiences and advice, they are also an invaluable source of support for graduating students as they prepare to embark on an important and exciting phase of their lives.
Throughout October, the FIFSW Alumni Mentoring Program held Lunch with a Recent Grad events, during which recent graduates shared their experiences and provided students with advice and insight on the transition from student to a professional social worker.
In total, 47 MSW students were matched with a mentor this year. In January, a networking social event designed to give students to opportunity to meet with all participating alumni kicked off the official program. Students were also invited to participate in two workshops focused on resume writing and interview skills for social workers.
At the completion of the program, students are invited to nominate outstanding mentors for an award. This year's winners included Beverly Guttman, Illaneet Goren, Reshma Dhrodia, and Michelle English.
Special thanks go out to all alumni who volunteered as mentors this past academic year. Your participation means so much to our students!
We'd also like to thank alumna Michelle English, the Alumni Association Alumni Mentoring Program representative, for her role in helping to make the 2019-2020 mentoring program a success!
---
Practicum
We are both grateful for and inspired by the creativity and flexibility of our practicum office as well as our alumni who volunteered as Field Instructors in the wake of the COVID-19 pandemic. In response to the restrictions imposed by the pandemic, FIFSW offered flexible start dates for the fall semester, off-schedule practicums that allowed for an early start, educational resources on e-supervision for Field Instructors, new virtual learning activities and the ability for students to do placements in communities outside the GTA. Our Practicum Office also created guidelines for employment- or volunteer-based practicums focused on student learning.
Morgan Weatherup (MSW 2017) was one of the alumni who stepped in as a Field Instructor to provide virtual supervision when the pandemic hit. In the video below, she and her student placement Mariana Paz-Solden discussed their experience working together remotely.
Interested in becoming a field instructor? Click here to learn more about the benefits of working with future practitioners.
---
Online Counselling Clinic
As we move towards a new academic year, we look forward to launching the FIFSW Online Counselling Clinic, an initiative developed to respond to growing mental health challenges that have increased in the wake of COVID-19. In addition to providing free mental health support to low-income and high-need youth and families, the Online Counselling Clinic will provide important practicum appointments for students to further advance their clinical acumen. In the future, training and research opportunities will be incorporated into the clinic model.
---