Our History & Donor
Larry Enkin's Gift Propels FIFSW Simulation Program One Giant Leap Forward
In the Fall 2013 Larry Enkin donated $1 million towards the Factor-Inwentash Faculty of Social Work Simulation-Based Teaching and Assessment Program – the first program of its kind in Canada. This is the first $1 million gift that FIFSW received as part of the Faculty's Boundless Campaign.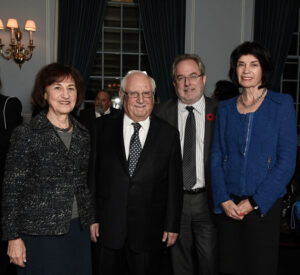 "We are extremely grateful to Larry Enkin," says Dean Emeritus Faye Mishna, "for his generosity and belief in the tremendous promise of simulation and all that the Factor-Inwentash Faculty of Social Work can accomplish with this ground breaking program. This is a very exciting moment for our Faculty. We will now be able to systematically integrate simulation as our signature pedagogy."
Simulation Learning at FIFSW
The simulation scenarios, as well as the way they are taught, are the product of intensive research by Factor-Inwentash faculty, led by Professor Marion Bogo. Bogo is an expert in building professional competence, and was appointed to the Order of Canada in 2014 in recognition of her work.
Between 2002 and 2010, Bogo and her colleagues conducted research and developed a model of what holistic competence in social work looks like; they then tested effective scenarios and evaluation methods. U of T students participated in pilot projects, which in turn refined the model and sparked further research. In 2010, the Simulation Program was launched for all first-year MSW students including the Objective Structured Clinical Evaluation (OSCE), a systematic testing method, used to evaluate all first-year students.
In order to fund stipends and training for the actors, the Faculty sought donations. In 2012, Larry Enkin generously gave $250,000, and in 2014 he gave $1,000,000 in honour of his late wife Sharon Enkin, who had run the non-profit theatre company Golden Horseshoe Players in Hamilton, Ont.
The landmark gift endowed the Simulation Program and facilitated its expansion – more faculty members and doctoral students joined the research projects, and simulations were created for more courses.
Professor Toula Kourgiantakis joined the faculty as Simulation Educator in 2016. Since then, she has developed innovations, such as Practice Fridays, which have further enhanced students' learning. Kourgiantakis has supported faculty members interested in embedding simulation in their courses and trained numerous doctoral students in the simulation methodology.
The program has been so effective that the Faculty has been fielding requests for their materials and methods from around the globe.