Projects
Current Research Projects
Association between Nutrition and Academic Achievement
This literature review explores the evidence regarding the association between children's academic achievement and nutritional factors (i.e. food security, healthy diet, obesity) and the impact of the COVID-19 pandemic on nutrition and achievement. It also provides an overview of school food programs in Canada and other high-income countries and the available research on their efficacy and cost-effectiveness.
Race and Identity-Based Data Collection
This policy brief reviews the literature on the collection of race and identity-based data in Ontario with a focus on evidence on the method of social identification. Examples of recent initiatives and data collection methods used in various sectors within the province and from other jurisdictions (e.g. health care, schools, justice, social services, government) will be examined to help inform our understanding of best practices and challenges with the collection and reporting of reliable race-based data. Recommendations based on the available literature will also be provided.
---
Completed Research Projects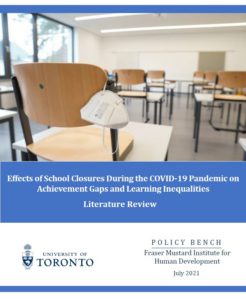 Literature Review and Policy Brief: Effects of School Closures During the COVID-19 Pandemic on Achievement Gaps and Learning Inequalities (July 2021)
Research prior to the COVID-19 pandemic has shown that long absences from schools and interruptions in instruction time have adverse effects on academic achievement, and that the negative consequences may be greater for students from disadvantaged backgrounds, resulting in a widening of SES-based achievement gaps. This report aims to extend this evidence base by reviewing the literature on academic achievement gaps and learning loss in relation to school closures as well as emerging studies on the short- and long-term effects of recent school closures on achievement gaps in the context of the COVID-19 pandemic (see Literature Review document). Implications for schools, teachers, students, and educational systems are also discussed in the associated Policy Brief.
---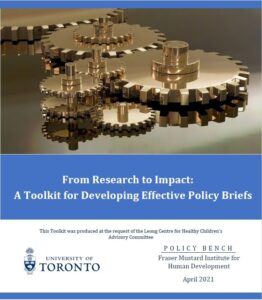 Toolkit: From Research to Impact: A Toolkit for Developing Effective Policy Briefs (April 2021)
This toolkit provides an informative guide for researchers on the development of effective policy briefs to communicate research findings to policymakers, with the aim of supporting evidence-informed decision-making. Relevant examples, tips, resources, and checklists are also provided to maximize the impact of the policy brief
---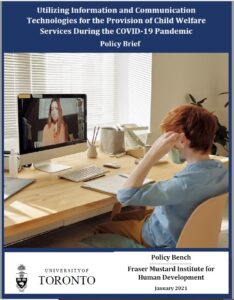 Policy Brief: Utilizing Information and Communication Technologies for the Provision of Child Welfare Services During the COVID-19 Pandemic (January 2021)
The COVID-19 pandemic created a gap in service delivery for child welfare services, despite the increased need for support for children and families. Policymakers now have a unique opportunity to plan for a more effective child welfare system that incorporates information & communication technologies (ICT) in the implementation of services and programs. This brief examines evidence from pre- and post-pandemic on efficacy of ICT for child welfare service delivery, including challenges and recommendations.
---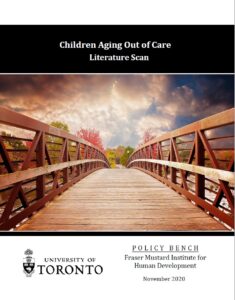 Literature Scan: Children Aging Out of Care (December 2020)
Studies have consistently shown that youth who age out of care face numerous challenges and poorer life outcomes compared to their peers. The aim of this literature scan was to explore research on interventions or policies that might improve the transition process and outcomes for children and youth aging out of care in Ontario and any evidence on their effectiveness.
---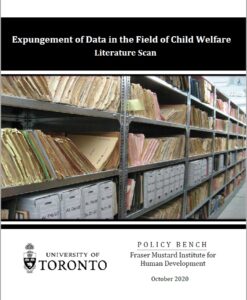 Literature Scan: Expungement of Data in the Field of Child Welfare (October 2020)
Child welfare agencies maintain records of all reports of child maltreatment and their outcomes in their information systems for the purposes of investigation, treatment, and prevention of child abuse and neglect; however the potential negative consequences of these systems for families and individuals have resulted in calls for reform. This literature scan explores available literature on the issue of data expungement from child welfare databases and synthesizes the arguments for and against expungement, to help inform future policies in Canada.
---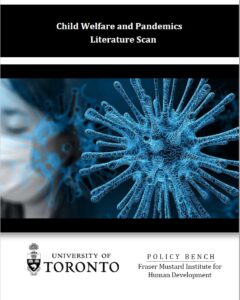 Literature Scan: Child Welfare and Pandemics (March 2020)
This literature scan identifies and synthesizes existing literature examining the effects of pandemics and the identification of policy solutions to mitigate their effects on a well-defined group of Canada's population—children in the care of Canada's child welfare system.In the face of pandemics such as COVID-19, it is essential that child welfare systems have the capacity and resources to: respond to increased demands for supports and services; minimize the effects on vulnerable populations; and ensure continuity of care.