Co-parenting during COVID-19: Professor Michael Saini draws on virtual solutions to connect children and parents — and prevent escalating legal disputes
Categories: Faculty, Michael Saini

Some media reports depict families in the COVID-19 world baking bread, playing board games and bonding, while other stories paint a dark picture of domestic strife, emotional trauma and even abuse. U of T Professor Michael Saini is studying this disparity and using technology to ease the strain on parents and children in the latter group.

To better understand why some families thrive under physical distancing conditions and some deteriorate, Saini — co-director of the Combined JD/MSW Program at the Factor-Inwentash Faculty of Social Work and Faculty of Law — and a colleague at Smith College launched a study on co-parenting during the pandemic. While it's still a work in progress, one thing is clear: COVID-19 has been very tough on most parents.

"Families have been forced into unchartered territory, and it's having a tremendous impact on the stability of their lives," says Saini, who is also the Factor-Inwentash Chair in Law and Social Work. "Whether parents are separated or together, many are struggling. Without any external support, they're suddenly their children's educators, support system, entertainers, coaches – everything. They're front and centre on their own."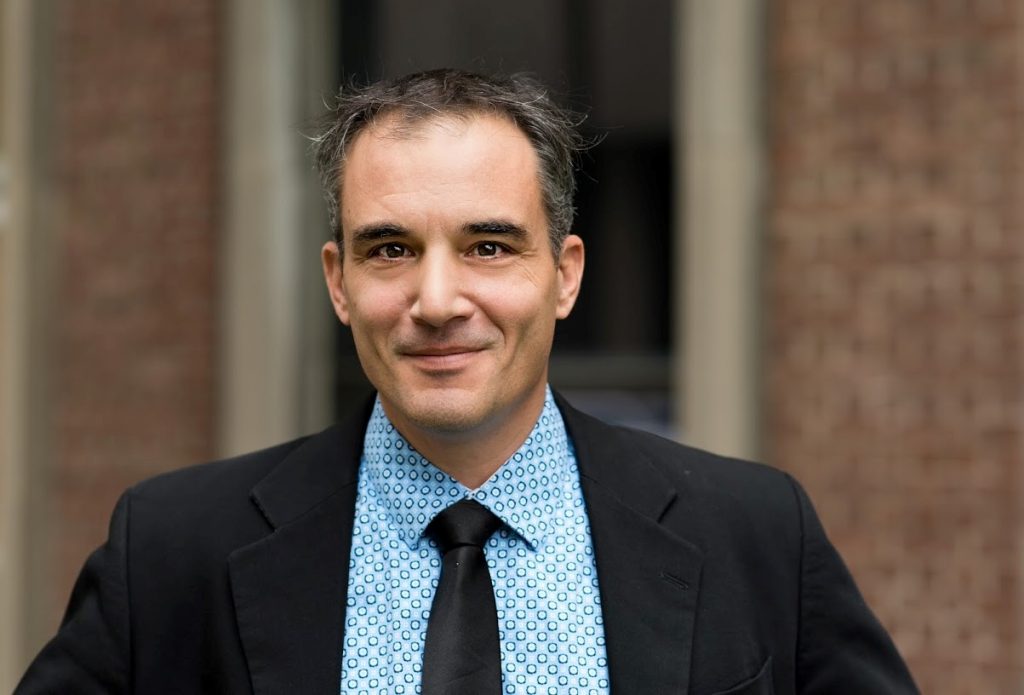 Based on 249 survey responses from across North America, he says those parents who have risen to the challenge of parenting in the pandemic feel pride and satisfaction in their accomplishment. But this positive outcome is entirely absent in families who were experiencing tension and conflict before the virus struck. "For families at risk, it's been devastating to be isolated from community services and supports, from extended family, from teachers, from all those other people who put extra eyes and ears on them," he says.
Saini points to increasing evidence that the pandemic is wreaking havoc on family stability worldwide. "My international colleagues are all seeing an increase in intimate partner violence, child abuse, separation and divorce," he says. "While the family courts have been closed, a huge number of legal cases have been building up." The result, he and others in the field predict, will be an "echo-pandemic" – a massive backlog of families seeking justice in a legal system unable to keep up with the demand.
To help meet the immediate needs of families in distress and keep problems from escalating to legal matters, Saini is drawing on his unique expertise in virtual solutions for connecting parents and children. "I've been looking at applying technology in the context of separation and divorce, child custody and family law for at least a decade, but suddenly it's deeply relevant," says Saini. His facility with virtual technology also stems from being one of the first faculty members to teach a fully online course in social work, years before the pandemic made that necessary, and doing clinical work online.
Since the early days of the pandemic, he's been delivering free webinars on successful co-parenting during the crisis for a wide-ranging audience that includes family law professionals, parent groups and community agencies. He's also co-developed a co-parenting assessment tool specific to the pandemic to gauge how families are doing and determine what services they might need.
Another way Saini is working to reduce the strain on social work and legal services now and in the future is by promoting online mediation as a viable avenue for dispute resolution. "Online mediation has been around since the 1990s, but it's rarely used," he says. "People have preferred the face-to-face model, yet in fact the virtual method is just as effective and has the same settlement rate of between 70 and 80 per cent."
He's currently collaborating with several agencies in the United States and Canada to increase their technological competency with online mediation, again by providing free webinars. "Most of my work since the stay-at-home order has been giving webinars," he says. "It's a way I can give back, because I feel really privileged that I can work from home and be with my family."
For separated or divorced parents who have had reduced or zero access to their children because of COVID-19, Saini has been developing virtual supervised visitation models in partnership with child welfare and family law agencies. It's another concept he's been researching and championing for years. "If we can institute virtual supervised visits now, rather than wait until the pandemic is over to re-establish contact between parents and children, then we've taken those families out of the queue of people who'll require services from the courts."
When the pandemic ends and social work and legal services resume, Saini plans to keep building on the technological groundwork he's laid. "We'll go back to doing some things in-person, but there's so much potential for virtual approaches to helping families at risk. We need to keep moving forward."
By Megan Easton
---
Other FIFSW COVID-19-related research: