Engaging youth as researchers: The Youth Wellness Lab flips the script
Categories: Bryn King, Faculty, Stephanie Begun, Students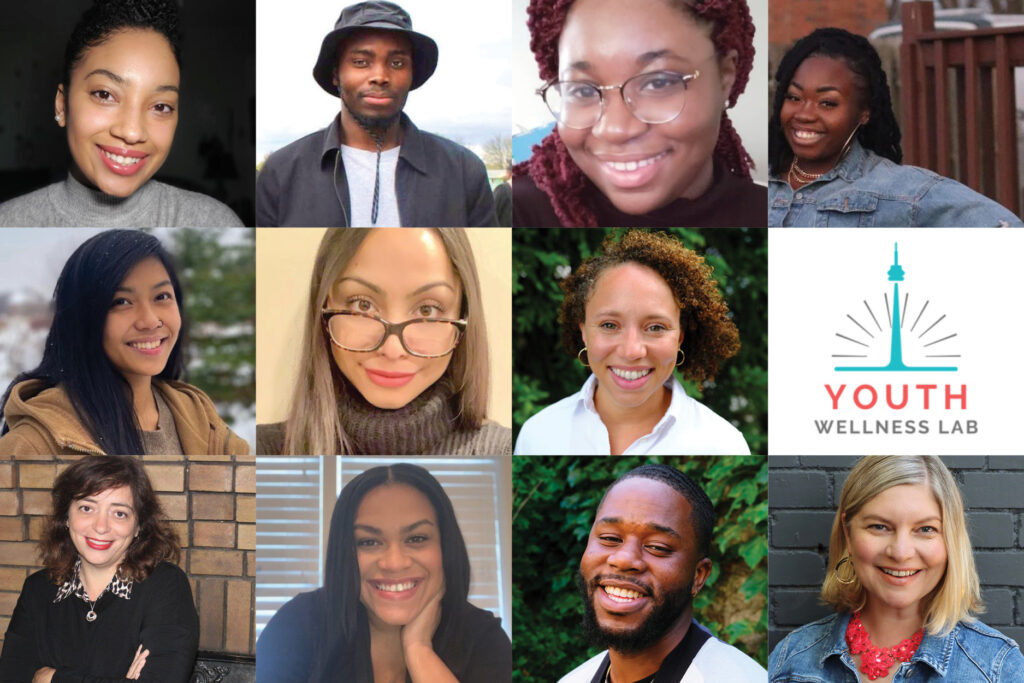 Cam Bautista knows the feeling of being a token youth representative – a "box that needs to be checked" – in research about young people. That's why being part of the Youth Wellness Lab at the University of Toronto has been such a breath of fresh air.
"It's great to be working in a space with academics where I feel genuinely included," says Bautista, the youth outreach coordinator at the lab, based out of the Factor-Inwentash Faculty of Social Work. It's a new collaborative hub that engages young people as partners and leaders in all aspects of research — from design and development to dissemination — to work alongside researchers and community-based organizations who focus on the well-being of youth.
The project grew out of discussions between co-directors Stephanie Begun and Bryn King, both assistant professors of social work whose research explores issues related to youth from marginalized communities. "We were meeting for coffee back in 2018 and agreed, in a half-joking way, that one day we would create a centre for youth research,'" says King. "About a year later, we just decided to make it happen. Our plan was to bring all the relevant faculty together with key community agencies, put young people at the heart of it, and see what happens."
Begun says the wealth of expertise on youth in social work and across U of T made it easy to build the research membership. "There are a lot of fascinating studies going on and a real appetite to share knowledge, so people welcomed the opportunity to be part of it."
The lab was established in early 2020, and a formal launch is scheduled for this fall. To date, there are more than 20 community partners, 11 staff and youth advisors, five institutional partners, and seven U of T research affiliates, including faculty and graduate students.
Initial funding for the lab came from a Dean's Network Award, which aims to foster collaborations among social work faculty members, other U of T departments or faculties, and community partners. The lab has since received multiple grants to support its development and youth-led research projects.
Bautista began as a member of the lab's Youth Advisory Committee, a team of young researchers aged 29 and under with diverse backgrounds and lived experience. Now, Bautista also helps to coordinate their feedback as advisors and collaborators with the other partners. Together, the committee wrote the lab's mission statement: to create a safe space for sustainable empowerment and expression through research and collaborative conversations for youth, by youth.
"There's so much apprehension among young people about doing research or being included in research, because it has historically been tokenistic," says Bautista. Like other members of the Youth Advisory Committee, Bautista is from a racialized community and sees the lab as a way to shift the power imbalance between researchers and young people.
Begun and King designed the lab to reverse the traditional roles in research about youth. "Instead of being the subjects of study, young people steer the research," says King. "This ensures that the results – whether they're interventions, services or policies – are relevant and meaningful to them."
The fundamental goal of "flipping the script," says Begun, is to improve the quality of research, which will improve youth outcomes. "Engaging youth in an authentic way in research helps us to stop getting it wrong. We as a collective society continue to make bad systems, bad policies and bad decisions about youth without their voices driving what things should look like. We need to ask them what they want and need."
The lab's "Real TO" project demonstrates what a role reversal in youth research looks like in practice. Its objective is to promote public dialogue led by Black youth on how anti-Black racism and systemic inequalities affect their lives. Digital storytelling, where young people create short videos, and a youth-led Instagram Live speaker series, where youth interview researchers, will produce knowledge to inform policy briefs, position papers, and other research material co-authored by youth, researchers and community organizations.
"We founded the lab in a pandemic, and the Real TO project reflects the fact that many young people, including members of our Youth Advisory Committee and the wider lab team, have experienced a dual pandemic of COVID-19 and anti-Black racism," says King. "It's part of the lab's larger effort to amplify youth voices and create lasting youth-adult partnerships that will increase the transparency and credibility of youth-related research into the future."
While several current projects concentrate on Black youth, the lab is committed to partnering with young people across diverse populations, including Indigenous and LGBTQ+. Current and future research areas range from mental and reproductive health to homelessness and the child welfare system.
Travonne Edwards, a PhD student in social work and the lab's research coordinator, is investigating the over-reporting of Black families in child welfare in collaboration with members of the lab and the Black Community Action Network (BCAN) of Peel. "There should be no question that we as researchers consult directly with youth about issues that affect their everyday lives," he says. Edwards' personal experiences as a Black male in the education system, along with firsthand observation of the overrepresentation of Black youth in foster care and group homes in his professional practice, propelled him towards research aimed at creating policies to better serve Black young people.
While a long history of exclusion and tokenism gives young people good reason to be wary of research involvement, King is optimistic about the lab's potential to effect change. "People tend to think that young people are jaded or angry," she says. "But there's a level of hope, even in their rage and protest, that we often lose in research and policy-making. Connecting to that allows us to envision something different and better with them."
Krysta Cooke, the project coordinator at the lab, works with the Youth Advisory Committee to get their ideas and opinions on social media. A Master of Social Work student, who completed her practicum at the lab and will graduate in June, says their enthusiasm is energizing. "We work together to create Instagram stories, Facebook posts, and other digital content, and when they see the final product in that public forum, they're so excited. It's a true collaboration." (Watch for a profile on Cooke to be published in June.)
Bautista, who's currently in the child and youth care program at Humber College, hopes to pursue graduate studies and build a career in research and policy. "Working at the lab has allowed me to believe that I can breach the barriers in academia that have kept people like me and the other youth advisors out of research. It's giving me support and encouragement to continue on."
By Megan Easton
Photo, top (Left to right): top row – Youth Advisory Committee (YAC) members Paula Arhinson, Hamza Olaosebikan, Christina M, Rae Whyte; middle row – Youth Outreach Coordinator Cam Bautista, Research Assistants Rasnat Chowdhury and Nakema Rae McManamna; bottom row – Bryn King, Krysta Cooke, Travonne Edwards, and Stephanie Begun
---
Related: