News & Events
News
---
Upcoming Webinars
Check back here for news about future webinars.
---
Past Webinars 
June 18, 2021
COVID-19 AND SCHOOLS, CHILD HEALTH & WELL-BEING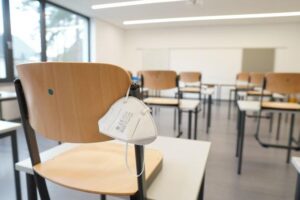 Interdisciplinary panel discussion bringing together experts from the fields of health, education, and social sciences to offer different perspectives on the issue of school closures during COVID-19 and how this has impacted children and their families, including academic achievement among other outcomes.
Speakers:
1. Dr. Scott Davies – Professor in the Ontario Institute for Studies in Education (OISE) at the University of Toronto and Canada Research Chair in Data, Equity and Policy in Education
2. Dr. Hélène Deacon – Professor in the Department of Psychology and Neuroscience at Dalhousie University, and Director of the Language and Literacy Lab
3. Dr. Sloane Freeman – Pediatrician in St. Michael's Hospital's Inner City Health Program; Assistant Professor in the University of Toronto Faculty of Medicine's Department of Pediatrics; Founder and lead for the Model Schools Pediatric Initiative
4. Dr. Jessica Omand – Registered dietitian and CCHCSP; Postdoctoral fellow at the Hospital for Sick Children
Moderator:
Dr. Catherine Birken – Professor, Department of Pediatrics, Faculty of Medicine, University of Toronto; Senior Scientist, SickKids Research Institute
February 19, 2021
COVID-19 VACCINATION & CHILD HEALTH
This webinar included presentations by experts from the domains of medicine, social work, and public health to offer perspectives on issues surrounding COVID-19 vaccination that are relevant to children's health and development. Topics explored included key considerations for the implementation of COVID-19 vaccines in children; insights gained from research on parental decision-making for early childhood vaccines; evidence from early childhood programs to support families and communities to improve vaccination rates and outcomes; and guidance for the prioritization and delivery of the COVID-19 vaccine in Canada.
Speakers:
Shaun Morris – Clinician-Scientist, The Hospital for Sick Children: COVID-19 Immunization in Children: Laying the Foundation
Kate Allan – PhD Candidate, Factor-Inwentash Faculty of Social Work, University of Toronto: Getting A Head Start: What Decades of Vaccine Hesitancy Research Can Teach Us About Parents, Kids, and the COVID-19 Vaccine
Chloe Ferguson – Director, the Early Years, Martin Family Initiative; and Charlene Rattlesnake (Wapikeesigooikway) – Family and Cultural Coordinator, Maskwacis Health Services: Community Driven Change- How Early Childhood Programs Can Improve Immunization Outcomes in Indigenous Communities
Sarah Wilson – Public Health Physician, Public Health Ontario: COVID-19 Immunization in Children: Looking Towards the Future
Slides from the webinar are available here.