News & Events
News
---
Upcoming Events
November 18, 2022 – 9am-4:30pm EST
1st Annual Leong Centre Symposium: "Seizing the Opportunity: Child Health Equity Research in Post-Pandemic Recovery"
This inaugural full-day symposium will gather leading Canadian and international academics and policymakers to discuss the role that research should play in addressing equity in children's health outcomes in an era of pandemic recovery.
To register and for more information, please visit the conference website here. Please note that there is no cost to attend but registration is limited and will close on November 11, 2022.
---
Past Webinars 
May 17, 2022 – 12-2pm EST
Opportunities to Support Children and Families with Prenatal Substance Exposure:
From Policy to Practice
This symposium brought together experts from the domains of maternal and child health, medicine, and social sciences to offer different perspectives on the issue of substance use during and post-pregnancy as well as implications for research, policy, and practice. Panelists presented the latest evidence on the impacts of prenatal substance exposure as well as findings from clinical and community-based programs that provide support to families with substance use problems in Canada.
Speakers:
Dr. Laura Best, Post-Doctoral Fellow, Centre for Addiction and Mental Health and University of Toronto
Andi Camden, PhD Candidate, Dalla Lana School of Public Health, University of Toronto; Child Health Evaluative Sciences, The Hospital for Sick Children
Dr. Naana Afua Jumah, Obstetrician Gynaecologist and Medical Lead, Maternity Care & Perinatal Service, Thunder Bay Regional Health Sciences Centre
Dr. Mary Motz, Clinical Psychologist and Research and Evaluation Lead, Mothercraft's Breaking the Cycle program
Slides from the symposium are available here.
June 18, 2021
COVID-19 AND SCHOOLS, CHILD HEALTH & WELL-BEING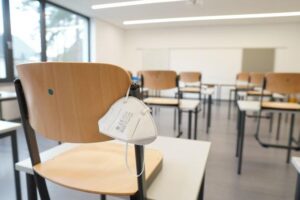 Interdisciplinary panel discussion bringing together experts from the fields of health, education, and social sciences to offer different perspectives on the issue of school closures during COVID-19 and how this has impacted children and their families, including academic achievement among other outcomes.
Speakers:
1. Dr. Scott Davies – Professor in the Ontario Institute for Studies in Education (OISE) at the University of Toronto and Canada Research Chair in Data, Equity and Policy in Education
2. Dr. Hélène Deacon – Professor in the Department of Psychology and Neuroscience at Dalhousie University, and Director of the Language and Literacy Lab
3. Dr. Sloane Freeman – Pediatrician in St. Michael's Hospital's Inner City Health Program; Assistant Professor in the University of Toronto Faculty of Medicine's Department of Pediatrics; Founder and lead for the Model Schools Pediatric Initiative
4. Dr. Jessica Omand – Registered dietitian and CCHCSP; Postdoctoral fellow at the Hospital for Sick Children
Moderator:
Dr. Catherine Birken – Professor, Department of Pediatrics, Faculty of Medicine, University of Toronto; Senior Scientist, SickKids Research Institute
February 19, 2021
COVID-19 VACCINATION & CHILD HEALTH
This webinar included presentations by experts from the domains of medicine, social work, and public health to offer perspectives on issues surrounding COVID-19 vaccination that are relevant to children's health and development. Topics explored included key considerations for the implementation of COVID-19 vaccines in children; insights gained from research on parental decision-making for early childhood vaccines; evidence from early childhood programs to support families and communities to improve vaccination rates and outcomes; and guidance for the prioritization and delivery of the COVID-19 vaccine in Canada.
Speakers:
Shaun Morris – Clinician-Scientist, The Hospital for Sick Children: COVID-19 Immunization in Children: Laying the Foundation
Kate Allan – PhD Candidate, Factor-Inwentash Faculty of Social Work, University of Toronto: Getting A Head Start: What Decades of Vaccine Hesitancy Research Can Teach Us About Parents, Kids, and the COVID-19 Vaccine
Chloe Ferguson – Director, the Early Years, Martin Family Initiative; and Charlene Rattlesnake (Wapikeesigooikway) – Family and Cultural Coordinator, Maskwacis Health Services: Community Driven Change- How Early Childhood Programs Can Improve Immunization Outcomes in Indigenous Communities
Sarah Wilson – Public Health Physician, Public Health Ontario: COVID-19 Immunization in Children: Looking Towards the Future
Slides from the webinar are available here.