Using Simulation in Assessment (OSCE)
Prior to starting practicum, first-year MSW students participate in a simulation-based assessment, the Objective Structured Clinical Examination (OSCE) adapted for social work. The OSCE, developed at the FIFSW, is used to assess generalist social work competence in students.
Standardized assessment tools developed by the FIFSW for the OSCE include:
Practice Performance Rating Scale
Reflection questions for students, and
Post-OSCE reflection Rating Scale
Upon completion of the exam, students will each receive an assessment report, which is also shared with field instructors in developing a practicum learning contract.
Watch a demonstration of our Objective Structured Clinical Examination (OSCE):
Performance Rating Scale, Reflection Questions, Reflection Rating Scale, and a number of vignettes are available in: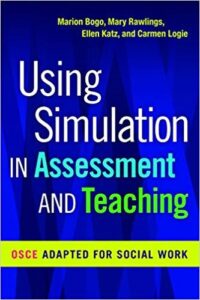 Bogo, M., Rawlings, M., Katz, E., & Logie, C. (2014). Using Simulation in Assessment and Teaching: OSCE Adapted for Social Work (Objective Structured Clinical Examination). CSWE: Alexandria, VI.
A Word from the authors: Marion Bogo & Mary Rawlings