Fraser Mustard Institute for Human Development Policy Bench
Welcome to the Fraser Mustard Institute for Human Development (FMIHD) Policy Bench, administered in the Factor-Inwentash Faculty of Social Work at the University of Toronto.
Recent highlights
New Policy Bench Report: Effectiveness of Interventions for the Prevention and Treatment of SUDs Among FNMI Populations
This p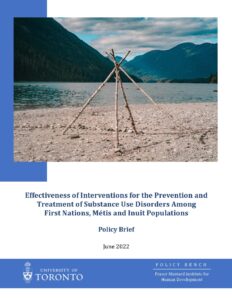 olicy brief (published June 2022) examines the literature on strategies to address the disproportionate burden of problematic substance use among First Nations, Métis and Inuit (FNMI) populations in Canada, with a focus on any evidence related to the effectiveness of interventions for the prevention and treatment of substance use disorders (SUDs) – particularly cultural and needs-based interventions that are reflective of distinct community circumstances. Examples of existing programs are reviewed to help inform our understanding of best practices and challenges related to addressing SUDs among FNMI peoples, and implications for research, policy and practice are provided.
---
New Policy Bench Report: The Use of Cannabis During Pregnancy
A new report was published in February 2022 examining evidence on the effects and safety of cannabis use during pregnancy. Implications for policy and practice, including the role of healthcare professionals in providing guidance and information on cannabis consumption, are also discussed.
---
Past highlights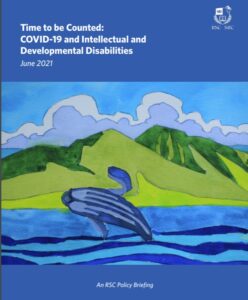 RSC Policy Briefing: Time to be Counted: COVID-19 and Intellectual and Developmental Disabilities
COVID-19 has disproportionately impacted the lives of people with intellectual & developmental disabilities. Researchers from the Policy Bench collaborated with members of the Royal Society for Canada Task Force on COVID-19 to produce this policy briefing with a series of evidence-informed recommendations.
---
Call to Action: Let the Children Play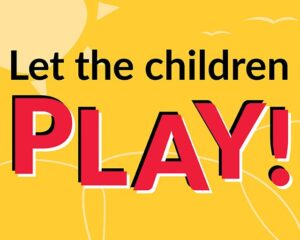 Researchers call for improved access to safe, outdoor spaces to reduce the pandemic's devastating impact on children & youth
This call to action was created in a partnership between Native Child and Family Services of Toronto (NCFST), The Hospital for Sick Children (SickKids), and researchers from the Policy Bench at the Factor-Inwentash Faculty of Social Work.
---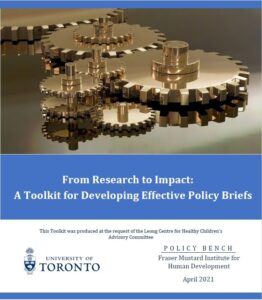 From Research to Impact: A Toolkit for Developing Effective Policy Briefs
This toolkit, developed at the request of the Leong Centre for Healthy Children's Advisory Committee provides an informative guide for researchers on the development of effective policy briefs to communicate research findings to policymakers.