Fraser Mustard Institute for Human Development Policy Bench
Welcome to the Fraser Mustard Institute for Human Development (FMIHD) Policy Bench, administered in the Factor-Inwentash Faculty of Social Work at the University of Toronto.
Recent highlights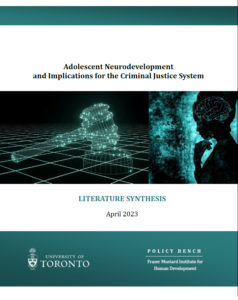 New Policy Bench Report: Adolescent Neurodevelopment and Implications for the Criminal Justice System
This literature synthesis (published April 2023) examines the issue of how evidence from developmental science can be used to inform more appropriate and effective justice responses for adolescents in the criminal justice system in Canada. Evidence on the role of neurodevelopmental factors in understanding and addressing adolescent misconduct is reviewed, and implications for policy and future research are discussed.
Recent Policy Bench Report: Social Identification of Race in Canada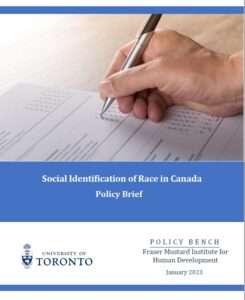 This policy brief and the accompanying fact sheet (published January 2023) examine practice and policy related to the collection of race and identity-based data across public sectors in Ontario and other jurisdictions. Evidence on different methods for data collection (i.e., social identification vs. self-identification) and their implications is reviewed. Considerations for the collection of information on Indigenous identity, including data governance, are also discussed.
---
Past highlights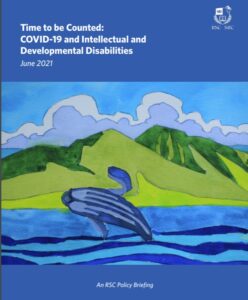 RSC Policy Briefing: Time to be Counted: COVID-19 and Intellectual and Developmental Disabilities
COVID-19 has disproportionately impacted the lives of people with intellectual & developmental disabilities. Researchers from the Policy Bench collaborated with members of the Royal Society for Canada Task Force on COVID-19 to produce this policy briefing with a series of evidence-informed recommendations.
---
Call to Action: Let the Children Play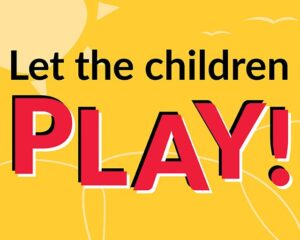 Researchers call for improved access to safe, outdoor spaces to reduce the pandemic's devastating impact on children & youth
This call to action was created in a partnership between Native Child and Family Services of Toronto (NCFST), The Hospital for Sick Children (SickKids), and researchers from the Policy Bench at the Factor-Inwentash Faculty of Social Work.
---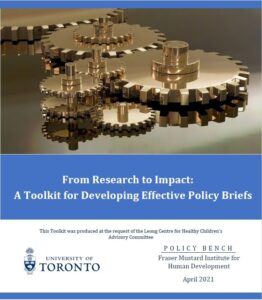 From Research to Impact: A Toolkit for Developing Effective Policy Briefs
This toolkit, developed at the request of the Leong Centre for Healthy Children's Advisory Committee provides an informative guide for researchers on the development of effective policy briefs to communicate research findings to policymakers.