Strengthening community, communication and research through art
Categories: Faculty, Izumi Sakamoto, Ramona Alaggia, Students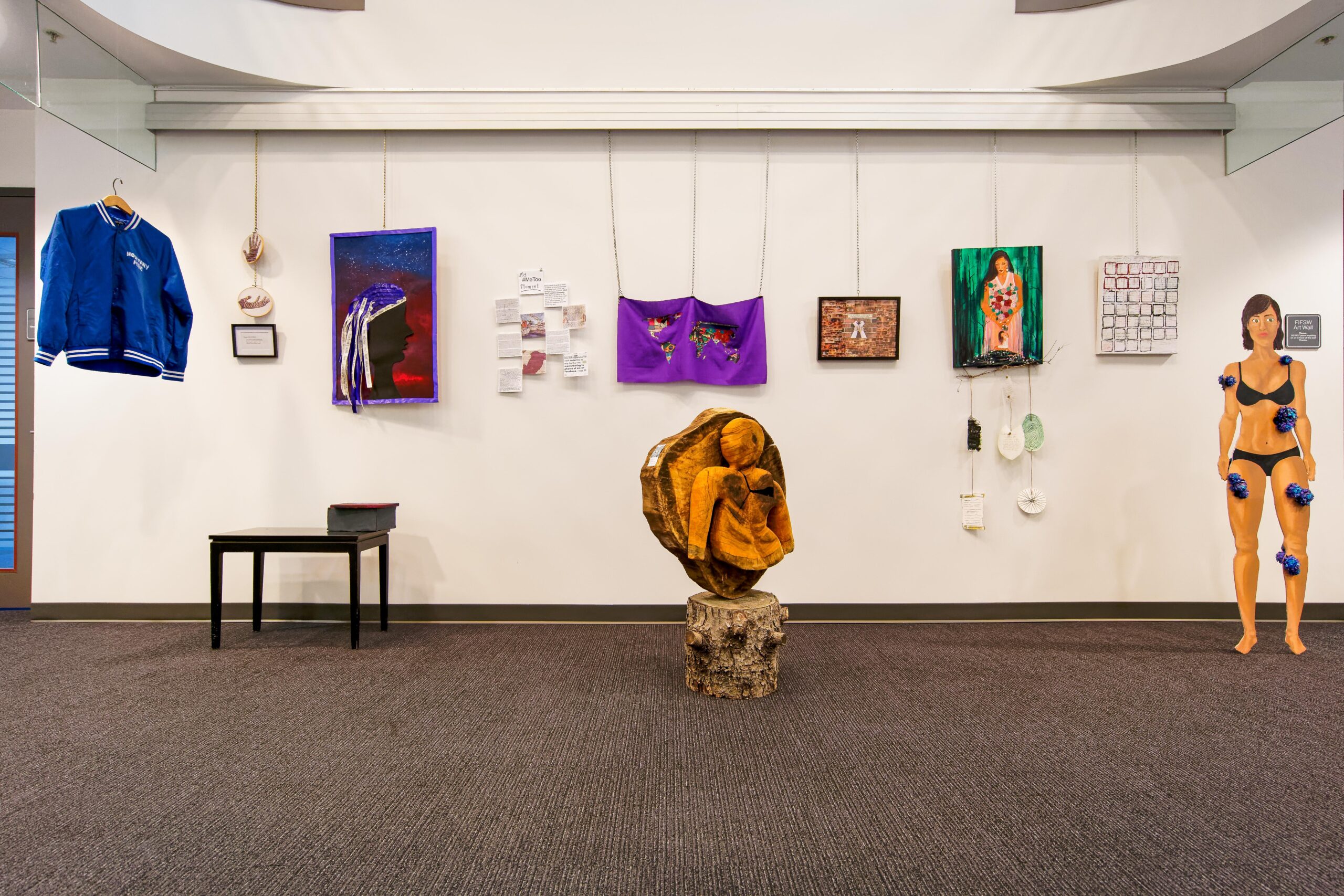 In 2010, after 12 years of teaching the course Violence Against Women and Children: Multi-Disciplinary Responses (SWK 4623), Professor Ramona Alaggia was interested in experimenting with different ways for her students to express what are often complex and pressing social justice issues.
"It's an emotionally heavy course that probes issues about child abuse, domestic abuse, sexual violence, and trauma," says Alaggia. "I was interested in providing new opportunities for students who may be less comfortable communicating in conventional academic ways to create art as a form of resistance and sending powerful messages about gender-based violence".
Enter the Factor-Inwentash Faculty of Social Work's Art Wall.
Located outside the elevators on the third floor of FIFSW's building, the Art Wall, which launched in 2006, showcases artwork by students, alumni and other members of the FIFSW community. This past fall, Alaggia asked her students to create work that tied into the 30th anniversary of the Massacre at École Polytechnique in Montreal. For their final project, they had the option of writing a paper or creating a work of art. Of the 24 students in the class, 14 chose to complete an art project. Their work was exhibited in December.
PhD student Carolyn O'Connor created a series of square "wall tiles," each one displaying a story anonymously submitted by survivors of sexual assault, sexual harassment or gender inequality. She chose tiles, she explains, to "illustrate the ubiquitous and overlooked nature of sexual violence," which, as one participant described, is often seen as "too fast, too common, and too trivial to make a fuss."
O'Connor's goal was to "complement and extend the incredible work of the #MeToo movement."
"The use of the hashtag has inspired thousands of survivors to give voice to their experience of sexual assault or harassment, many of them breaking their silence for the first time," she says. "As a survivor myself, this movement had a profound impact on my personal journey, and I wanted to facilitate a small, shared space to allow others the same opportunity."
O'Connor hopes to study issues of sexual consent and violence against women in her doctoral dissertation.
MSW student Jason Ferreirinha created a three and a half-foot-tall sculpture carved from solid wood.
"On the front is a Disabled woman with her back facing the world in protest of the historic and ongoing neglect, injustice, violence, and discrimination she endures," says Ferreirinha. "Her face is turned to the world, proud and inherently dignified with eyes to an equitable present and future."
He found that the process of creating the piece helped broaden his understanding of gender-based violence and ways that men could help mitigate it. "I spent a lot of time engaging with community members with embodied experiences and sought consultations from many faculty," he says. "Together, their insight helped improve my understanding of the Disabled woman's experiences with violence."
Associate Professor Izumi Sakamoto spearheaded the launch FIFSW's Art Wall in 2005 with help from then-staff and alumna Chery Mitri. Sakamoto's current research includes an examination of contemporary artistic practices and activism related to the wartime incarceration of Japanese Canadians. She is also part of a California-based working group that holds roundtables on using art in social work practice and research. She says there is a growing interest in bringing art into the field.
"Art has always been part of social work, but doing research with art only emerged in the past ten to twenty years," says Sakamoto. "There is some overlap with art therapy, but the use of art in social work is broader because it can be used to bring people together and empower communities."
Natasha Lan, Administrative Assistant to FIFSW's Associate Dean, Academic, (but currently on secondment) has led the curation of the Art Wall since 2012. Sakamoto says Lan's background as an artist helped elevate the series of exhibitions showcased each year.
Both students and faculty agree that the benefit of the annual exhibitions is multifaceted.
"The Art Wall provides students with an opportunity to showcase work that is not typically seen or recognized in academia, validating the importance of diversity in learning and demonstrating social work competencies," says O'Connor. "It also fosters a sense of community and togetherness among the students."
Alaggia, whose work focuses on sexual violence recently received a Social Sciences and Humanities Research Council (SSHRC) grant to study the impact of the #MeToo movement on disclosures of sexual violence in Canada. As part of the project, she will invite survivors of violence to create pieces of art in the telling of their stories.
The Faculty's current Art Wall exhibition honours Black History Month. Organized by FIFSW's Black History Month planning group, which is comprised of students, faculty and staff, the exhibition invites visitors to contribute Canadian Black History facts to create a collective gathering of knowledge.
The question: "Canadian Black history: What do you know?" is posted above a large, mural lining the wall. Participants are encouraged to share their knowledge by posting a note or attaching printed historical facts. Together, their contributions will highlight the collective knowledge of the Faculty and the broader community about Black history in Canada.