Practice makes perfect: Ellen Katz receives the inaugural Larry Enkin Innovation in Teaching with Simulation Award
Categories: Alumni + Friends, Ellen Katz, Faculty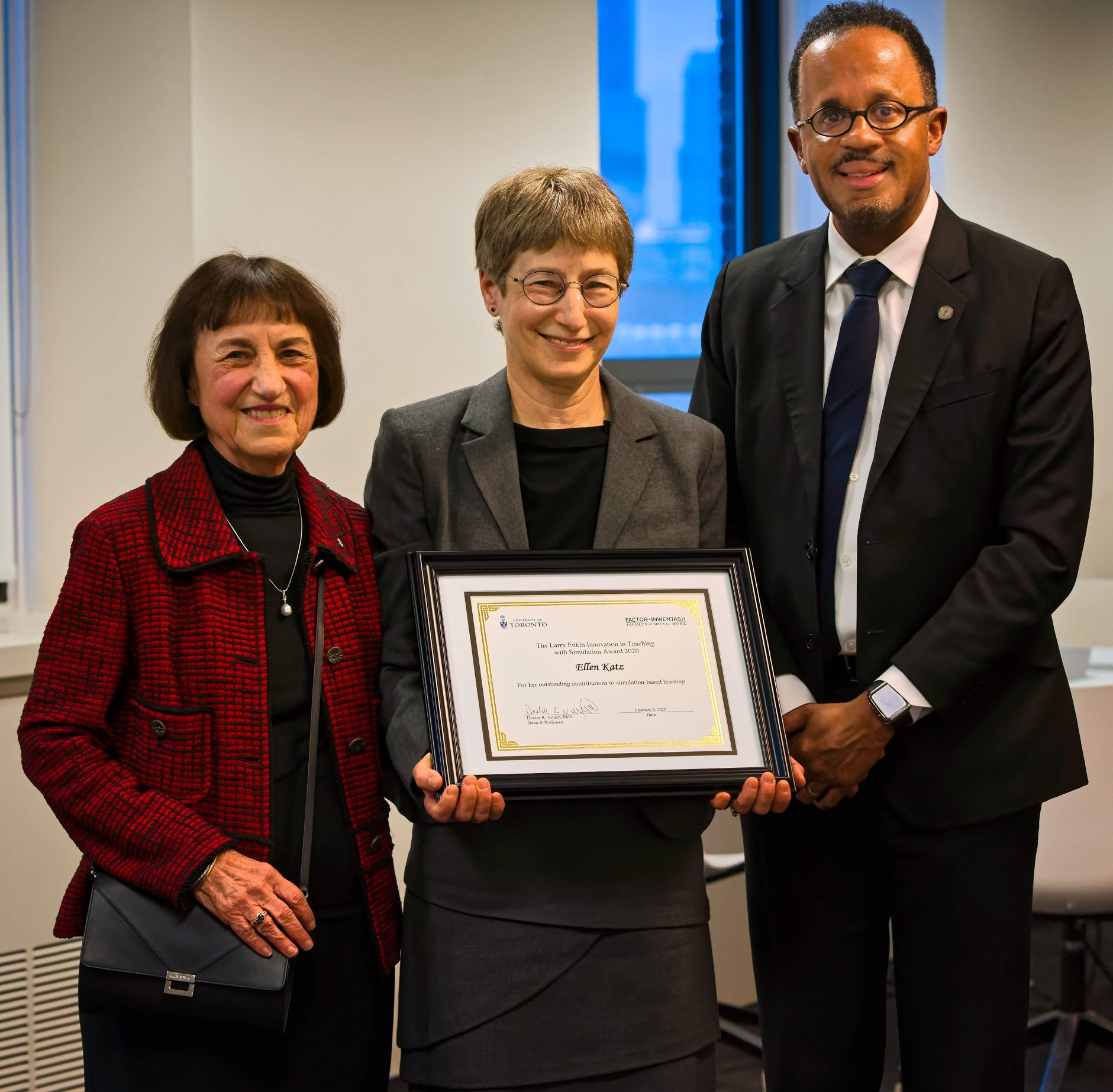 On February 6, the inaugural Larry Enkin Innovation in Teaching with Simulation Award was presented to Assistant Professor Ellen Katz in acknowledgement of her outstanding work to elevate what has become known as the Factor-Inwentash Faculty of Social Work's signature pedagogy.
FIFSW's pioneering work to develop simulation-based learning and assessment for social workers has placed it at the forefront of education and research on how to prepare students for practice. The approach gives social work students the opportunity to apply the theory and research they learn in the classroom to interactions with clients, played by trained actors. Since the clients aren't real, students can take risks, film their interactions, and watch their classmates in action, too.
"Professor Katz's innovative pedagogy captures the goal and spirit of The Larry Enkin Innovation in Teaching with Simulation Award," says Professor Marion Bogo, who led the development of simulation as a teaching and assessment approach in social work education.
Bogo received the Significant Lifetime Achievement in Social Work Education Award from the Council on Social Work Education in the United States in 2013 in recognition of her contributions to social work education and to improving assessment of professional competence and was appointed to the Order of Canada in 2014 . FIFSW received the Northrop Frye Award in 2017 in recognition of the way in which its simulation program enhances student learning through innovative pedagogical contributions.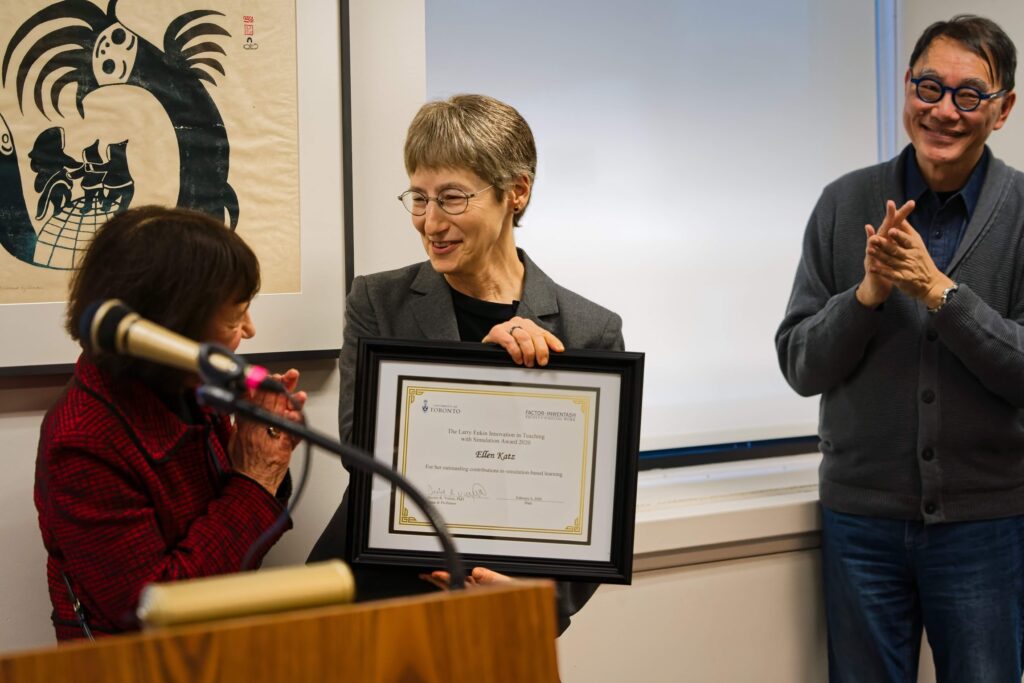 At the reception held to celebrate Katz's award, Bogo recalled Katz's early involvement in designing and testing the program during her time as a doctoral student at FIFSW in 2008. In the decade that followed, Katz worked to incorporate simulation into her course on using mindfulness in clinical practice. Her innovations to simulation learning took it beyond practice, incorporating peer observation, peer assessment, and personal reflection into the mix.
"Katz's work exemplifies the impact of the generous donation made by Larry Enkin to support our ground-breaking program," says Bogo. She noted how Enkin's generous support for the simulation program in 2012 and again in 2014 has helped expand the use of simulation learning for social work students both within the Faculty and beyond.
"We now present widely and are invited all over the world to consult," Bogo told those at the reception. "In the last couple years, a number of faculty members and deans from American schools and schools internationally have come to see what we are doing, and they've developed simulation programs of their own."
A researcher and clinician, Katz focuses on mindfulness and contemplative practices informed by Buddhist thought. She introduced simulation learning to her course on using mindfulness in clinical practice, and has been dedicated to reviewing and refining the process and publishing and presenting on the topic.
Upon receiving the award, Katz spoke of the role that simulation has played in her academic career.
"This is a wonderful culmination of about 13 years of working with simulation in a way that has informed my doctorial and academic work," she told those assembled. "As a professor in the teaching stream, who is really focused on pedagogy, and as someone interested in mindfulness, in reflection and in the integration of practice, simulation is such a wonderful, holistic way of both learning and teaching practice."