Viveka Ichikawa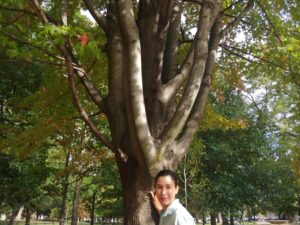 Master of Social Work, Specialization: Social Justice and Diversity with Collaborative Program: Ethnicity and Pluralism (2019, Factor-Inwentash Faculty of Social Work, University of Toronto)
Bachelor of Social Work and Child Studies (2016, Tokyo University of Social Welfare)
Bachelor of Arts in Psychology (2009, University of Victoria)
MSW and RSW in Ontario and RSW in Japan
Viveka Ichikawa has been a PhD Student at the Factor-Inwentash Faculty of Social Work since 2020. Her research interests are Anti-oppressive Practice; Survivor-responder Disaster Work; Intersectionality; Participatory action research; Community-based Research; Inter-cultural Research.
Viveka holds the Royal Bank of Canada (RBC) Graduate Fellowship in Applied Social Work Research and has initiated a pilot research project on experiences of stress and oppression among social workers with precarious employment status during the Covid-19. She has previously held a fellowship from the Japan Student Services Organization.
Viveka has a broad range of academic and professional experiences in Canada and Japan as a registered social worker in both countries. She has been working with children and families living on social assistance, refugees and immigrants with precarious status, and homeless youths. Since 2017, she has been teaching a course and providing workshops in "equity and diversity" for Japanese university students with a narrative approach and photovoice activities. Also, she has been committed to delivering flexible and close-up knowledge mobilization to the field of social work, such as diversity competency training for workers at the Municipal Office in Tokyo, Japan. Her knowledge mobilization documents in social work and early childhood studies programs were published; they recommended more attention for diversity and social justice in their curriculums. Currently, Viveka is part of numerous research projects in Canada and Japan and brings her expertise from those inter-cultural experiences in both fields to the education and practice of social workers.