Keri West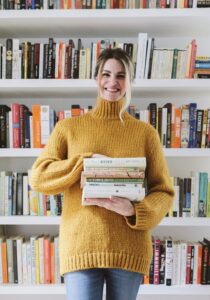 MSW (2015, Factor-Inwentash Faculty of Social Work, University of Toronto)
Hon. BA. English (2005, University of Toronto)
Email: keri.west@utoronto.ca
Keri West is a PhD Candidate at the Factor-Inwentash Faculty of Social Work. Her dissertation is focused on the relationship between adverse childhood experiences and inflammation in later life. Keri's work within the Canadian healthcare system spans policy and practice, in the areas of knowledge mobilization, government relations, and medical social work. With Dr. Keith Adamson, she co-developed a competency framework and simulation-based teaching intervention for communicating research evidence in therapeutic relationships, which was rolled out as part of the 2019-2020 curriculum for the core first-year MSW research course at FIFSW (a qualitative pilot study led by Dr. Adamson will be conducted in 2020-2021). Keri is currently project managing the development of two Massive Online Open Courses on gerontological social work (led by Dr. Esme Fuller-Thomson with support from the Larry Enkin Foundation), and assisting on research projects focused on the mental health impacts of the COVID-19 pandemic for female frontline workers (Principal Investigator: Dr. Abi Sriharan, Institute of Health Policy, Management and Evaluation, Dalla Lana School of Public Health; supported through a grant from the Canadian Institutes of Health Research).
---
Publications:
Fuller-Thomson, E., Lung, Y., West, K. J., Keyes, C. L. M., & Baiden, P. (2020). Suboptimal baseline mental health associated with 4-month premature all-cause mortality: Findings from 18 years of follow-up of the Canadian National Population Health Survey. Journal of Psychosomatic Research,  136(2020), 110176.
White, B. A., West, K. J., & Fuller-Thomson, E. (2020). Is exposure to family member incarceration during childhood linked to diabetes in adulthood? Findings from a population-based study. SAGE Open Medicine, 8, 1-12.
Fuller-Thomson, E., West, K. J., & Baiden, P. (2019). The tide does turn: Predictors of remission from suicidal ideation and attempt among Canadians who previously attempted suicide. Psychiatry Research, 274, 313-321.
Fuller-Thomson, E., & West, K. J. (2019). Flourishing despite a cancer diagnosis: Factors associated with complete mental health in a nationally-representative sample of cancer patients aged 50 years and older. Aging & Mental Health, 23(9), 1263-1274.
West, K. J., Wrobel, B., Pallotta, S., & Coatsworth, A. (2018). Bearing witness: Exploring the end-of-life needs of homeless persons and barriers to appropriate care. OMEGA-Journal of Death and Dying, 82(1), 63–91.
Fuller-Thomson, E., West, K., Sulman, J., & Baird, S. (2015). Childhood maltreatment is associated with ulcerative colitis but not Crohn's disease: Findings from a population-based study. Inflammatory Bowel Diseases, 21(11), 2640-2648.