Ami Goulden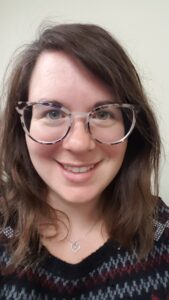 BA (MSVU), BSW (Dal), MA(CYS) (MSVU), MSW (Toronto), PhD(candidate) (Toronto), RSW
Ami Goulden is a doctoral candidate at the Faculty of Social Work, University of Toronto. Ami received her MSW from the University of Toronto and BSW from Dalhousie University. She has also completed a Master of Arts in Child and Youth Study from MSVU. Ami is a Social Sciences and Humanities Research Council (SSHRC) doctoral fellow and previous recipient of multiple Ontario Graduate Scholarships and a Royal Bank of Canada Graduate Fellowship in Applied Social Work Research.
Ami's research focuses on best practices and contemporary challenges in supporting disabled youth with their sexual well-being. She embraces critical qualitative and quantitative methodological approaches in her research agenda. Ami currently serves as the research coordinator on a collaborative project between the University of Toronto and Holland Bloorview Kids Rehabilitation Hospital under the supervision of Dr. Keith Adamson.
Ami has been practicing social work for over ten years in various settings including pediatric and adult healthcare, and child welfare. Her most recent experience includes working in multidisciplinary healthcare clinics serving clients with chronic health conditions and their families during the coronavirus pandemic.
Ami has held part-time faculty appointments in the Schools of Social Work at both King's University College (Western) and Renison College (Waterloo). Most recently, she began teaching in Mount Saint Vincent University's Family Studies and Gerontology Department. She has taught courses including Introduction to Social Work Practice and Theories, Mental Health and Addiction Issues: Social Work Responses, and Program Planning in Family Life Education. Ami embraces Universal Design for Learning and Fook's applied model of critical reflection in her pedagogical philosophy.