Emerging Issues & Human Development
As new challenges and opportunities emerge, the Faculty is responding with a series of practice-oriented research projects designed to help social workers and the organizations they serve become more effective. These projects include studies of the need for online counselling, the impact of social media on social work, eating disorders, violence against women and LGBT students in the schools.
In addition, we plan to establish a Human Development Fund to support the study of the complex interactions among genetic, biological, social and environmental factors in human development. The fund will ensure that our researchers remain at the forefront in the development of knowledge and teaching to promote well-being.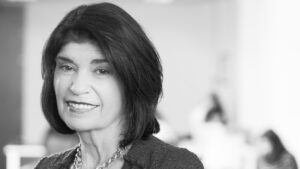 "As we strive to meet the challenges of a rapidly changing world, we are building on the solid foundation of an exceptional community of students, researchers, teaching faculty, field instructors, alumni and visionary benefactors. The depth and breadth of their intellects, talents and commitment — along with the diversity of their experiences and backgrounds – promise an even brighter future."
Professor Faye Mishna, Factor-Inwentash Faculty of Social Work, The Margaret and Wallace McCain Family Chair in Child and Family