Global Aging: Change and impact start here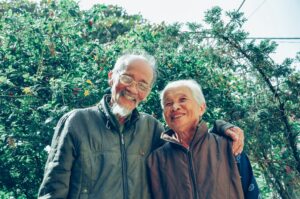 Global aging will transform society significantly in the 21st century. The predictions are staggering: according to United Nations projections, by 2050, one in six people will be over 65, and the number of people age 80 or over will triple.
This massive demographic shift presents increasing societal challenges and pressing worldwide demand for leaders, educators, researchers, and practitioners in gerontological social work. The shift also brings opportunities to develop new policies and practices that will better address the needs of older people and their families — all of which will ultimately benefit society as a whole.
The Factor-Inwentash Faculty of Social Work (FIFSW) at the University of Toronto is leading the way in deepening our understanding of the issues associated with our aging population and developing innovative programs and approaches that will have a tremendous impact on the health of individuals and the communities in which they reside.
"There is a dearth of schools of social work in North America that have faculty conducting research on aging or that offer Master of Social work concentrations in aging," says Dexter Voisin, Dean of FIFSW. "Our Faculty has the largest gerontological field of study within an MSW program and is fortunate to have a deep interdisciplinary network of gerontology scholars."
Indeed, FIFSW is a leading centre for excellence in gerontology education and research, and its students, faculty, and alumni are working to address these challenges head on.
"Our program provides a world class environment in which to train the next generation of evidence-based gerontological social workers," says Voisin. "We have a strong commitment to supporting cutting edge research in this area."
The areas of study and programs within the gerontological field at the Faculty are vast. Below is an overview of some of the many research topics that have been undertaken and some of the initiatives currently underway.
Together, this interdisciplinary and international body of work illustrates the vital role that social work plays in this field.
Elder abuse and ageism 
Elder abuse — one of gerontology's critical challenges — affects one out of ten older adults. Associate Professor David Burnes' research on aging and elder abuse was influenced by the discovery that his grandmother was being abused in a nursing home. Today, he advises Canadian and American governments and the World Health Organization on interventions to prevent it. He is also currently conducting one of the first longitudinal, population-based studies on elder abuse in the world. Burnes' research on ageism was recently profiled in the New York Times.
---
Dementia
In 2015, dementia affected 47 million people across the globe. The World Health Organization predicts that that number will rise to 75 million by 2030 and 132 million by 2050. New programs being developed by FIFSW faculty are increasing the potential to address the needs of older people with this illness. For example, Professor Ka Tat Tsang's research has led to the development of Play Intervention for Dementia (PID), a program piloted in Canada and Asia that has, according to the practitioners and family caregivers involved in its use, contributed to enhanced cognitive functions, improved motivation and engagement, and improved interpersonal communications and engagement, among other benefits.
---
HIV
New HIV infections among older adults are on the rise. The HIV in Canada–Surveillance Report 2017 noted that individuals aged fifty and older "now represent the second highest proportion of new HIV cases" in the country. Professor David J. Brennan explains that older patients may encounter barriers to HIV testing and treatment.
"Sexual contact is the most common form of HIV transmission and yet health providers sometimes assume older adults are not sexually active," he says. "Those who are HIV-positive, and especially older LGBTQ adults may experience stigma, ageism, social isolation, discrimination and neglect."
As the Director of the interdisciplinary research center, CRUISElab, Brennan examines the optimal health and wellbeing of gay, bisexual, and other men who have sex with men (GBM) — including those who experience being marginalized by age — in order to reduce the impact of HIV on their lives.
---
Depression and Anxiety
Professor Esme Fuller-Thomson's areas of research includes an examination of depression and anxiety among older adults with chronic conditions and the social determinants of older adults' health. Her cross-appointments with U of T's Department of Family & Community Medicine and the Faculty of Nursing show the importance of taking an interdisciplinary approach to this work. Fuller-Thomson's extensive body of research (which includes additional projects, mentioned below) has received extensive media coverage in publications and programs such as CBC's The National, The Globe and Mail, The Washington Post, and The London Times.
---
Inequality among seniors
Another pressing challenge currently facing our society is a marked increase in inequality among the elderly. Renowned interdisciplinary researcher Professor Amanda Grenier brings much needed attention to issues of aging among groups of older people who are considered vulnerable. "I focus on subjects we don't talk about enough, such as homelessness among older people," she says. "Not everyone's experiences are the same."
Grenier joined the Faculty as a Professor and the Norman and Honey Schipper Chair in Gerontological Social Work in July 2019. Her upcoming book, Precarity and Ageing: Understanding Insecurity and Risk in Later Life, will be published in 2020.
---
Technological innovation
Technology offers the promise of untapped possibilities for maintaining older adults' physical and cognitive functioning. Assistant Professor Jia Xue, cross-appointed with U of T's Faculty of Information, employs information technology to study social issues, and envisions a world of age-friendly Smart Cities that adopt technologies to support seniors, such as devices that monitor vital signs or assess fall risks. "While some of this  technology is already available, it has not fully embraced by older adults," she says. "Researchers need to explore barriers to their use."
---
Interdisciplinary institutes
Institute for Life Course and Aging (ILCA)
Since 2015, FIFSW has been the lead Faculty for the Institute for Life Course and Aging (ILCA), an interdisciplinary venue that studies the biological, psychological and social dimensions associated with growing old. Led by Professor Esme Fuller-Thomson, ILCA serves as an important catalyst for both research and knowledge mobilization. For example, Fuller-Thomson's own research on the rise in the number of grandparents raising grandchildren provided background for recent testimony to the U.S. Congress.
With 75 cross-appointed faculty members, ILCA runs a graduate Collaborative Specialization, attracting students from across U of T, and offers ten annual online professional development workshops for healthcare professionals in order to keep the post-graduate work-force up-to-date on new gerontological research and practice.
National Initiative for the Care of the Elderly (NICE)
Also housed at the Faculty, the National Initiative for the Care of the Elderly (NICE) is an international network of researchers, practitioners, students and seniors who are dedicated to improving the care of older adults — both in Canada and abroad. Led by Professor Emeritus Lynn McDonald, NICE spearheaded the Toronto HomeShare Program, an innovative concept which matches older adults who have a spare room with students seeking affordable housing. NICE is now partnering with the City of Toronto on an anti-ageism in the workplace campaign that raise awareness about discrimination and highlights the value that older workers bring.
---
Massive Open Online Courses for social work professionals
To support gerontological social workers in providing effective care for their clients, Fuller-Thomson and the ILCA are developing a Massive Open Online Couse (MOOC) on evidence-based interventions for gerontological social workers to upgrade their skills. The programs will also serve social workers who did not originally train in gerontology but need a relatively quick and convenient way to learn enhance their practice.
Professor Ka Tat Tsang, with help from the ILCA, is also developing a Massive Open Online Course (MOOC) to make state-of-the-art dementia research available to a global audience. The course will bring together leaders in research, clinical practice, and education across the University of Toronto and beyond, and will provide state of the art knowledge and skills to a global audience of professionals and caregivers. The course will launch on the Coursera platform in early 2020 and is expected to attract tens of thousands of learners from around the world.
---
Experiential learning for current FIFSW students
Above all, gerontological social workers will be in high demand. FIFSW offers all MSW students an extensive range of practicum opportunities numbering over 500 in any given year. These opportunities include placements in healthcare environments, community-based organizations, social services, and government and education settings — among others. Each placement is supported by highly experienced field instructors who help students integrate their classroom learning with real-world experience.
Second year MSW student Chiamaka Obiako is among the 33 students in the Social Work in Gerontology Field of Study. She chose this concentration after a rewarding first-year practicum placement with seniors at Northview Nursing Home.
"I didn't expect to go into gerontology, but I chose it because I could see that I was transforming people's lives," she says. "Working with seniors inspired me to consider my own future. When I think about aging, I remember the words of one of my professors — instead of talking about getting old, we should call it growing old. Our focus should be on growth."
---
(Photo, top, by Tristan Le from Pexels)