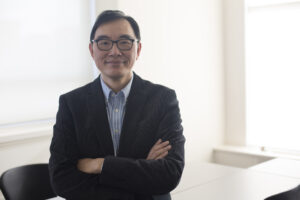 A. Ka Tat Tsang
Professor
Ph.D., University of Toronto
Phone Number:
(416) 978-5817
Research Interests:
post-professional practice and human service in a globalized context
theories in the social sciences and humanities informing social work practice
clinical practice (counseling and psychotherapy)
dementia, seniors service, aging
sexuality and sexual diversity
diversity and cultural issues
epistemology, knowledge production and utilization
mental health
spirituality
Biography:
A Ka Tat Tsang joined the Factor-Inwentash Faculty of Social Work in 1993 and has been exploring the development of human service in a globalized context. He directs the Faculty's China project, which he started in 1997; and held the Factor-Inwentash Chair of Social Work in the Global Community from 2008-2018. 
Professor Tsang's transdisciplinary research combines conventional and creative forms of knowledge production in human service, diversity and global community, with active integration of practice, theory and research. His major activities include 1. development and testing of direct practice model and programs (e.g., SSLD – Strategies and Skills Learning and Development);  2. human service and post-professional conditions; 3. global community: Research and development of service programs for the diverse communities in Canada and internationally; and 4. social work and human service in China: Moving from the development of social work both as a practice profession and as an academic discipline in China to building human service systems for the post-professional era. 
In 2013, Learning to Change Lives: The Strategies and Skills Learning and Development System, a step-by-step guideline for SSLD intervention, was published by University of Toronto Press. The SSLD system was declared an invention in 2015 in accordance with University of Toronto's Inventions Policy. It is also a registered trademark in Canada, China, USA, and Hong Kong. The system has supported the creation of multiple applications, including PID (Play Intervention for Dementia), Life-World Design (for managing significant transitions in the life course), settlement service for immigrants and refugees, sexuality and intimacy needs among seniors, parent-child intervention for ASD (Autistic Spectrum Disorder), insomnia, cross-cultural counseling and psychotherapy, and community development. The SSLD system is driving multiple knowledge mobilization initiatives including a multilingual website, social media platforms and massive open online courses (MOOC). 
Apart from active research and development associated with the SSLD system, Prof. Tsang currently is a Co-PI on a CIHR  grant: Linking Hearts: Advancing Mental Health Care of University Students Through Interdisciplinary Collaboration (2018-2022); a SSHRC insight grant: Intra-group dynamics and social exclusion: Experience of Mainland Chinese immigrants to Canada; a SSHRC Partnership Development Grant: A Partnership Approach to Syrian Refugee Resettlement in Toronto and Mississauga: The Role of Social Capital (2019-2020); and co-investigator on a SSHRC Insight grant: Towards Improving Equality and Engagement: The Citizenship Experiences of South Asian and Chinese Women in Toronto (2019-2020).