The Art of Resistance: FIFSW Art Action's inaugural exhibition relaunches in a virtual gallery
Categories:
Students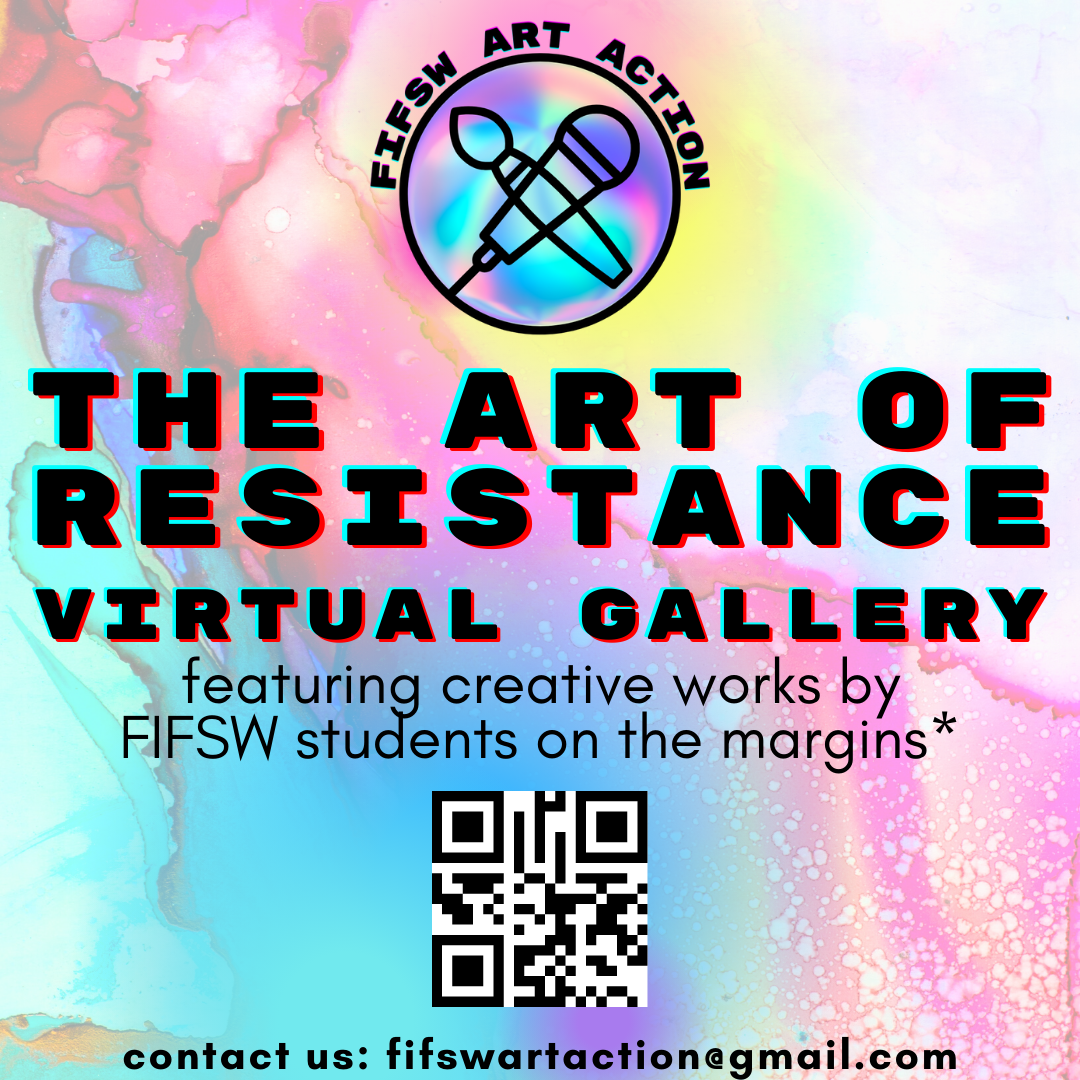 In April, FIFSW Art Action held its first exhibition, The Art of Resistance, at the Factor-Inwentash Faculty's Art Wall. The showcase of creative work amplified the voices and advocacy efforts of students on the margins, who were invited to share their lived experiences of struggle and resistance in academia through art.
For those who may have missed it (and those who would like to view it again) The Art of Resistance exhibition has been relaunched in a virtual gallery.
"Art offers alternative ways of exploring, understanding, and resisting social realities," write the collective. "Through creating and witnessing art, we can access embodied knowledge and connect with others. We hope these pieces encourage you to reflect on your roles in academic spaces and motivate you to mobilize your power to amplify students' voices and advocacy efforts."
Founded by Amanda Bastyr, Liz Beeforth, Chasity Hewitt-Brown, Mackenzie Mountford, Natalia Munive and Ruka Watanabe, the FIFSW Art Action collective formed to:
1. Offer arts-based spaces for FIFSW students and alumni on the margins to convene, create, and connect for collective care & action
2. Document and sustain the creative resistance of FIFSW students and alumni on the margins by building collective memory that can support coalitional advocacy
3. Advance efforts to expand work at the intersection of art and social work in pursuit of social justice.
The group drew on the work of hooks (2004) to conceptualize what "on the margins" might mean. They chose to avoid a rigid definition and instead encourage students and alumni to self-identify with suggestions of different identities that may be considered marginal, e.g. being racialized, non-Christian, Two-Spirit, queer, trans, disabled, neurodivergent, an immigrant or refugee, a sex-worker or housing insecure, or living with a chronic illness.
"We are leaning into the ambiguity of this definition with intention," write the group. "We recognize the margins as a dialectic — it is a site of both struggle and resistance, contested within and across groups of affinity based on identities/experience. It defies binaries and rigid categories."
FIFSW will be sharing some of the work from The Art of Resistance exhibition on our website and social media accounts in the coming weeks. Follow the Faculty in Instagram, Facebook, or Twitter to view the pieces as they are shared!
Meet the FIFSW Art Action collective
FIFSW Art Action started as a project as part of the course Theoretical Approaches to Defining Social Injustice & Engaging in Social Change (SWK4306) taught by Associate Professor Rupaleem Bhuyan. The students continued working together in the Winter semester in the course Globalization and Trans-nationalization: Intersections of Policy and Community Practice Locally and Globally (SWK4304), also taught by Bhuyan. The collective kept the initiative alive through the creation of the policy-focused event Blackout Policy Poetry and by working towards a gallery launch. Each of the founding members are students in the Master of Social Work programs Social Justice and Diversity field of study.
Amanda Bastyr (she/her)
My name is Amanda. I am a white settler on turtle island and disabled.
I am a passionate advocate to voice the importance of safe and inclusive spaces. In order for folks to share their own unique perspectives and cultivate community ties with each other. Hopefully I will be able to work in community development, and mental health in the close future.
Mackenzie Mountford
I conduct research that advances children's participation in their learning and academic research. I am interested in exploring arts-based approaches as a tool to promote children's meaningful participation. Through my research experiences, I have become passionate about practicing consent with children as a method of consent education. Building on this passion, I hope to practice social work with child and adolescent survivors of sexual violence
Ruka Watanabe | 渡邉瑠華 (she/her)
Ethnic, Immigration, and Pluralism collaborative specialization
I was born in Japan, raised in Malaysia, and moved to Turtle Island, Canada in 2015. My future directions are still developing, but find myself drawn to community-grounded work that relates to fostering connectedness and belonging, supporting immigration justice, as well as furthering health equity and access.
Natalia Munive (she/her)
I was born in Barranquilla, Colombia and grew up in North Philadelphia in a single parent household but have the opportunity to study as an international student in Toronto. As a young queer Latina, I hope to work with immigrant racialized youth to collaborate on individual and community healing efforts towards liberation. I believe making and sharing art is a form of healing and a means to sustainable celebration of our identities and belongingness to our physical and spiritual connections.
Chasity Hewitt-Brown
French and Indigenous, female, and queer. I am passionate about social justice, reconciliation and more recently, the use of various art forms to further those efforts. My hope is to work with Indigenous communities and the 2SLGBTQ+ community towards true celebration of diversity, access, and equity.
Liz Beeforth (they/them)
Community Development collaborative specialization
I'm a white queer, non-binary, disabled and neurodivergent (ADHD) artist who's been doing peer work since 2009. I love working with 2SLGBTQ+ communities and hope to focus more specifically on queer and trans neurodivergent folks moving forward. I'm passionate about integrating social justice and trauma-informed approaches to advance equity and I see huge potential for arts-based mediums in liberatory social workings.
References
hooks, b. (2004). Choosing the margins as a space of radical openness. In Harding, S. (Ed.)
The feminist standpoint theory reader: Intellectual and political controversies (153-159). Routledge.
---
Related: