How PhD student Marvelous Muchenje is harnessing the power of storytelling to effect change for African, Caribbean and Black women living with HIV
Categories:
Students
When Marvelous Muchenje worked at HIV/AIDS organizations in her native  Zimbabwe, she often  visited clients' homes and shared her own experience as an HIV-positive woman. This personal approach was the norm among her colleagues. But when she immigrated to Toronto in 2006 and began a job in the same field as a Registered Social Worker providing peer support, things got complicated.
"I was trying to provide services the way that I knew, but I was met with resistance from my co-workers and supervisors," says Muchenje, a PhD student in U of T's Factor-Inwentash Faculty of Social Work. "I would work weekends, and they'd say I had to maintain boundaries. I'd offer my personal phone number to clients, and I was told it was a conflict of interest. It was so frustrating."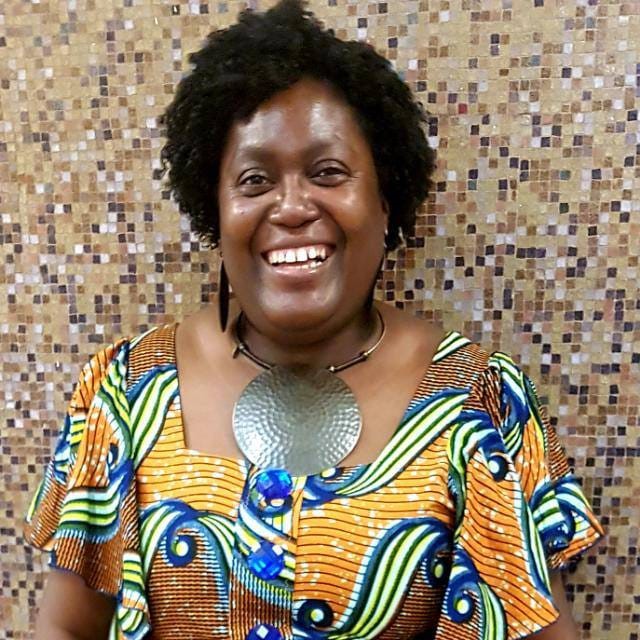 Today, Muchenje is co-leading a research project exploring the HIV service employment of African, Caribbean and Black women living with HIV in Ontario. Through her international advocacy and public speaking in the area of HIV and human rights, she connected with co-principal investigator Lori Chambers, a postdoctoral fellow in social work at U of T.
Initially, Muchenje was an advisory board member and research participant in the project, called 'Because She Cares.' She and nine other women shared their employment stories, which illuminated how many of their familiar modes of working – sometimes called "back-home ways" – weren't understood or accepted in Canada.
"In the collective societies we come from, there's a thin line between being service providers and community members – sisters, mothers and daughters to confide in," says Muchenje. While this meaningful involvement can bring intrinsic rewards, according to Muchenje and her fellow research participants, the emotional labour it requires may also lead to burnout. They also spoke of confronting issues such as anti-Black racism and HIV stigma in their jobs.
Their narratives have since been turned into a poetry anthology, play and film that the research team is using to spark discussion and spur policy change around the wellbeing of this population of employees. Until now, there's been little understanding of the challenges of their work.
The 'Because She Cares' project gathers and disseminates information using storytelling, which has been Muchenje's life-long approach to raising awareness about racialized women living with HIV. "I've told my story to thousands of people in over 15 countries," she says. "The power of stories is that they open up conversations and allow people to gain new perspectives."
Muchenje's story begins with her HIV diagnosis in 1995, a time when AIDS stigma was still pervasive and treatment was not easily available in Zimbabwe. The first HIV counsellor she met set her on a life-changing course. "We became so close that she met my parents," she says. "As a woman living with HIV herself for many years, she gave them confidence that I would be all right and ensured I wouldn't experience stigma within my family."
A few years later, Muchenje left her career as an accountant in the private sector to take a job as the Finance Director of the HIV/AIDS organization where that counsellor worked. "I wanted to give back to my community and provide the support that I received," she says. Though her professional role was in finance and operations, she frequently provided peer counselling to clients  and advocated for the rights of people living with HIV globally.
But it was only after she moved to Toronto that she formally changed careers. While working in health promotion for African, Caribbean and Black women living with HIV at Women's Health in Women's Hands Community Health Centre, she went back to school for social work and steadily progressed from a college diploma to her current PhD. Since 2019, Muchenje has been the Community Relations Manager at a pharmaceutical company dedicated to the development of HIV therapies.
She says she's optimistic about the 'Because She Cares' project effecting change. "When policymakers, social work leaders and others read the poems or watch the film, I hope they think deeply about the questions the women raise. For example, how can we create a safe employment environment for them? And how can they deliver the services they're passionate about without reservation?" Above all, says Muchenje, she wants the project to convey the message that African, Caribbean and Black women work in HIV services because they care, but they deserve care too.
By Megan Easton
---
Because She Cares film launch
February 12, 2:00 – 4:00pm EST
Using spoken word performance and film, "Because She Cares" poetically re-tells the working stories of African immigrant women living with HIV who work in AIDS service and allied organizations (AASOs). The 60-minute film screening will be followed by a panel discussion with the performers, film artists, and African, Caribbean and Black women who work in Ontario AIDS service and allied organizations.
> Click here to register for the Because She Cares film launch
---
The art of knowledge translation: Lori Chambers examines the use of film and spoken word performance in social work research and practice
Read our Q&A with Lori Chambers, founder, project director, producer and co-author of Because She Cares: Critical Poetic Re-tellings of HIV-related employment.
We spoke to Chambers about the differences between caring, uncaring, and "care-full" work; sharing knowledge through arts-based approaches, and the need for more storytelling in academia.
> Click here to read the full Q&A
---
More PhD students news: