Micheal Shier is named Canada Research Chair in Social Innovation and Social Entrepreneurship in the Human Services
Categories: Awards & Recognition, Faculty, Micheal L. Shier, Research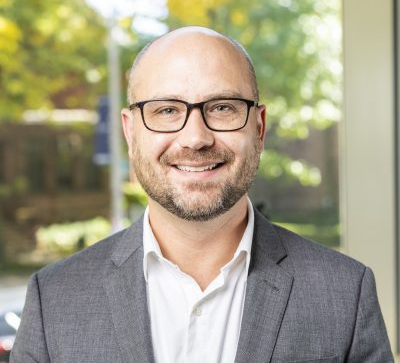 Associate Professor Micheal Shier is among the new Canada Research Chairs (CRC) that were announced June 2 by the Federal Government.
Dr. Shier's program of research helps to optimize social service delivery and improve social outcomes for vulnerable social groups. It also enhances the capacity of nonprofit leadership within our community and supports local social welfare and community economic development.
As Canada Research Chair in Social Innovation and Social Entrepreneurship in the Human Services, Dr. Shier aims to develop socially innovative organizational strategies within the nonprofit and voluntary sector to promote equitable and inclusive human service organizational environments. His focus includes building understanding of the mechanisms that promote social-purpose driven for-profit activities within and among non-profit and for-profit organizations across Canada. He works extensively with nonprofit human service organizations to develop and implement models of evaluation that support the identification and implementation of social innovation efforts.
The Canada Research Chairs Program is part of a national strategy to position Canada as one of the world's top countries in research and development. The Factor-Inwentash Faculty of Social Work is now home to five Canada Research Chairs — a testament to the high-quality work taking place within Faculty to advance knowledge and practice within the social work field.
Ranked number one among peer institutions in North America for number of social work publications and number two for number of social work citations, U of T's social work research is highly recognized internationally.
"FIFSW's Canada Research Chairs demonstrate the University of Toronto's leadership in connecting equity, social justice, health and well-being, says David Brennan, FIFSW's Associate Dean, Research. "Our researchers' commitment to disseminating knowledge across disciplines and to the next generation of social workers and social work scholars strengthens our ability to address urgent needs both in Canada and across the globe."
---
Related: