COVID-19 updates
(Updated November 17, 2022)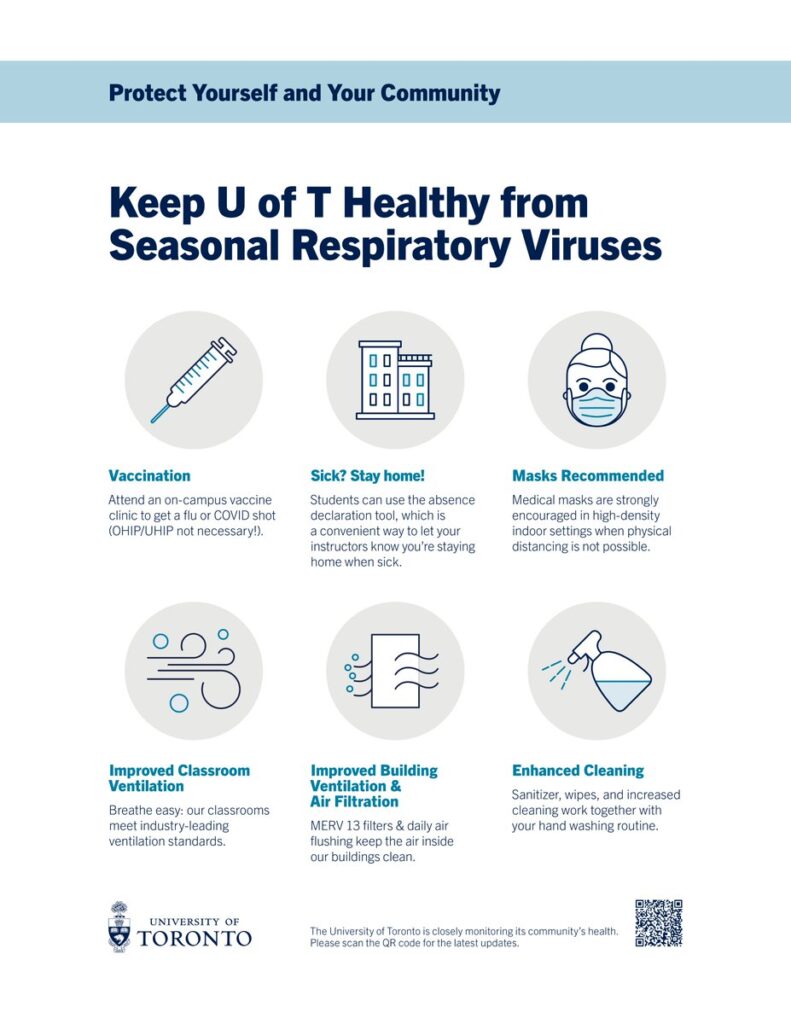 Protecting U of T from seasonal respiratory viruses
Vaccination: Attend an on-campus vaccine clinic to get a flu or COVID shot (OHIP/UHIP not necessary!)
Sick? Stay home!: Students can use the absence declaration tool, which is a convenient way to let your instructors know you're staying home when sick.
Masks: Medical masks are strongly encouraged in high-density indoor settings when physical distancing is not possible. Visitors to health sciences buildings are asked to wear masks.
Improved classroom ventilation: Breatheeasy: our classrooms meet industry-leading ventilation standards.
Improved building ventilation & air filtration: MERV 13 filters & daily air flushing keep the air inside our buildings clean.
Enhanced cleaning: Sanitizer, wipes, and increased cleaning work together with your hand washing routine.
---
Further resources:
---
FIFSW Contacts
Members of the FIFSW community who have questions, are encouraged to contact appropriate faculty member below:
Student services and registrar:
Registrar office
registrar.fifsw@utoronto.ca
Associate Dean, Academic:
Eunjung.lee@utoronto.ca, Associate Dean, Academic, and Associate Professor
416-978-5716
Associate.deanfifsw@utoronto.ca
MSW Program
Micheal Shier, MSW Program Director
m.shier@utoronto.ca
Practicum:
Eileen McKee, Assistant Dean, Field Education
416-978-4338
e.mckee@utoronto.ca
PhD program:
Rupaleem Bhuyan, PhD Program Director, and Associate Professor
416-946-5085
r.bhuyan@utoronto.ca
Research:
David J. Brennan, Associate Dean, Research, and Professor
416-978-3273
David.brennan@utoronto.ca