FIFSW scholars named Canada Research Chairs
Three researchers from the Factor-Inwentash Faculty of Social Work are among the University of Toronto's 33 Canada Research Chairs (CRC) announced today by Federal Government.
Associate Professor David Burnes is a new Canada Research Chair in Older Adult Mistreatment Prevention, while Professors Barbara Fallon and Shelley Craig had their CRC positions renewed for a second term. Dr. Fallon holds the Canada Research Chair in Child Welfare, and Dr. Craig holds the Canada Research Chair in Sexual and Gender Minority Youth. (Associate Professor Carmen Logie, whose CRC position is ongoing, is a Canada Research Chair in Global Health Equity and Social Justice with Marginalized Populations.)
The Canada Research Chairs Program is part of a national strategy to position Canada as one of the world's top countries in research and development.
"That U of T is now home to four Canada Research Chairs from the Factor-Inwentash Faculty of Social Work is a testament to the high-quality research happening within the social work field and the important societal challenges it is addressing," says Charmaine Williams, FIFSW's Interim Dean. "The findings and interventions developed by our faculty have and will strengthen both policy and practice — and ultimately help improve the lives of individuals, families, and communities for years to come."
Ranked number one among peer institutions in North America for number of social work publications and number two for number of social work citations, U of T's social work research is highly recognized internationally.
"FIFSW's Canada Research Chairs demonstrate the University of Toronto's leadership in connecting equity, social justice, health and well-being, says David Brennan, FIFSW's Associate Dean, Research. "Our researchers' commitment to disseminating knowledge across disciplines and to the next generation of social workers and social work scholars strengthens our ability to address urgent needs both in Canada and across the globe."
Older Adult Mistreatment Prevention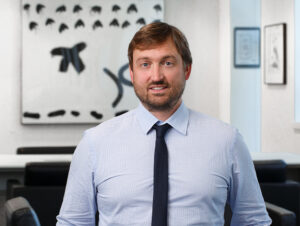 As Canada Research Chair in Older Adult Mistreatment Prevention, Associate Professor David Burnes will work to advance knowledge of the risk factors associated with elder abuse. He will also develop and evaluate interventions and practices to address elder abuse, which his previous research has proven to be a prevalent problem.
Elder abuse is associated with major health and psychosocial consequences that affect an aging population. Unfortunately, knowledge of effective, community-based prevention interventions remains limited. As a leading gerontology researcher in this field, Dr. Burnes' research has impacted how elder abuse is understood and addressed both locally and internationally.
Dr. Burnes' expertise has been sought by the World Health Organization as well as the U.S. Administration for Community Living, National Institutes of Health, and state-level Adult Protective Services systems. He was invited by the Public Health Agency of Canada to lead efforts to identify elder abuse risk factors and inform prevention initiatives. In addition, the Government of Ontario's Ministry for Seniors and Accessibility selected Dr. Burnes to lead its efforts to evaluate the province's community-based elder abuse response system and develop recommendations. A crucial aspect of Dr. Burnes' research program also includes providing rich training opportunities to the next generation of elder abuse scholars.
Sexual and Gender Minority Youth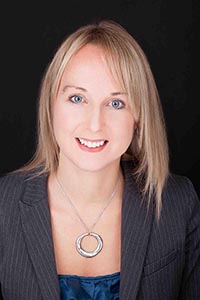 As the Canada Research Chair in Sexual and Gender Minority Youth, Professor Shelley Craig has developed a highly successful program of global research to promote the resilience of sexual and gender minority youth (SGMY). Her research on the impact of information and communication technologies, such as smartphones and their applications (including Twitter and Instagram), as well as affirmative interventions (AFFIRM) on the wellbeing of SGMY, who are at greater risk of suicide, social exclusion and familial rejection, is having a direct impact.
As a Canada Research Chair, Dr. Craig was awarded the first SSHRC Partnership Grant at the University of Toronto in over a decade. This multi-million dollar grant allowed her to found the International Partnership for Queer Youth Resilience (INQYR), "an interdisciplinary and multilingual research partnership designed to understand and support the resilience of sexual and gender minority youth through technology-engaged research and practice." Dr. Craig leads the INQYR team of over 50 academic researchers and community partners to develop innovative research across cultures and contexts in five international regions (Canada, United States, Mexico, Australia and the United Kingdom).
To train the next generation of SGMY researchers, Craig has developed the first bilingual, and interdisciplinary International Student Training Network (ISTN), comprised of graduate students interested in deepening their research skills with SGM populations. The first cohort (13 students) graduated in 2020 and moved onto successful faculty and research positions and the second cohort (26 students) will graduate in 2022.
To mobilize research, INQYR has a searchable hub of INQYR's research publications and projects on its website. The Rainbow Road, a multimedia visual timeline of the "behind the scenes" of research with SGMY, is also online. A recent project (made possible with funding from the Canada Foundation for Innovation) included the development of new multimedia tools to help LGBTQ+ youth improve their wellbeing and advocate for their rights.
Dr. Craig has created and developed AFFIRM, an eight-session affirmative cognitive behavioural group intervention, the first evidenced-based intervention for SGMY. Through multiple research projects, including a randomized control trial, AFFIRM, has been found to significantly reduce distress, depression and anxiety and increase hope and coping in SGM populations. Delivered both virtually and in-person, in just Ontario alone, AFFIRM has positively impacted the mental health of over 500 SGMY in less than four years. AFFIRM has been implemented in many international contexts with similar outcomes, most recently in Mexico.
During her first term as a CRC, Craig was awarded more than $5 million in research funding, primarily as Principal Investigator. To date, she has authored 122 peer-reviewed publications and given over 300 peer-reviewed presentations.
Child Welfare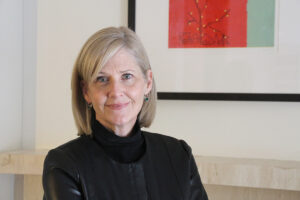 In her first term as the Chair in Child Welfare, Professor Barbara Fallon collected timely, comprehensive data from provincial and national child welfare systems and applied innovative statistical techniques to this data to inform child welfare practice and policy.
Dr. Fallon's research has revealed stark disparities between Indigenous and non-Indigenous children and families in the child welfare systems — findings that have informed organizations such as the United Nations and Canada's Senate Committee on Human Rights. In 2020, she was recognized with a President's Impact Award in recognition of her work.
Dr. Fallon also recently helped launch the Fraser Mustard Institute for Human Development Policy Bench, which brings together leaders from an array of academic disciplines across U of T and SickKids to support optimal human development and health equity across the life course.
Through her work, Dr. Fallon has helped promote academic and professional knowledge mobilization efforts both locally and internationally. This has included a strong commitment to training the next generation of child welfare academics. The continued support of the CRC will enable Dr. Fallon to build on her research and continue her efforts to engage stakeholders in partnership with allied disciplines.
Over the course of her first term as chair, Dr. Fallon was awarded more than $5 million in funding. She currently holds 15 grants/contracts as Principal Investigator. To date, she has authored 200 peer-reviewed publications and given over 200 peer-reviewed presentations throughout her career.
A new report and interactive map from The CRIB illustrates the disproportionate prevalence of homicides in predominately Black neighbourhoods in Toronto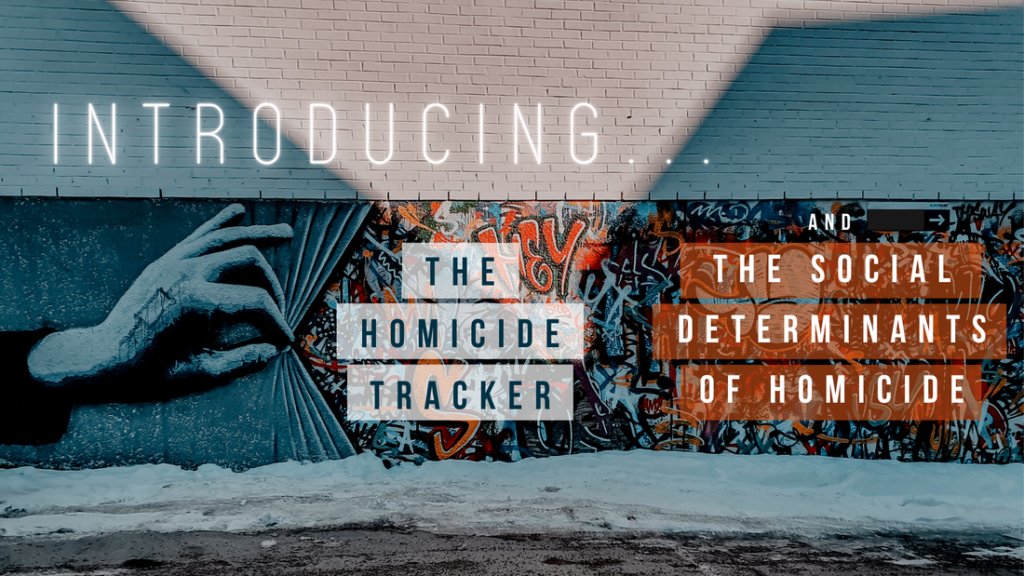 As of January 9th, six known homicides had already occurred in Toronto in 2022 — a statistic that led some reporters to wonder if Canada's largest city, which typically experiences the highest number of homicides in the country each year, would see more violence than usual in the year ahead.
But while it's too early to draw these sort of conclusions, a new report and interactive map from The Centre for Research & Innovation for Black Survivors of Homicide Victims (The CRIB) can provide insight into where homicides often happen, the factors that place Black communities at increased risk, and the location of resources available to support those affected by homicide — including families and friends who are faced with the devastating challenge of grieving the violent death of their loved ones.
The CRIB's Homicide Tracker is an interactive GIS map that marks where homicides occurred in Toronto between 2004 and 2020, relative to African, Caribbean, Black (ACB) communities and service organizations that exist to serve them.
Accompanying the map is a report on the Social Determinants of Homicide, which identifies the key factors that put Black communities at an increased risk of experiencing homicide. The report includes recommendations for an action plan to not only reduce the inequitable conditions that contribute to the disproportionate number of homicides within Black communities but to also increase the availability of culturally responsive trauma-informed care.
"To our knowledge, this is the first project of its' kind to map the disproportionate impact of homicide on African, Caribbean, Black (ACB) communities in Toronto, while providing context for the root causes of homicide and recommendations for an action plan," says Dr. Tanya Sharpe, an Associate Professor at the University of Toronto's Factor-Inwentash Faculty of Social Work and founding director of The CRIB. "The absence of and lack of access to race-based data collection obstructs our ability to comprehend and respond appropriately to the chronic and cumulative impact that homicide has on Black communities. The CRIB  aims to change that."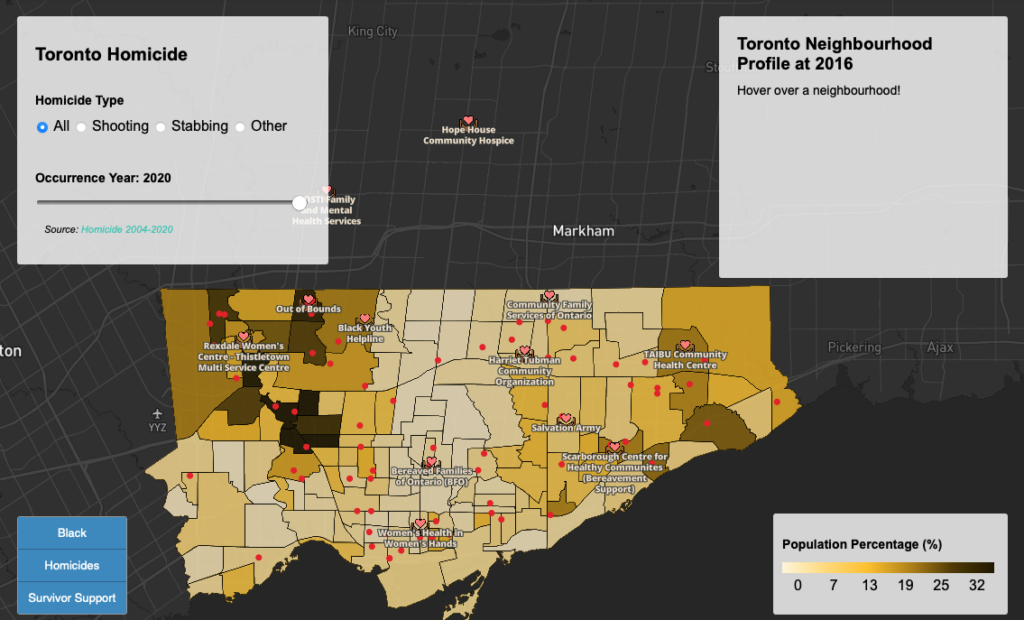 Of the 600 homicides that occur on average in Canada annually, 75% of the victims are racialized Ontarians and 44% of those victims are African, Caribbean or Black (ACB). Ontario averages around 232 murders per year, and Toronto accounts for 77 of those murders — the highest number of any Canadian city.
The CRIB's Homicide Tracker depicts the disproportionate prevalence of homicide in ACB neighbourhoods across Toronto and illustrates the availability of resources to assist family members and friends of murdered victims in surviving the aftermath of unthinkable tragedy. Unfortunately, compared to downtown neighbourhoods, Black survivors in the Northwestern neighbourhoods have less access to grief and bereavement supports.
"It is vital that we consider the systemic way that anti-Black racism permeates the very fabric of our society, infecting a plethora of systems and services that survivors of homicide victims engage with on a daily basis as well as the ones they need and interact with as a result of experiencing the murder of a loved one," says Sharpe.
Included in the Social Determinates of Homicide report is an overview of the educational, employment and income inequalities and mass incarceration rates experienced by Black communities in Toronto. For example, Black Torontonians are four times more likely to be charged with a crime than their white counterparts, while 1 in 15 young Black men in Ontario have been incarcerated, compared to 1 in 70 young white men.
The CRIB's report also highlights parallels between COVID-19 and homicide: Neighbourhoods in Toronto that are chronically experiencing homicide are also experiencing high infection and death rates due to COVID-19. The social determinants of homicide are the same determinants that disproportionately place Black people at risk of COVID-19 infection.
"Eliminating structural inequities is essential," says Sharpe. "Addressing these inequities requires advancement in the policies we design, the services we deliver, and the culturally responsive research infrastructures we build."
> Click here to view The CRIB's Homicide Tracker.
> Click here to read The Social Determinates of Homicide report.
---
Related:
Introducing the Black Social Work Student Association (BSWSA)
The Black Social Work Student Association is an empowerment, advocacy and support group, which acts as a representative body to enhance the experience of self-identified Black students at the Factor-Inwentash Faculty of Social Work (FIFSW) at the University of Toronto. The Association is dedicated to creating cohesion among the Black community at FIFSW, inclusive of student and faculty members alike, to promote Black community and culture through representation, collaboration and outreach.
The BSWSA's research and advocacy work is responsible for a number of changes in the Faculty such as the Black Social Work Students Clinical consultancy Group. We applaud the continued work of it leaders Shantel Aboagye-Mensha, Nakema Rae McManamna, Divine Muzia, and Rachel Wilson. Learn more about them below.

Shantel Aboagye-Mensah
Shantel Aboagye-Mensah (she/her)  is a second year Master of Social Work student within the Mental Health and Health stream at the Factor-Inwentash Faculty of Social Work.  She currently holds a Honours Bachelors of Science degree from the University of Toronto, having completed a Co-operative Specialist in Mental Health Studies.  During her academic journey, she had the opportunity to work directly with various communities. Professionally, Shantel has experience providing mental health counseling and crisis intervention to adolescents and young adults.
Currently, Shantel is working as an Academic Success Peer Mentor at UofT and as a Peer Facilitator in the #SafeHandsSafeHearts Project at Women's Health in Women's Hands (WHIWH) Community Health Centre. Shantel also volunteers as a Recruitment Coordinator for IMAGINE Clinic, an interprofessional, UofT student-run community health initiative, aimed at promoting and providing health care to the core neighborhoods of downtown Toronto.
In 2021, Shantel joined the Black Social Work Student Association as a Co-President. She hopes to enhance the experience of self-identified black students at the faculty by fostering connection, advocating for needs and services, and empowering community members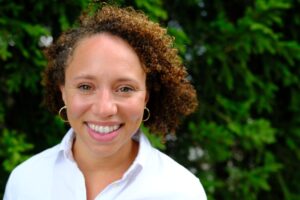 Nakema Rae McManamna
Nakema is a second year MSW student in the Children and Families Stream and the Director of Special Projects with the BSWSA. In her role with the BSWSA, Nakema led the development of the first Clinical Consultation Group. Nakema is an active advocate for the needs of Black children, youth and families. She is a research assistant with both FIFSW's Youth Wellness Lab and OISE's Making Spaces Lab working on projects to address the overrepresentation of Black families in child welfare. In her community, Nakema volunteers with the Canadian Black Policy Network to develop sustainable policy solutions for issues affecting Canada's Black communities. Nakema approaches all of her work the goal of amplifying the voices of Black communities and building foundations for the next generation of Black social workers to stand on.

Divine Muzia
Divine Muzia (she/her) in her 2nd year of MSW specializing in Mental Health. Thus far, she is focusing on increasing knowledge and skills that would further enhance her practice. Accomplishments she'd like to achieve by the end of this year is to work within a hospital setting in the capacity of mental health. Within the University, she am the Co-President of the Black Social Work Student Association (BSWSA) alongside with three phenomenal colleagues. In the next few years, I hope to embark in my social work journey internationally (more specifically, United States) to focus on psychotherapy.

Rachel Wilson
Rachel Wilson is the Communications Coordinator of the Black Social Work Student Association and has been working with marginalized communities, including those with developmental and dual diagnoses for more than five years. Rachel holds a Bachelor of Arts in Psychology at York University, and she is in her final year of the Factor-Inwentash Faculty of Social Work program. She currently serves as a Board Member on Black Mental Health Canada to promote culturally safe and affirming mental health services. She also works as a research assistant to examine and foster social justice and cross-cultural practice in social work education at the University of Toronto. Her passion for promoting social justice has led her to research inclusive and anti-discriminatory practices for social work education. Finally, Rachel is committed to promoting an inclusive space to improve the degree of support and access to necessary services.
Ran Hu receives U of T's Graduate Award for Scholarly Achievement in the Area of Gender-Based Violence
Ran Hu, a PhD candidate at the Factor-Inwentash Faculty of Social Work, was honoured with U of T's Graduate Award for Scholarly Achievement in the Area of Gender-Based Violence at a virtual event marking the National Day of Remembrance and Action on Violence Against Women on December 6.
The Award for Scholarly Achievement in the area of Gender-Based Violence was established in 2016 to recognize students who have made distinctive contributions in gender-based violence research and prevention. Two awards are presented each year: one for undergraduate students and two for graduate students. Each student receives $1,500.
Hu's research has been focused on structural and interpersonal violence against women, policies on sex work and human trafficking, and victim (mis)representation issues in the North American anti-trafficking campaigns. Her scholarship is grounded in her commitment to raising awareness and addressing the intersectional structural inequalities that legitimize various forms of violence.
Hu has authored and co-authored several publications — including two articles in the highly competitive and interdisciplinary Journal of Interpersonal Violence based on a rare large-scale study to address intimate partner violence against women in China. Building on her publications in Affilia: Feminist Inquiry in Social Work, Hu's doctoral thesis directly engages with advocacy against sex work criminalization in the US. Her innovative thesis research contributes to our understanding of the complex role of social media in grassroots organizing and public engagement in policy discussions. This research builds on her long-term commitment to advocating for sex work decriminalization and rights-based anti-trafficking.
In the scholarly work that she submitted when applying for this award, Hu discusses the misrepresentation of victims in educational messaging on sex trafficking promoted in the "end-demand" campaign in the United States. This work is situated in the broader feminist critical reflection on state/structural violence, epistemic injustice, and carceral interventions against racialized women.
More information and links to Hu's research can be found here.
Congratulations to Hu on this well-deserved recognition of her work!
---
Related:
Q & A: Dean Dexter Voisin reflects on the challenges and successes of his tenure at FIFSW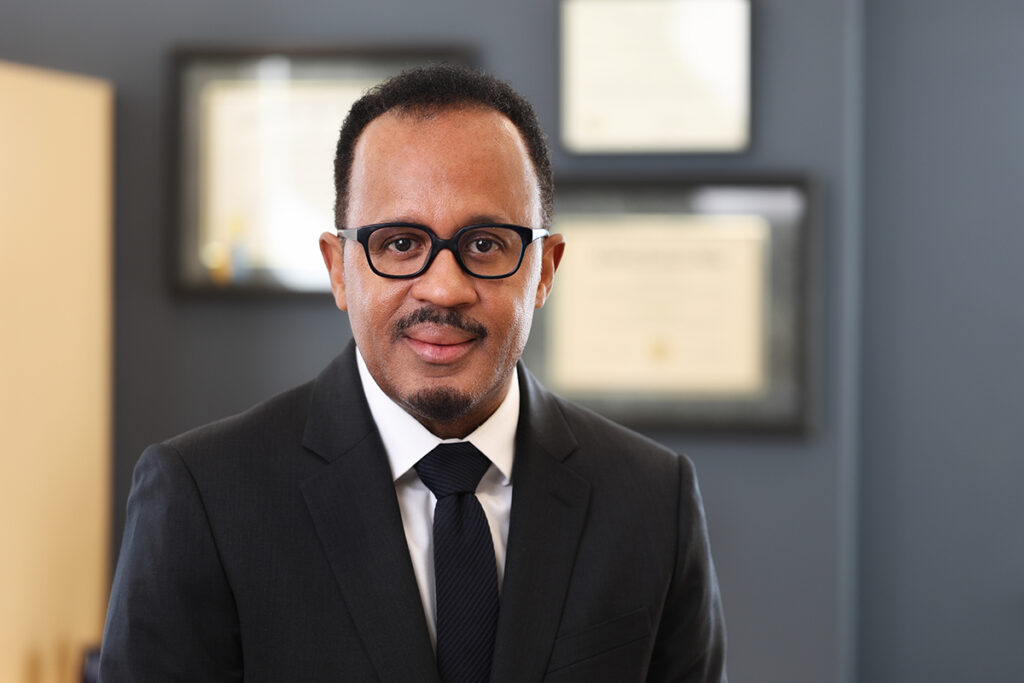 As Professor Dexter Voisin prepares to step down from his role as dean of U of T's Factor-Inwentash Faculty of Social Work at year's end, he's reflecting on the challenges and successes of his tenure.
Voisin previously spent two decades at the University of Chicago, where he devoted much of his career to exploring the impact of structural, neighbourhood and police violence on urban racialized youth. This subject is the focus of his 2019 book America the Beautiful and Violent: Black Youth and Neighbourhood Trauma in Chicago. At U of T, he co-chaired the Anti-Black Racism Task Force, which delivered its final report in spring 2021.
Voisin will begin his new position as the Jack, Joseph and Morton Mandel Dean in Applied Social Sciences at the Jack, Joseph and Morton Mandel School of Applied Social Sciences at Case Western Reserve University in January 2022. He recently spoke with writer Megan Easton about the unprecedented context of his time here, what he's proud of, what he learned and what he'll miss.
---
What was it like to lead the Faculty during the COVID-19 pandemic?
During the first six months I had "listen and learn" sessions with over 70 faculty, staff, community partners and university leaders — and then COVID-19 hit. Looking back, I see how crucial it was to build relationships in person. Those early face-to-face relationships were critical to building trust within the FIFSW community and us later banding together to address the challenges ahead where there was no road map. The exceptional support from my decanal colleagues, the provost and central administration was pivotal to me and the Faculty moving through and thriving during the pandemic.
Looking back on the past two and a half years, what accomplishments are you are most proud of?
Despite the pandemic, we maintained strong research productivity, and secured two new Canada Research Chairs. We also obtained the Lee Wu Kee Ming Chair in Indigenous Social Work. This historic chair is important to the Faculty and the profession because it will increase our capacity to address the needs of Indigenous communities — a top priority for social work, the University and the field.
We continued to leverage our urban location, built more community partnerships, strengthened our relationships with external stakeholders like the mayor's office, and other government leaders. We hired the faculty's first senior communications strategist which elevated our profile, within U of T, nationally and internationally.
I'm especially proud of how we have continued to diversify the student body. In addition, our international student applications rose by 300 per cent, and international student enrolment went from two per cent to approximately 10 percent, which enriches learning within our entire community. We have increased the representation of diverse excellence at our senior staff level and emphasized social workers as leaders. At the height of the pandemic we launched Talk it Out — a free online mental health counseling clinic supported by supervised MSW students. All of these advances helped us to significantly exceed our usual advancement totals.
Working alongside this outstanding group of faculty, students, staff and alumni has been one of the highlights of my academic career. Time and time again, in my interactions with them, I would think, 'Do they really know how truly amazing they are?'
Some of your research has focused on the role of systemic racism in the U.S. How did Canada and U of T compare in this respect?
I found that in general Canadians are very welcoming and that navigating daily life, with regards to public safety and gun violence, is far less complicated and weighted than in the U.S. However, scratching beneath the surface it quickly becomes clear that a lot of the racial inequity seen in in the U.S. is present in Canada. Black and Indigenous persons, for example, are overrepresented in prisons and the child welfare systems.
Simultaneously, Black and Indigenous individuals are underrepresented across the U of T community and Canadian higher education. However, the University is making important strides. I came here as the first Black dean in the university's history, and now we have three as well as a Black associate vice-president and vice-provost. I believe that the prior advocacy around racial equality done by staff, faculty and students and the 2020 summer of racial reckoning, coupled with the work of U of T's Anti-Black Racism Task Force and the University's commitment to mission, have contributed to such inclusive shifts.
The social awakening that took place around the George Floyd incident ripped the band aid off the polite racism that's exists in elite institutions of higher learning, including U of T. I've seen a shifting of the narrative away from so-called colour-blindness to the realities of exclusion and the importance of diverse representation. During my time at the University, I've learned about the importance of being more courageous when engaging in uncomfortable conversations that are of high importance.
How does the anti-Black racism work at U of T relate to the social work profession?
The social work profession has a complicated history of promoting social change while sustaining the status quo and systems of marginalization, as witnessed within the child welfare and correctional systems. Within our Faculty and others, we must courageously address our own anti-Black and anti-Indigenous policies and practices and deficit narratives of BIPOC individuals. We are really only just beginning to grapple with the colonial ideologies and pedagogies that have dominated the profession for more than 100 years.
What will you miss most about the Factor-Inwentash Faculty of Social Work?
I will miss the reopening of in-person learning that is planned for winter 2022. I will miss interacting in-person with FIFSW's students, staff and faculty. I'll greatly miss my decanal colleagues and supporting the ambitious agenda of the President and Provost.
The pandemic halted my chance to fully explore Toronto, though I did discover Kensington Market, which was one of my favourite places to go on the weekend. However, Cleveland is only a few hours from Toronto, and I plan to come back and visit.
What will you be watching for at the Faculty in the coming years?
I anticipate a growing number of community partnerships, more Canada Research Chairs and an increase in the global profile of the Faculty. I also expect that the reach and impact of the new Centre for Research and Innovation for Black Survivors of Homicide Victims (CRIB) and the Talk-it-Out Clinic will expand significantly. I look forward to seeing FIFSW's growing impact and success.
---
Photo by Harry Choi
Stephanie Begun partners with Second City to explore how improv can cultivate confidence in marginalized youth
Shortly before the pandemic, social work professor Stephanie Begun put up some flyers for a free improv workshop at a Toronto homeless shelter for youth. She was taking a risk on an idea she'd been toying with for years: that participating in improv might benefit vulnerable populations. The exercise was a big success, leading to more workshops and paving the way for research about the potential role of improv in social work interventions.
"I expected maybe half a dozen people to show up for that first class," says Begun, an assistant professor at U of T's Factor-Inwentash Faculty of Social Work. "I couldn't believe it when about 30 came out. Not only that, but their response was so positive. At that point, I knew we might be on to something."
Begun's research focuses on improving the health and wellness of marginalized youth, including those experiencing homelessness. While she had limited personal knowledge of improv theatre, she was involved in the performing arts growing up and her children went to improv summer camp.
"I loved drama and performance when I was young, and my kids got so much out of their camp," says Begun, who is also co-founder and co-director of U of T's Youth Wellness Lab. "I kept thinking, why aren't we offering this outlet to other groups of young people who don't have access to these opportunities? I've seen so much brilliance and creativity in these youth through my research. Yet they have so few chances to engage in creative expression that makes them feel good about themselves."
After the test workshop at the shelter, Begun designed a pilot project funded by the Social Sciences and Humanities Research Council to explore how improv might foster self-esteem, social connectedness and confidence in marginalized youth. She partnered with The Second City Toronto, an improv and comedy theatre company that provided a facilitator, as well as an after-school program that engages adolescent and teen young women, and a local shelter for youth and women experiencing homelessness.
In the first phase of the project, Begun delivered an online improv workshop series to young women of colour in the after-school program. "At the time, they were in online school and feeling socially isolated," she says. "Several of them were very reluctant to try improv because they felt it didn't suit their introverted personalities, or it simply scared them. Yet when we interviewed the participants in the end, the ones who had been most nervous were the ones who thrived."
The participants' feedback affirmed Begun's belief that improv could cultivate confidence in this group.
"I didn't think that I would be very good at this, but I really surprised myself," said one participant. According to another, "I think improv is really extra good for young women, as we struggle so much with our self-esteem and with being afraid to take risks. So it is really, really great to focus these activities and ideas on us, because girls and young women around my age really need boosts like this."
For Daphney Joseph, the artist, producer and Second City improviser who led the workshops, these responses weren't surprising. "Improv makes you a more positive person because it relies on the 'yes, and' philosophy, which means agreeing and adding onto someone's idea," she says. "When everyone supports each other's ideas, it creates an environment where everyone feels safe enough to take bigger risks."
The second phase of the project took place on a warm afternoon this fall at a park in Toronto, where women-identifying residents from a nearby homeless shelter took part in a two-hour workshop. Again, the participants' responses were overwhelmingly positive.
"These amazing women have to improvise every day just to get through life without a home," says Begun. "But improv workshop activities gave them a break from their stressors and traumas, and they could just laugh and experiment." Improv is also an equalizer, she says. "No one has an advantage, no matter your education or place in the world. The women said that seeing me jump in and join the activities meant a lot because the activities were clearly just as new and unknown to me as they were for them."
In follow-up phone interviews, the participants said the workshops created new social connections at the shelter and provided a much-needed injection of fun and humour in their otherwise harsh lives. "It got me right out of my head and out of all my anxiety and all my worries," said one. "I felt like I was me again, for the first time in years." Another commented, "I needed to be able to raise my voice and be heard. It made me feel important and creative."
Based on the preliminary results of the pilot project, Begun hopes to pursue future research that will quantify improv's benefits for marginalized youth. "I see so many possibilities for embedding improv in prevention and intervention programs," she says. "Not that it would ever replace therapy and other tried-and-tested ways of helping, but it allows young people in tough situations to be social, creative and lighthearted — and it seems that these experiences lead to meaningful realizations in nearly anyone who gives improv a try."
By Megan Easton
---
Related:
The 2SHAWLS study foregrounds Indigenous knowledges and experiences to highlight the resilience of two-spirit men living long-term with HIV
On December 1, the Journal of Indigenous HIV Research published three articles and an essay introducing 2SHAWLS (the Two-spirit HIV/AIDS Wellness and Longevity Study) — a project launched by FIFSW Professor David Brennan, Indigenous elder and community provider Art Zoccole, noted Indigenous social work scholar Randy Jackson, and another community provider, the late Tony Nobis.
"2SHAWLS was born from the experiences of Indigenous community providers who were frustrated with the ongoing focus in research on the perceived dysfunction, harm, suffering, and pathology among two-spirit people living long-term with HIV," write the researchers in their introductory essay. "Community providers working with many long-term HIV-positive two-spirit men report they are doing very well, but the voices and experiences of these men are rarely represented in the research literature."
The project's researchers also include Georgi Georgievski, a social worker at Bridgepoint Active Healthcare and PhD student at FIFSW; and Chavisa Horemans, a national research coordinator at the CIHR Canadian HIV Trials Network.
The articles that appear in the journal include a study on the resilient journeys of long-term HIV-positive Two-Spirit men and the ways that HIV services could be adapted to better suit them, as well as a scoping review of how resilience in this population has been examined, described, and/or supported in past literature. The researchers also shared a discussion of the community-based academic partnership that they formed, which privileged Indigenous knowledge and resources and an examination of the lessons they learned in developing and executing the study.
"The research team was a blend of HIV-positive two-spirit/gay/bisexual men who are living long-term with HIV and settler academics," wrote the researchers in their essay. "This created opportunities and challenges to be able to teach each other about what our world views are, how we come to understand the world, and how we can seek to create change to better represent the needs of two-spirit men living long-term with HIV."
---
Related:
FIFSW researchers spearhead a new interdisciplinary initiative to end AIDS
On World AIDS Day, December 1, faculty members from the Factor-Inwentash Faculty of Social Work are leading the first meeting of a newly proposed interdisciplinary initiative designed to catalyze the exceptional HIV research taking place across the University of Toronto.
By bringing together colleagues from medicine, public health, the department of health & society, and other disciplines, the social work professors aim to bridge the university's social science and biomedical expertise to accelerate the research, training and knowledge mobilization needed to ultimately end the AIDS epidemic. In concert with this year's World AIDS Day theme, the initiative addresses the imperative of ending the inequalities that drive AIDS in Canada and around the world.
"Thanks to tremendous advances in HIV social and biomedical science in the past decade, ending HIV as a public health threat is entirely within our reach," says Professor Peter A. Newman, the initiative's academic lead. "The primary obstacle is the failure to integrate social-structural and biomedical approaches, which results in disregarding egregious health disparities among BIPOC communities, sexual and gender minorities, and those with intersecting marginalized identities."
An estimated 79 million people have contracted HIV since the start of the epidemic and nearly half have died. Globally, the 1.5 million new HIV infections in 2020 represent a 30% decrease from 2010 — the result of great progress in the HIV response. Nevertheless, the researchers say that the majority of these new infections could have been prevented with existing interventions.
The new initiative, now in the development stage, will see the creation of a Centre for HIV and Sexual Health Research and Innovation (SHRI), which will provide infrastructure to enable the integration of social and biomedical research and community engagement — from the point at which a research project is conceptualized, through to its implementation and knowledge mobilization.
"Ending the global AIDS epidemic demands the integration of sexual health and rights in social and biomedical responses," says Associate Professor Carmen Logie, who along with Professor David Brennan, is co-leading the initiative at the Factor-Inwentash Faculty. "Individuals and communities subject to intersectional stigma, systemic discrimination, marginalization and criminalization, and those living in poverty with unstable housing and food and water insecurity, remain at heightened vulnerability to HIV despite advances in biomedicine."
Research by Logie, Brennan, Newman and others (see more below) has shown that the pervasive stigma, harassment and violence faced by sexual and gender minorities and racialized populations have a significant impact on the effectiveness of HIV interventions. For example, despite being 95% effective in preventing new HIV infections, the oral medication PrEP (pre-exposure prophylaxis) is still underutilized, both in Canada and around the world, owing to systemic barriers in access and widespread PrEP-related stigma.
"We are at a critical juncture in HIV research," says Brennan. "SHRI will mobilize the diversity of talent and multidisciplinary research both within and associated with U of T to accelerate and mobilize work to help meet the United Nations' Sustainable Development Goal of ending the AIDS epidemic by 2030."
---
FIFSW Research addressing the inequalities that drive AIDS
This World AIDS Day, UNAIDS is highlighting the urgent need to end the inequalities that drive AIDS and other pandemics around the world. Here is a look at just some of the research led by FIFSW faculty & students that examines the inequalities associated with HIV and interventions being tested to address them.
Recent FIFSW research by David Brennan, Carmen Logie, Peter A. Newman and others has addressed how the COVID-19 pandemic and climate change have disproportionably affected HIV and sexual health among those who are marginalized. The effectiveness of community-based interventions and evidence-informed policies that recognize these influences is being examined as well.
Professor Peter A. Newman's Toronto-based study with former FIFSW postdoctoral fellow, Adrian Guta (now an associate professor at the University of Windsor) and former PhD student, Ashley Lacombe-Duncan (now an assistant professor at the University of Michigan), expanded theorizing and modeling of how information and knowledge about PrEP is sought and shared within communities, and the social work response. Their findings demonstrated how integrating knowledge of individual- and community-level challenges would more effectively support PrEP's role in HIV prevention within the broader context of sexual health.
The #SafeHandsSafeHearts project, co-led by Newman, Professors Notisha Massaquoi, Charmaine Williams and Carmen Logie — with MSW students Manvinder Gill, Mary Ndung'u, Ali Pearson, Jora Schacter, Sarah Sebastian, and PhD students, Viveka Ichikawa and Monte-Angel Richardson — is testing an intervention among racialized sexual and gender minorities in the Greater Toronto Area, Bangkok, Thailand and Mumbai, India.
Professor David Brennan's recent work with Indigenous colleagues from the Two-Spirit HIV/AIDS Wellness and Longevity study (2SHAWLS) showcases the ways in which resilience among long term HIV-positive two-spirit men is manifest — a topic often overlooked in the research literature. Along with social work colleague Randy Jackson from McMaster University and FIFSW MSW alumni and current PhD student, Georgi Georgievski, three papers from the study are being published on World AIDS Day, December 1, 2021 as part of a special issue of the Journal of Indigenous HIV Research.
Associate Professor Carmen Logie is co-chairing the 31st Annual Conference on HIV/AIDS Research (CAHR 2022). She recently published the 'Working with Excluded Populations in HIV' book for the Social Aspects of HIV series. Her team's research addresses knowledge gaps in humanitarian contexts regarding HIV testing and post-exposure prophylaxis (PEP) access with refugee youth in Uganda. Her research engages FIFSW post-docs Lesley Gittings and Kalonde Malama, former FIFSW PhD student Moses Okumu (now an assistant professor at the University of Illinois Urbana-Champaign), and PhD students at Dalla Lana (Isha Berry, Miranda Loutet, Luc Kortenaar) and FIFSW (Abigail Lash-Ballew, Shannon Brown).
In addition to the research featured above, recent grants received by FIFSW faculty include Dean Dexter Voisin's project on "Continuous Traumatic Violence and the HIV Continuum of Care Outcomes Among BMSM." Professor Shelley Craig received funding from The Ontario HIV Treatment Network for the project "Student Leader in HIV-Associated Neurocognitive Disorder (HAND) and Psychosocial Interventions" and from the Public Health Agency of Canada for "Project AFFIRM: Delivering Affirmative Coping Skills Programs to Prevent HIV and Hepatitis C."
---
Interested in more FIFSW research?
---
Related news:
Carmen Logie is named co-chair of the 31st Annual Canadian Conference on HIV/AIDS Research
The 31st Annual Canadian Conference on HIV/AIDS Research (CAHR 2022) takes place April 28 to May 1 in London, Ontario. This year, the conference will be co-chaired by FIFSW Associate Professor Carmen Logie and Professor Eric J. Arts of the Department of Microbiology and Immunology at Western University.
Held each year since 1991, the CAHR Conference brings together researchers and community members from across Canada to share the latest scientific advances in the field, learn from one another's expertise, build new skills ,and develop new ways to treat and prevent HIV.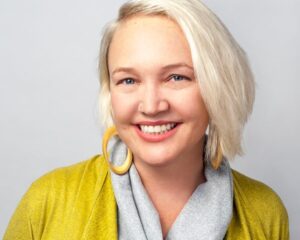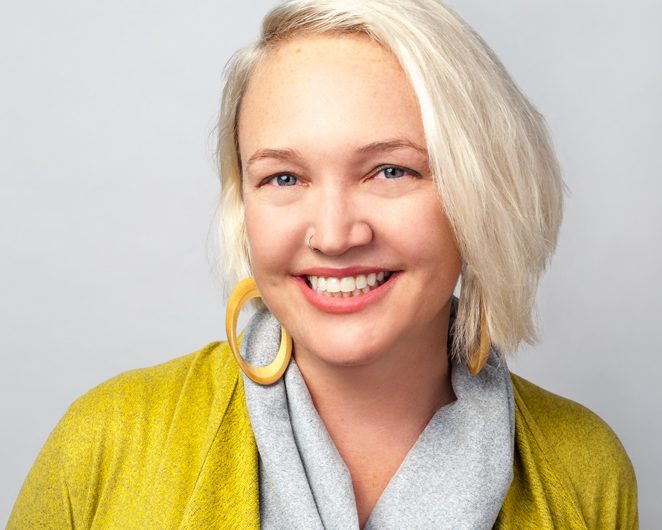 Logie is a Canada Research Chair in Global Health Equity and Social Justice with Marginalized Populations. She is also a an Adjunct Scientist at Women's College Research Institute, an Adjunct Professor at the United Nations University Institute for Water, Environment & Health, and a Research Scientist at the Centre for Gender & Sexual Health Equity. Her research works to build understanding and test interventions that address stigma and other social factors associated with HIV prevention and care.
In addition to directing the CFI 'Stigma & Sexual Health Interventions to Nurture Empowerment' (SSHINE) Lab, Logie is Deputy Editor at the Journal of the International AIDS Society. She is also and on the Editorial Boards for Social Science & Medicine Mental Health and PLOS Global Health. Her latest book Working with Excluded Populations in HIV: Hard to Reach or Out of Sight? was published in 2021 as part of the Social Aspects of HIV Series. In 2020, she launched the 'Everybody Hates Me: Let's Talk About Stigma' podcast with stigma experts from across the world that has more than 11,000 downloads.
Logie's combined research, teaching and work make her the perfect fit for co-chairing the 2022 conference, the theme of which is "striving towards equity and flourishing in the HIV response."
As CAHR 2022 describes the theme on its website:
The urgent work to address social and health disparities—including in HIV—within Canada and globally is far from over. Both HIV and COVID-19 demand responses grounded in equity, social determinants of health, and human rights. The convergence of intersecting stigma and discrimination—including racism, sexual and gender-based violence, poverty, and criminalization, produce barriers for HIV prevention and care access among impacted communities, including African, Caribbean and Black, Indigenous, and LGBTQ2S peoples, as well as sex workers, people who use drugs, and those at the intersection of these identities and experiences. 
> Click here to learn more about the CAHR conference and how you can get involved.
On World AIDS Day, December 1, Logie, along with FIFSW Professors Peter A. Newman and David Brennan are leading the first meeting of a newly proposed interdisciplinary initiative designed to catalyze the exceptional HIV research taking place across the University of Toronto. By bringing together colleagues from medicine, public health, the department of health & society, and others, the social work professors aim to bridge the university's social science and biomedical expertise to accelerate the research, training and knowledge mobilization needed to ultimately end the AIDS epidemic.
---
Related:
Global News Radio talks to Dexter Voisin about the guilty verdicts in the murder of Ahmaud Arbery
On November 26, Dean Dexter Voisin was a guest on Global News Radio's Bill Kelly Show, to talk about the guilty verdicts in the murder of Ahmaud Arbery, the 25-year-old Black man who was killed while jogging through a Georgia subdivision in February 2020.
This verdict was incredibly important, said Voisin. "I think there is a broader shift at play here, particularly looking at this verdict in the context of the racial reckoning that has taken place over the last year or so."