In Memoriam: Professor Emeritus Donald E. Meeks
Donald Meeks — a Professor Emeritus at the University of Toronto's Factor-Inwentash Faculty of Social Work — passed away peacefully on January 17 at 92 years old.
Dr. Meeks' impact both locally and abroad as a teacher, researcher, activist, and leader with a strong commitment to social justice was remarkable. In 2006 he was awarded the Order of Canada in recognition of his illustrious career as a social work professor, a groundbreaking and internationally renowned addictions expert, and a leader in human rights and race relations. At the University of Toronto, the mark he left on students, faculty, and staff is indelible. 
Dr. Meeks grew up in Pennsylvania's declining steel towns, within a system that directed Black students away from academics. Regardless, his parents had high academic expectations. After excelling in high school, he received a scholarship to Hampton University in Virginia, where he flourished as both a scholar and campus leader. Inspired by both frequent encounters with discrimination and his father's dedication as a preacher to helping others, Dr. Meeks pursued a career that would allow him to combat racism and serve those disadvantaged by systemic injustice. He received his Master of Social Work degree from Atlanta University and his PhD in Social Work from Smith College.  
Following his PhD, Dr. Meeks accepted a cross-appointment at what was then the University of Toronto School of Social Work and the Addiction Research Foundation (ARF), now the Centre for Addiction and Mental Health. Over the course of his more than 30-year career he would inspire countless students, influence the social work curriculum, and enrich and lead the development of the addictions field both in Canada and worldwide.  
As described in Martin L. Friedland's The University of Toronto: A History, it is likely that Dr. Meeks was the first Black person at the University of Toronto to receive a tenure-stream appointment. He was also the first Black professor to attain the rank of full professor at U of T's social work Faculty. While at U of T, he introduced courses on drug dependence into the social work curriculum and helped create the collaborative graduate program in Alcohol, Tobacco and Other Psychotropic Drugs (now the Collaborative Specialization in Addiction Studies). He also founded and chaired the social work Faculty's Anti-Racism, Multiculturalism and Native Issues (AMNI) Committee, and served on U of T's Race Relations Committee. 
When Dr. Meeks started working at the Addiction Research Foundation, it had a strict medical model. He was a leader in conceptualizing addiction as a multifaceted issue requiring multidisciplinary team intervention. During his time at the Foundation, he became the founding director of the School for Addiction Studies and, in 1971, the first non-physician associate director of ARF's hospital, which paved the way for other non-physicians to assume leadership roles. 
Dr. Meeks found his international work particularly gratifying. He began to teach and consult on addictions in developing countries early in his career, during which he led the development of treatment and training systems in more than 40 countries. He was an early leader of the Caribbean Institute on Alcoholism and other Drug Disorders, a multi-year collaboration between CAMH, U of T's social work Faculty and the University of West Indies. He also served as a consultant for the United Nations, the World Health Organization, and numerous governments and NGOs in Europe, Southeast Asia, Africa and the Caribbean.  
After his retirement in 1993, Dr. Meeks continued to consult on anti-racism and addictions. "As a Black person, I've had an interest in equity and social justice all my life," he said. "That was always a prime consideration in my work." 
A memorial service for Dr. Meeks is being planned for the spring.  
For those interested in making a donation in his memory, Dr. Meeks' family has suggested gifts to the Dr. Daniel G. Hill Sr. Scholarship at the Factor-Inwentash Faculty of Social Work. Those interested may contact Chantal Cory, Director of Advancement at chantal.cory@utoronto.ca or 416-816-8540. Online donations can be made on the University of Toronto's website: https://engage.utoronto.ca/drhill
Six FIFSW PhD students receive a Royal Bank Graduate Fellowship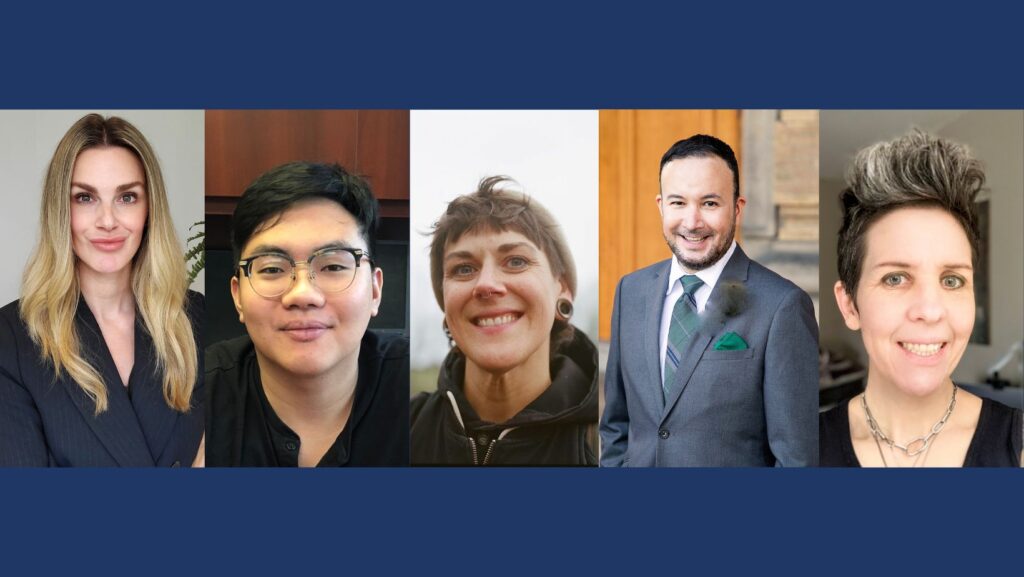 The Factor-Inwentash Fauclty of Social Work would like to congratulate the six PhD students who received a Royal Bank Graduate Fellowship (RBGF) in Applied Social Work Research this year.
The Royal Bank Graduate Fellowship is designed to support FIFSW research by providing PhD students with research training opportunities and financial support.
This year's RBGF recipients include:
Gerardo Betancourt, who will be working with Professor David Brennan.
Kaitrin Doll, who will be working with Professor Shelley Craig.

Vilmara Lucas

,

who will be working with Professor Ka Tat Tsang.

Nelson Pang

,

who will be working with Associate Professor Lin Fang.

Ali Pearson, who will be working with Professor Peter Newman.

Keri West

,

who will be working with Assistant Professor Keith Adamson.
Photo, top (left to right): Keri West, Nelson Pang, Kaitrin Doll, Gerardo Betancourt, and Ali Pearson. (Not pictured: Vilmara Lucas)
Learn more about our award winning PhD students and their RBGF projects below!
Gerardo Betancourt
Gerardo Betancourt has a Master in Adult Education and Community Development from the Ontario Institute for Studies in Education (OISE) and a BA in Law. He has been working as an educator for 25 years in several countries. His educational projects have been implemented and evaluated in Chile, Mexico, Colombia, Argentina and Canada.
"I always felt compelled to understand sexualities," says Betancourt. "There is some magic when people attract another one, but that magic, I believe, is not only biological and natural, but also, I suspect, influenced by deep cultural patterns, ingrained education of desires, and hierarchies intervening in sexual activities, such as race, body image, socioeconomic status, history, age, and even geography. Sexual health practices are also social affected, similar to health literacy, and social norms."
Kaitrin Doll
Kaitrin Doll's  research area of interest is sexual and gender minority (SGM) populations and the interplay between SGM community membership, social support, connectedness, and mental wellness. Their research will explore the experiences of SGM roller derby players and the factors that impact inclusion, participation and the interconnection with mental wellness. The aim of this research is to inform both policy and practice in relation to SGM populations, in particular gender minorities, and investment in this research will contribute to building more equitable and affirming environments where SGM can thrive. The Royal Bank Graduate Fellowship will allows them to work with and learn from Dr. Shelley Craig, whose research specialty is resilience and SGM populations.
"With the support of the RBC fellowship to continue to work with Dr. Craig, I will further develop my research skills by conducting multimodal analysis on Level Up! an LGBTQ gaming study," says Doll. "This work is directly relevant to my thesis and involves data analysis using constructivist grounded theory, thematic development, and preparing manuscripts."
"Going forward with the support of Dr. Craig, I will also have the opportunity to act as co-chair of the Canadian Regional Research Network to advance sexual and gender minority research in Canada. I am grateful to be a recipient of the RBC fellowship in that working with Dr. Craig will help me to build my research skills to further my own doctoral research and participation in innovative and emergent sexual and gender minority research."
Vilmara Lucas
Vilmara Lucas, MSW, RSW, is a second-year doctoral student at the Factor-Inwentash Faculty of Social Work. She has extensive front-line experience working within the intimate partner violence sector. Vilmara's doctoral research focuses on Exploring the Experiences of Black and other Racialized Immigrant Workers in Ontario's Post-Pandemic Job Market.
"The Royal Bank Graduate Fellowship provides an opportunity to engage in research within settlement sector which is so important for my future research among immigrant communities," says Lucas.
Nelson Pang
Nelson Pang is a first-year PhD student at the Factor-Inwentash Faculty of Social Work at the University of Toronto. Nelson completed a Master of Social Work at the University of Toronto, along with a Bachelor of Social Work and Bachelor of Arts in Social Development Studies at the University of Waterloo. Nelson's research interests include children and youth mental health, issues in access to health care, and social epidemiology.
"Under the supervision of Dr. Lin Fang, my Royal Bank Graduate Fellowship project is called Practice-Based Research with Talk It Out Online Counseling Clinic," says Pang. "The Talk It Out Clinic is delivered by trained and supervised Master of Social Work students and is designed to be a culturally responsive and trauma-informed care program. I will be involved in the evaluation of the program to explore client outcomes and student experiences. This fellowship will assist in future research which will similarly focus on the evaluation of solutions for youth mental health."
Ali Pearson
Ali Pearson is a second year PhD Student at Factor Inwentash Faculty of Social Work, University of Toronto. They graduated from the Honours Bachelor of Social Work at Algoma University in Sault Ste. Maire.  They earned their Master of Social Work at the Factor-Inwentash Faculty of Social Work, University of Toronto, in Social Justice and Diversity with a collaborative study in Sexual Diversity. Ali's research is grounded in Social Justice and Diversity and utilizes post-feminist theories to support youth at the intersection Neurodiversity and Sexual/ Gender Diversity. Their work seeks to bring visibility to the barriers in accessing community, autonomy, and service provisions for Neurodivergent and Sexual Gender/ Diverse Youth.
The Royal Bank Graduate Fellowship will support their interest in developing diversity and inclusion for minority demographics in research.  Through submersion in the process of ethics research review they will deepen their knowledge of research ethics, ability to reviewing and preparing research ethics boards submissions. The Fellowship will also assist them in building an understanding of the inequities that are faced by research participants and in gainning understanding of how the ethics process can mitigate further the oppression of minoritized groups.  These foundational skills will support their growth and development as an emerging researcher.
Keri West
Keri West is a doctoral candidate at the Factor-Inwentash Faculty of Social Work (FIFSW). She completed a Master of Social Work degree with a specialization in Gerontology at FIFSW in 2015. Keri is deeply interested in simulation pedagogy and innovation in social work education. She has had an instrumental role in the development and deployment of several simulation-based teaching interventions to foster holistic competence.
Through the RBC Fellowship, Keri will contribute to the enhancement of a competency framework for communicating evidence in therapeutic relationships and a pilot study examining the perceived impact of a simulation-based learning activity on students' knowledge and skills in communicating evidence to clients. The Fellowship will provide valuable mentorship for an early-career researcher and social work educator in curriculum design, implementation and evaluation. Keri's future research will focus on the use of simulation in gerontological social work education and teaching meso- and macro-level practice skills, as well as the effectiveness and optimization of standardized peer-to-peer simulation as an alternative to traditional (non-peer) simulation.
Yiwei (Patricia) Quan's research on the experiences of international students receives a 2022 Clara Mayo Grant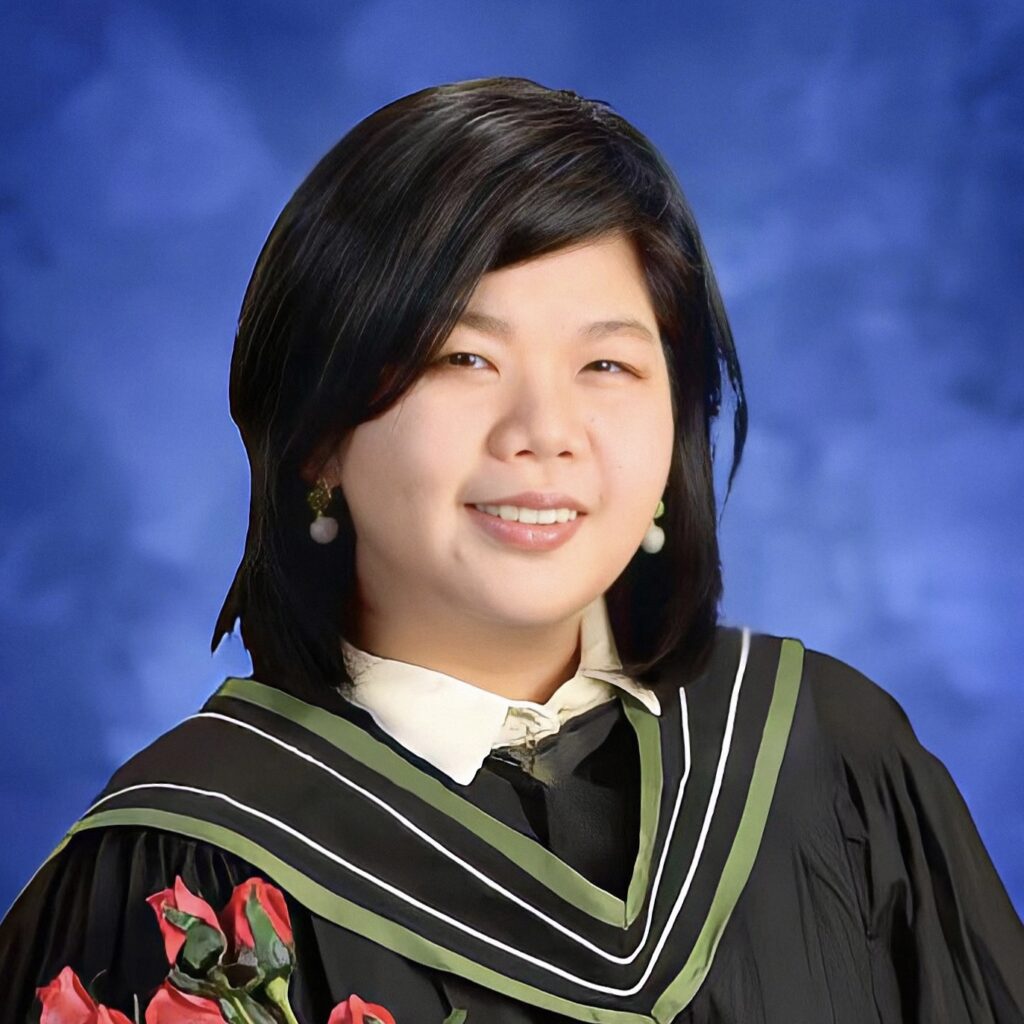 Yiwei (Patricia) Quan, a second year Master of Social Work student in the Social Justice and Diversity field of study at the Factor-Inwentash Faculty of Social Work is a recipient of a 2022 Clara Mayo Grant from the Society for the Psychological Study of Social Issues (SPSSI). 
The Clara Mayo Grant program was set up to support masters' theses or pre-dissertation research on aspects of sexism, racism, or prejudice, with preference given to students enrolled in a terminal master's program.  
Supervised by Associate Professor Izumi Sakamoto, Quan's thesis is examining the experiences of Chinese international students and anti-Asian racism on campus in Canada, as well as international students' advocacy, coping strategies and social media discourse.  
For Quan, an international student herself, the grant will allow her to compensate those who participated in the focus group for her study. She says it has also given her the confidence to continue working with the international student community. "I have been working with this community for the last 5-6 years, and it has been hard obtaining grants and funding for our projects both on and off campus," says Quan. "Winning this grant gave me a sense that "oh! People do care about us and want to hear our voices!" 
On January 13, Quan had the opportunity to share her research as part of a roundtable on Asian and Asian-Pacific Islander-Focused Research at the 2023 Society for Social Work and Research conference. Organized by Sakamoto, the table speakers included Factor-Inwentash Faculty of Social Work professors Eunjung Lee, Lin Fang, and Rupaleem Bhuyan, as well as FIFSW PhD student Kedi Zhao. 
We asked Quan to share what share more about her research and how it has influenced her learning and plans for the future.  
What inspired your research on this topic?
My thesis project explores the experience of the Chinese international student activists who engaged in on-campus community organizing during the joss paper incident last year.  I am also interested in whether the public narratives on both English and Chinese social media platforms impacted the students' organizing, and if so, how. I was one of the students on the organizing team, and I experienced and witnessed the struggles of our team members during the process.  
When I turned to the existing literature on international students' organizing, I wasn't able to find anything documenting the efforts of international students to combat racism and discrimination in North America. Instead, we are often portrayed as silent victims who only passively cope with the impact of racism. This frustrates me as this is not true:  it's just that the English and French-speaking world doesn't know about our advocacy. This is what initially inspired me to do research on this topic. I want to bring our voices into mainstream academic and professional discussions.  
During the community organizing, I also recognized that our team members were heavily impacted by what people said on social media: on both Canadian mainstream platforms and Chinese ones. This is yet another phenomenon that is neglected in existing literature. International students are often seen as transplanted into the host society with no ties back home. With the help of Prof. Izumi Sakamoto, we decided that one of the project's aims would be to complicate this narrative about international students and depict them as transnational beings.   
How will this research enhance your learning or future work?
I have been considering continuing my education in PhD programs since I generally enjoyed research throughout my undergraduate and MSW studies. Conducting this thesis research helped me gain more in-depth insight into "what is it like to do qualitative research" and in helping me decide whether research is something I want to do in the future.  
This research also enhanced my belief that "the personal is political". During the data analysis process, Izumi helped me greatly in connecting the students' "personal experience" to existing theories and uncovering the underlying structural oppression they experienced. This realization made me more determined to continue to work with and advocate for international student communities and communities like it when their challenges are framed as "personal issues." 
The research process also led me to reconsider my definition of knowledge and my role as a researcher. Coming from a cognitive neuroscience background, I conducted research on communities and generated knowledge to contribute to inventions that may not directly impact community members' lives. In my thesis research, I worked with the community to collect, analyze, and interpret the data, while centering empowerment and sensitivity to issues around race, class, and gender. After my thesis is complete, I also hope to use the finding to improve social work practice within this community and disseminate the information in an accessible way. 
---
Research opportunities at FIFSW
Each year, FIFSW offers up to three MSW students the option of completing a thesis. A number of other research opportunities for MSW students are also available. These include additional research courses, a research-intensive field placement, and research assistantships. Click here to learn more! 
Esme Fuller-Thomson's research on the power of social connections is featured in the Toronto Star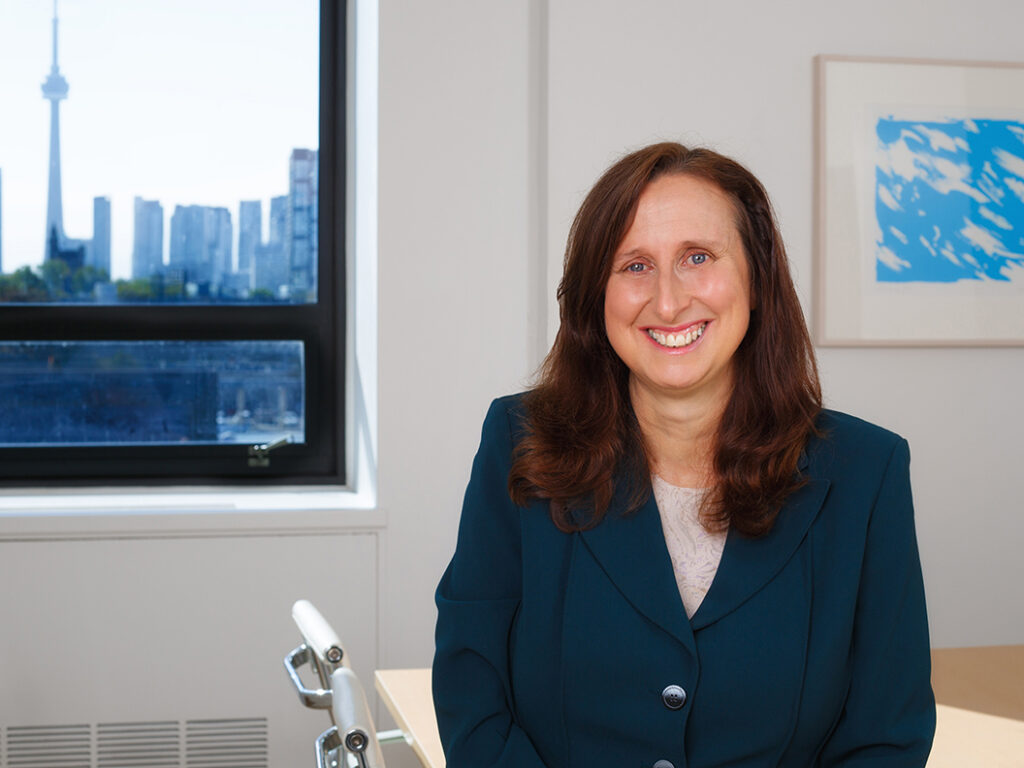 Professor Esme Fuller-Thomson's research on the factors that help people thrive was featured in the Toronto Star. The article looked at programs that recommend social activities as part of a patient's recovery plan.
"I'm always interested in looking at what helps people thrive and there's a lot of literature suggesting that it's important to be socially connected," Fuller-Thomson told writer Christine Sismondo. "So I looked for the most extreme cases, which are people without a single person to confide in."
Fuller-Thomson used secondary data gathered from the Canadian Community Health Survey-Mental Health and looked at the outcomes for those without even a single confidant who were also suffering from Chronic Obstructive Pulmonary Disease. COPD has high mortality rates and is also associated with serious disability and depression.

And while she said it hadn't been so surprising to find that people with at least one confidant had better outcomes, what was striking was just how much better people with social connection fared.

"People with COPD, who had even one confidant, were seven times more likely to be in excellent mental health than people who didn't," said Fuller-Thomson.

And it wasn't just COPD. Fuller-Thomson used the same data to find that "social connection" was a common denominator among people who reported they were thriving after being treated for a spectrum of health problems, including stroke, generalized anxiety disorder and attempted suicide.
> Click here to read the full article.
Esme Fuller-Thomson has been Director of the Institute for Life Course and Aging since 2016. She is a full professor at the Factor-Inwentash Faculty of Social Work with cross-appointments to the Department of Family & Community Medicine and the Faculty of Nursing.
Fuller-Thomson has published more than 150 peer-reviewed articles on the long-term health impacts of adverse childhood experience, grandparents raising grandchildren, social determinants of disability among older adults and immigrants' health. Her studies have been featured in all major wire services and in hundreds of newspaper articles on five continents including front page articles in The Chicago Tribune and The National Post and front of section articles in The Wall Street Journal and The Globe and Mail.
---
Related:
How Alumna Kaitlin Schwan became a leading researcher on homelessness and a national advocate for the right to housing
When Kaitlin Schwan was about six years old, she secretly gave her mother's credit cards to people she encountered living on the streets in Toronto. "After I saw the realities of homelessness for the first time, I'd lie in bed and think about how painful it must be to have cold, wet feet all day and night," says Schwan, who grew up in Owen Sound but sometimes visited the city. "I didn't understand credit cards, but I had a sense that they would help somehow." Decades after that act of innocent generosity, she's become a leading researcher on homelessness in Canada.
"Most children are confused and distressed when they witness homelessness, because kids are deeply empathetic," says Schwan, who in 2016 earned a PhD from U of T's Factor-Inwentash Faculty of Social Work (FIFSW). "As they get older, they go through a process of socialization where they are taught to understand it as a normal feature of Canadian society. But that normalization didn't happen for me. It never came to feel normal for me that, in a wealthy nation, people had nowhere safe and warm to live."

Today, Schwan is the Executive Director of the Women's National Housing and Homelessness Network and a Senior Researcher at the Canadian Observatory on Homelessness. (She was also recently appointed Assistant Professor, Status-Only, at FIFSW). Her path to those roles began during her undergraduate degree in women's studies, when she ran arts-based programs in homeless shelters for youth. "I'd discovered through volunteering that some form of art practice is often central to these young people's emotional and psychological survival," says Schwan, who is also a jewellery artist.
After a master's degree, where she explored the importance of the arts for unhoused youth, she decided to investigate the broader problem of homelessness from a social work and policy perspective. Her doctoral thesis, supervised by Professor David Hulchanski, traced the history of homelessness in Canada. She credits Hulchanski, the Dr. Chow Yei Ching Chair in Housing, for giving her crucial insight into the political landscape around the subject. "He showed me how policy failures have created and perpetuated homelessness in ways that are deeply unjust and entirely unnecessary," she says.
Schwan also points to her personal mentor, Professor Faye Mishna, for shaping the way she conducts research. "Because of her, I centre the voices and experiences of people with lived experience," she says. "The depth of her integrity and ethics were foundational to how I developed as a researcher."
During her PhD, Schwan became interested in the largely untold stories of women and gender-diverse individuals without adequate housing. "Their experiences are unique in that they often live in situations that we call 'hidden homelessness,' such as couch surfing, trading sex for shelter and remaining in abusive relationships because they can't access housing," she says.
While Schwan was examining these issues as a scholar, her personal life highlighted their critical necessity. "My sister was dealing with significant violence in her life, and the buffer to that was safe housing. Yet so many women have no door to lock against their abusers," she says. "This firsthand knowledge collided with my research to reinforce my sense that national change was needed in this area."
Yet the doctoral program soon inspired Schwan to look beyond Canada to the impact she could make in the international arena. "The faculty is gifted at fostering global connections and global analysis," she says. "I felt like the sky was the limit in terms of what would be possible for my work and the kind of connections I would build."
Armed with that confidence, a few years after graduation she contacted United Nations Special Rapporteur on the Right to Housing Leilani Farha after seeing a documentary on her work. Schwan offered to build a research team for her, and Farha agreed. When Farha's UN term ended, the whole team formed The Shift, an international movement to secure the right to housing, where Schwan was Director of Research until 2022.
Since taking the helm at the Women's National Housing and Homelessness Network (WNHHN) earlier this year, Schwan has continued this rights-based approach. She says urgent action on homelessness amongst women and gender-diverse people is essential, given the current context. "The combination of a public health crisis, a decrease in service provision, an increase in violence against women and the pandemic's disproportionate negative economic impact on women has produced a very difficult housing situation." This summer, the WNHHN submitted two human rights claims in partnership with the National Indigenous Feminist Housing Working Group to the Federal Housing Advocate, who is charged with promoting and protecting the right to housing as a human right (as outlined in the 2019 National Housing Strategy Act).
"We developed the claims in collaboration with a group of about 25 women who have lived, or are living, in situations of homelessness," says Schwan, noting that people with direct personal experience guide all of the Network's initiatives. In November, the group presented at the national conference of the Canadian Alliance to End Homelessness in Toronto and led a symposium where the Federal Housing Advocate heard deputations from 40 women with lived or living experiences of homelessness. Schwan said that the participants reported feeling empowered to translate their experiences into policy action. "Being in a room with so many incredible people, giving so much of themselves was one of the most powerful things I have ever been witness too," said one of the participants about the experience. "I will take that energy, rage, passion, and resolve as a responsibility for action."
In the next year, Schwan expects that the human rights claims will prompt policy recommendations for the Minister of Housing. Though she's acutely aware of the complexity of the political process, she remains optimistic. "The depth of my commitment flows from the depth of my care for the women I struggle alongside," she says. "We know that the solution to homelessness — access to safe, affordable housing — is imminently financially possible in a country with the ninth largest GDP in the world. This gives me the hope to keep going."
By Megan Easton
---
By the numbers
Statistics courtesy of Kaitlin Schwan and the Women's National Housing and Homelessness Network (WNHHN)
28% of women-led households in Canada are in core housing need*
Almost 1000 women and children are turned away from domestic violence shelters across Canada every day, largely due to capacity issues
42% of women living on reserves live in houses that need major repairs
90% of families using emergency shelters are headed by single women
21% of single mothers in Canada raise their children in poverty
7% of women in Canada have experienced hidden homelessness at some point in their lives
*Core housing need refers to whether a private household's housing falls below at least one of the indicator thresholds for housing adequacy, affordability or suitability, and would have to spend 30% or more of its total before-tax income to pay the median rent of alternative local housing that is acceptable (attains all three housing indicator thresholds). Via Statistics Canada
Celebrating our 2020 and 2021 graduates
On December 7, FIFSW students who graduated virtually in 2020 and 2021 had the opportunity to walk across the stage at Convocation Hall to be recognized for their achievements in person. We celebrated our graduates with a breakfast reception at the Carlu prior to the official ceremony .
"We know that as alumni you are now contributing to social work's ongoing mission to support and empower people in our communities, to advocate for health and human rights, and to promote social justice," Dean Charmaine Williams told the graduates at the breakfast reception. "We hope that this is just the first of many in-person events that you can join us for in the months and years ahead."
Click on images below to scroll through some of the photos from December 7.
(Links to the full set of photos were shared via email with the 2020 and 2021 graduates who attended the convocation celebratory events. Graduates who did not receive this email may contact dale.duncan@socialwork.utoronto.ca.)
---
> Click here to read stories featuring FIFSW students
> Click here to read stories featuring FIFSW students
> Learn how FIFSW alumni can stay connected and get involved.
FIFSW professors rank among the world's most impactful social work scholars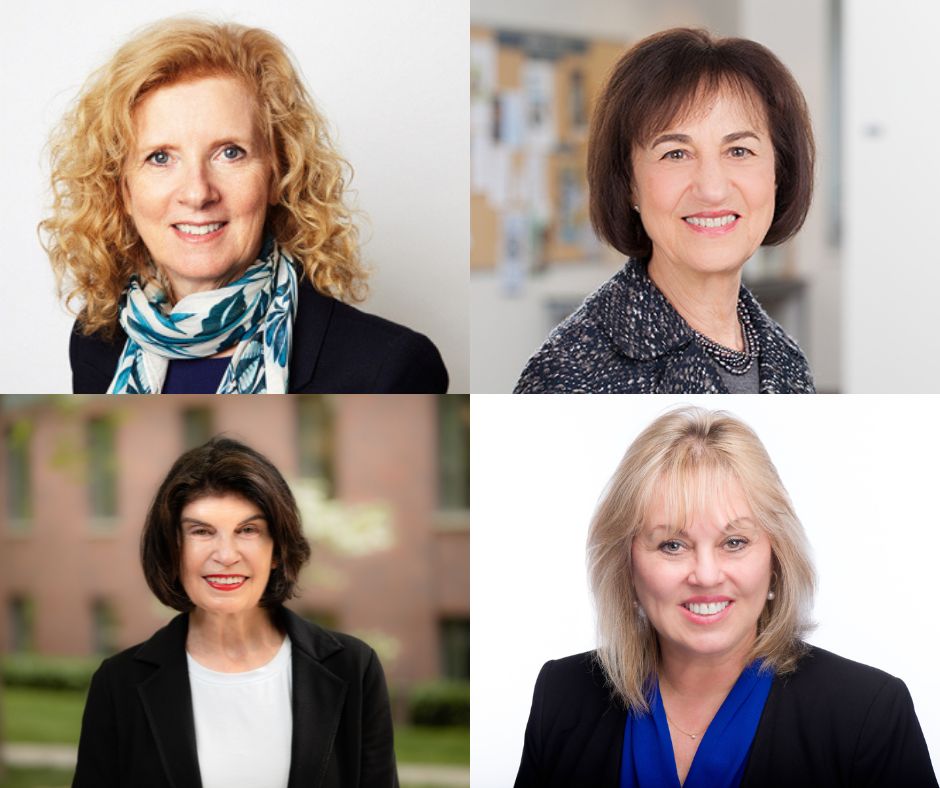 Factor-Inwentash Faculty of Social Work researchers are among the top 100 most impactful global contributors to social work journal scholarship, according to a recent study published in the Journal Research on Social Work Practice.   
The study was based on a composite measure of scholarly impact that controlled for self-citations and author order.  
Among the top 100 contributors, Cheryl Regehr was number 19, Marion Bogo was number 26, Faye Mishna was number 28 and Ramona Alaggia was number 67. Professors Regehr, Mishna and Bogo are all former deans of FIFSW. 
The University of Toronto placed second in the number of social work scholars in the top 100, tied with Washington University in St. Louis. Only the University of California Berkeley placed higher, with five faculty members in the top.  
Twenty-three of the top social work researchers, including Regehr, were in the top 100,000 scientists in the world — across all fields.  
"The results reveal that social work is home to some of the world's leading scientists," write the study's authors David R. Hodge and Patricia R. Turner. "Leveraging their skills and knowledge can help advance the profession's collective knowledge development and dissemination."  
To read the full article, click here. 
---
Related:
World AIDS Day Q&A: Professor Carmen Logie on HIV prevention, stigma and care among refugee and displaced youth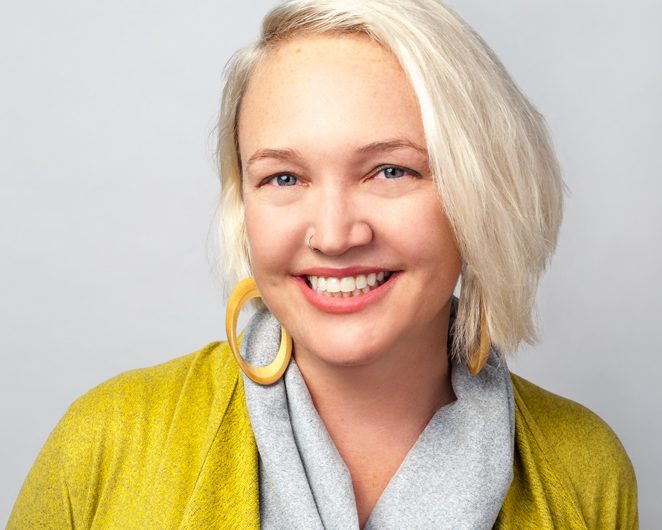 In honour of World AIDS Day on December 1st, we spoke to Carmen Logie to learn about her recent research on HIV prevention, stigma and care among refugee and displaced youth. The Canada Research Chair in Global Health Equity and Social Justice with Marginalized Populations is a leader in HIV research who's shining a much-needed light on understudied populations, building an understanding of the complex intersecting systems that increase HIV vulnerabilities, and working with communities to develop novel interventions for prevention and care.  
What inspired you to study HIV prevention among refugee youth? As you say on your
podcast
, take us back in your time machine!
When I finished my PhD in 2010, I was thinking I would do a relaxing postdoctoral fellowship: I'd do data analysis; I'd do a lot of yoga; I'd sit in cafes and do writing. But then at that year's Council on Social Work Education, my friend and colleague Dr. Carolann Daniel at Adelphi University invited me to come to Haiti and work with her because I do HIV work and the HIV clinic there had been destroyed by the earthquake. So, we applied for a Grand Challenges Canada grant together, and we came up with a plan. We did an HIV prevention study with women who were internally displaced after the earthquake. We also got a CIHR grant to work with displaced youth on their prevention needs. Being involved in this work inspired a passion to do more with forcibly displaced people. 
Fast forward several years to 2017. I was working with a PhD research assistant, now Dr. Moses Okumu, who is from Uganda. At that time, there were a lot of refugees coming into Uganda from South Sudan. We were chatting about it, and I shared my experiences doing research in Haiti with displaced people. I said, if you ever want to do something similar… and he said: let's do it. So, in 2018, we started our first project with urban refugee youth in Kampala, in collaboration with Young African Refugees for Integral Development. 
Photo: Carmen Logie (right) and Moses Okumu (left) met with local partners, including Daniel Wakibi, director of programs for Real Medicine Foundation Uganda (photo courtesy of Carmen Logie)
Read about Logie and Okumu's digital storytelling project in a Ugandan refugee camp, via U of T News.
There's been very little HIV research with refugee and displaced youth. These are people who experience multiple vulnerabilities and demonstrate numerous strengths. They also have unique experiences and needs that shape their risks for HIV. Many of them experience cumulative violence: violence that forces them to leave a country, violence in the refugee journey, and violence in the urban or refugee settlements where they now live. They often live in communities, such as those in Uganda, with scarce resources, poverty, and often water, food and sanitation insecurity. And all of these things are drivers of HIV.  
We've never had so many forcibly displaced people, which includes refugees — ever. And the numbers are just increasing. But I don't want to paint a picture of refugee and displaced youth as being hopeless victims, because there's a lot of strength within these communities, and we are always  trying to apply a strength-focused approach. We're always asking refugee and displaced youth for the solutions — and they have so many. In 2017, for example, we trained 12 refugee youth peer navigators in Kampala who have been working with us now for more than five years. They are really the key to successfully working with refugee youth because they understand many shared experiences, they have connections with refugee communities, they speak different languages, and they understand the different traumatic events during conflict and resettlement.  

In June you co-edited a special issue of the
American Journal of Public Health
titled
"Addressing Intersectional Stigma and Discrimination to Improve HIV-related Outcomes."
How does stigma experienced by refugees intersect with other issues to influence HIV prevention and care?
Refugees experience intersecting forms of stigma, meaning they may belong to different social categories that are marginalized (such as being young, being women, being refugees) where they have less access to power and resources. They are treated differently because they are refugees, and they often also experienced language barriers and cultural differences in their country of resettlement. They might try to go get an HIV test, and be told, "oh, you're a refugee, you don't belong here." They might also face barriers because they can't speak the language. If you add on another level of precariousness — for example, if you have refugees engaged in transactional sex and sex work, which is illegal in Uganda — then the barriers increase even more. We've interviewed people who worry that asking for an STI or HIV test will hurt their immigration process. 
Your research clearly illustrates that it isn't enough to simply educate people on how, as individuals, they can protect themselves from contracting HIV. We also need to better understand and address the external factors that influence how HIV spreads. Could you share what you have learned, for example, about the relationship between food insecurity and HIV risk?
When women, in particular, are living with food insecurity, it's often not the only insecurity they're living with. Food insecurity and housing insecurity often co-occur. A person who is experiencing intimate partner violence in this context might find it difficult to leave because they have nowhere to go or little ability to support themselves. They are also likely to have less power in their sexual relationship — which means they have less control over decision making when it comes to contraception, condoms, and HIV and STI testing. It goes the other direction, too: once a person acquires HIV, especially if this person is a woman, they have a higher likelihood of experiencing intimate partner violence, and they're more likely to live in poverty — and poverty is one of the root causes of food insecurity.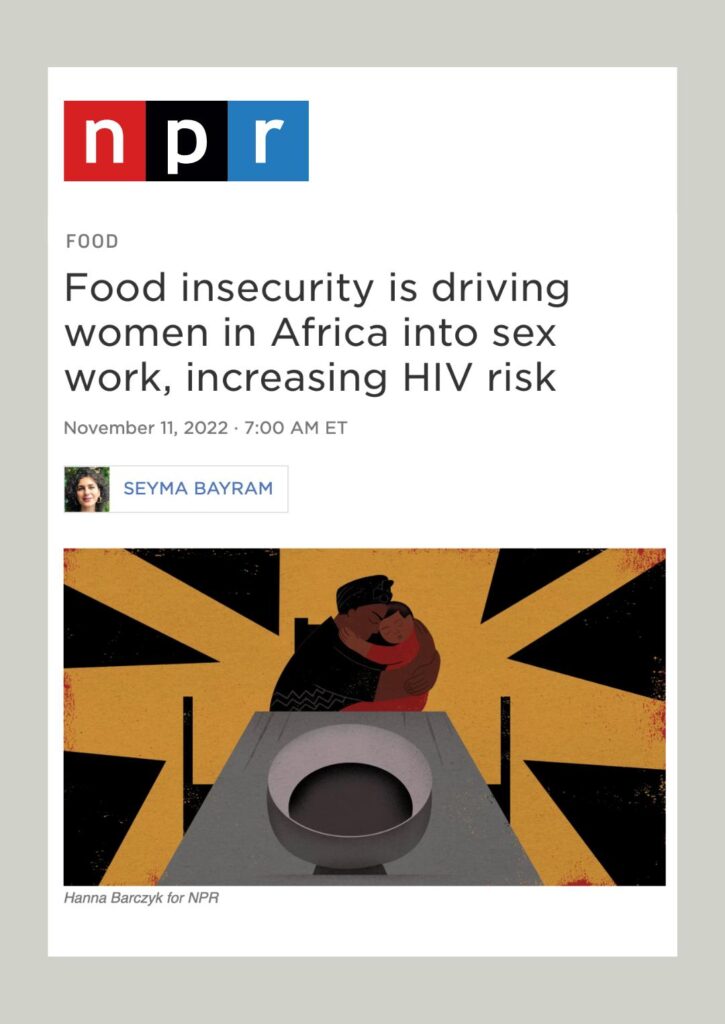 We have also seen food insecurity linked to HIV risk through migration. When people migrate to access food, it exposes them to new sexual networks. It also increases the likelihood of transactional sex. In these cases, when people are having sex in exchange for food, there's a lot less power to negotiate condom use or engage in other forms of HIV prevention. 
Read the recent NPR article "Food insecurity is driving women in Africa into sex work, increasing HIV risk," which features an interview with Logie and her colleague Dr. Sheri Weiser, co-founding director of the University of California Center for Climate, Health and Equity.] 
Listen to Logie's interview with Dr. Julie Pulerwitz, a leading researcher on the relationship between power in sexual relationships and HIV.]
View a recently published study Logie led on associations between food and housing insecurity with HIV-related stigma among women living with HIV in Canada.
You are currently involved in two projects that have received funding and that address climate change's impact on HIV risk. Why is it important to consider climate change in your work?
We just had an article come out in the Journal of Water, Sanitation & Hygiene for Development on the relationship between water insecurity and sexual and gender-based violence among refugee youth. A lot of the refugee girls and young women we spoke to talked about experiencing sexual violence while trying to get water. The further they had to go to get water, the more exposed they would be to sexual violence. We are now doing a scoping review on climate change and its relationship to sexual health. Extreme weather events such as drought, heavy rain, and high temperatures lead to water, food and sanitation insecurity, which are linked to practices such as transactional sex, migration, and substance use — all of which can lead to increased exposure to HIV and reduced access to prevention technologies. Extreme weather events can also lead to other infectious diseases that can either increase people's chance of acquiring HIV or harm their ability to maintain viral suppression.
Learn how Carmen Logie is using data science to rethink water practices and equity in India through a collaborative, cross-disciplinary project funded by U of T's Data Sciences Institute.
You have also been exploring creative interventions
to reach refugee youth and engage them on issues related to HIV prevention and care. Could you tell us about your project with comic books?
There's a scarcity of research on post-rape care for forcibly displaced youth in refugee settlements. So, we got a Grand Challenges grant to test an intervention using comic books in Uganda's Bidi Bidi refugee settlement. We used qualitative data to develop a comic book series (see example, left) that addressed issues like sexual violence,; stigma; bystander efficacy; support for survivors; forced, early and child marriage and so on. We then held a workshop where we read and discussed the comic book scenarios with the youth. Afterwards, we provided the youth a blank version of the book to fill out themselves so they could share their own perspectives and solutions. Our findings were very promising. After the workshop, we found reduced sexual violence stigma and depression, increased bystander practices and resilient coping strategies among other benefits. We are now using comic books in a new HIV testing study in Bidi Bidi. 
I am excited about comics, because I think they're fun for youth. They are low-cost, accessible to those with low literacy and can spark emotion. And there was already evidence that graphic medicine, as it's called, can be effective in health education. I liked that we were not just providing them with information, we were asking them: how would you complete the story? 
Digital versions of the comics are available on the SSHINE Lab website.
---

Dr. Carmen Logie joined the Factor-Inwentash Faculty of Social Work in 2013 as an Assistant Professor and was promoted to full Professor in 2022. She is an Adjunct Scientist at Women's College Research Institute, an Adjunct Professor at the United Nations University Institute for Water, Environment & Health, and a Research Scientist at the Centre for Gender & Sexual Health Equity. She holds the Canadian Research Chair in Global Health Equity and Social Justice with Marginalized Populations. 
Dr. Logie has been awarded funding from the Canadian Institutes of Health Research (CIHR), CIHR Clinical Trials Network, Social Sciences & Humanities Research Council of Canada, Grand Challenges Canada, Canada Research Chairs, and Canada Foundation for Innovation (CFI), to lead global research focused on sexual health and rights. She directs the CFI 'Stigma & Sexual Health Interventions to Nurture Empowerment' (SSHINE) Lab, collaborates with the World Health Organization (WHO) and was a guideline development member for the WHO Consolidated Guidelines on Self-care Interventions for Health: Sexual and Reproductive Health & Rights, including the Classification of self-care interventions for health: a shared language to describe the uses of self-care interventions.
Dr. Logie has published more than 240 articles, cited more than 9000 times; you can learn more about her publications here and here. She is Deputy Editor at the Journal of the International AIDS Society and on the Editorial Boards for Social Science & Medicine Mental Health and PLOS Global Health. Her latest book Working with Excluded Populations in HIV: Hard to Reach or Out of Sight? was published in 2021 as part of the Social Aspects of HIV Series. In 2020, Dr. Logie launched the 'Everybody Hates Me: Let's Talk About Stigma' podcast featuring stigma experts from across the world.
---
Related:
FIFSW faculty offer a wealth of resources for those interested in learning more about the fight against HIV on World AIDS Day
#UofTGrad22: Vivian Leung's research on immigration and anti-Asian racism is supporting families and social work practitioners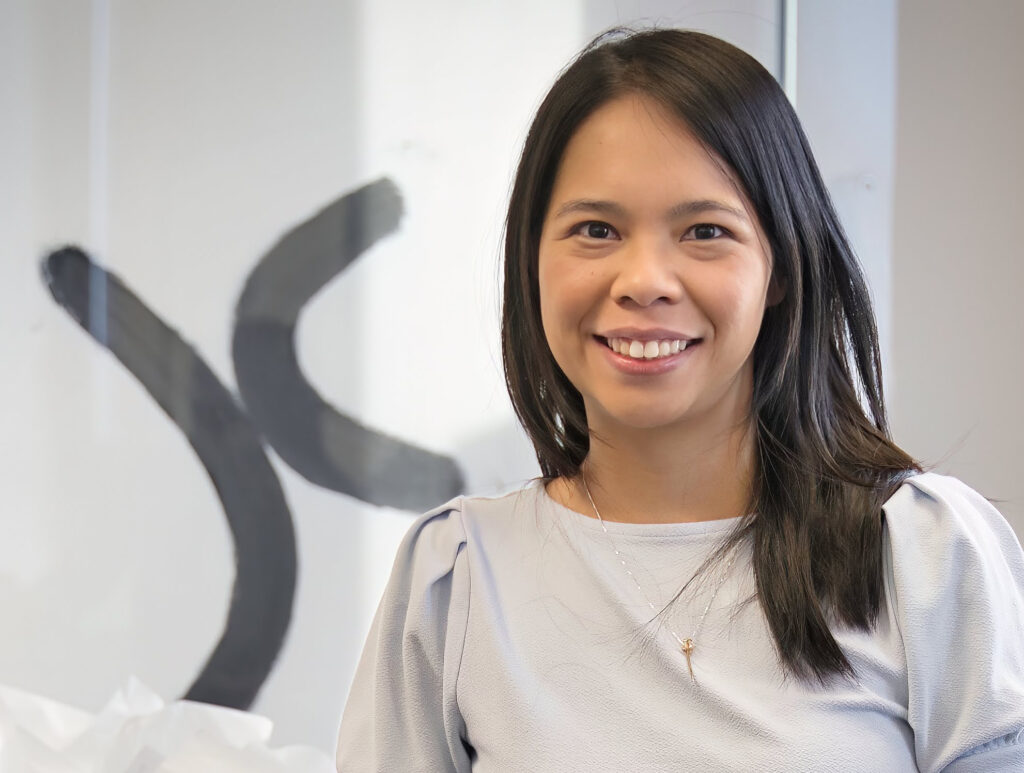 Vivian Leung is a researcher at heart, and the PhD program at U of T's Factor-Inwentash Faculty of Social Work allowed her to hone her skills while generating new knowledge on the effects of anti-Asian racism, a subject that's received little attention until recently.   
Leung, who was a researcher in Hong Kong before immigrating to Canada, considered universities all over the globe for her doctoral studies, but says she's glad she chose U of T. "I was taught by world-class scholars. The professors have connections not just within the faculty and university, but across Canada and internationally. I got to learn from a lot of leading researchers." 
Beyond the university, the city of Toronto proved to be a rich source for her inquiries on immigration, families and racism. "Toronto has really good infrastructure in terms of settlement organizations and agencies serving diverse populations," she says. "It allows you to study many different immigration experiences." 
Before starting her PhD, Leung worked on a large-scale research project in Hong Kong that explored parenting experiences over five generations. "Analyzing hundreds of interviews sparked my interest in exploring a related subject in my PhD," she says.  
Her PhD dissertation investigated how Chinese immigrant parents in Canada and the U.S. teach their children about Chinese cultural values and knowledge, and how they promote a sense of pride in their ethnic origins. "In practice, this can involve things like speaking Chinese to children, teaching them about their history or talking to them about successful Chinese Canadians," says Leung.  
Taken together, these efforts are called 'cultural socialization,' and there have been few studies on the phenomenon in the Asian population. Leung's research was particularly focused on the influence of parents' social networks and experiences of racism. She found that the amount of support parents have in their ethnic communities has a significant impact on cultural socialization. "The more connected parents were to resources, both online and offline, in the Chinese community, the more they had the opportunity to share their cultural messages," she says.  
When it came to the role of racism, Leung's research showed that parents who are exposed to subtle forms of discrimination, often called microaggressions, are less likely to socialize their children to Chinese culture. "In these cases, parents tend to internalize the racism and avoid sharing their culture with their kids," she says. "I heard a lot of stories about Chinese parents who decided to cope with microaggressions by working harder to prove that they're valuable members of the Canadian society." 
Chinese parents who experienced overt forms of racism, such as getting fired or harassed by police because of their ethnicity, were different. Leung's research demonstrated that they were more likely to pass on their cultural traditions. "Those more obvious incidents cause parents to reflect on racial oppression and what it means to them and their children, instead of internalizing it," she says.  
In her new job as a researcher with the Toronto Catholic District School Board, Leung is using many of the methodologies she applied during her PhD program while also delving into the subject of racism – and other equity and identity issues – in schools. She's still connected to the Faculty through her work on an anti-Asian racism study led by Professor Lin Fang. This multi-phase research began by documenting Asian youth's thoughts on, and personal experiences of, anti-Asian racism. In the current phase, the researchers are conducting focus groups with Asian parents to understand how they talk about racism with their children. 
"It's not very common for Chinese parents to speak up about racism," says Leung, pointing to the feedback from youth who reported that their parents are uncomfortable with the topic, leading to an avoidance of it at home. In the final phase of the project, the researchers will publicly share what they've learned from youth and parents through social media, school workshops and parent support groups.  
"A lot of Chinese people have suffered from anti-Asian racism, especially since the pandemic began," says Leung. "I just want their collective voices to be heard. We want to start a larger conversation and use the research to support families and social work practitioners in the future." 
 By Megan Easton
---
Read more about FIFSW's PhD students & graduates
Trans health and rights: Three questions for PhD student Sly Sarkisova 
November 14-18 is Trans Awareness Week, which aims to increase awareness, visibility and knowledge of trans people and the issues faced by members of trans communities. It is also an opportunity to celebrate the lives of trans and nonbinary people and the contributions they have made and continue to make. In honour of this week, we asked three FIFSW PhD students whose research focuses on trans health and rights to share insight on their work.
---
Tell us about yourself.
I have been an activist for nonbinary trans identification and healthcare rights since the early 2000s and have had a 20+ year career in creating trauma informed mental health. I've specialized in providing direct psychotherapy, training and consultation to increase knowledge around critically compassionate and structurally integrated approaches to trauma, particularly around addictions and complex post-traumatic stress responses. As an intergenerational queer and nonbinary trans person, and a trauma survivor myself I have unique leadership expertise in supporting 2SLGBTQ mental health, and trans and/or nonbinary identities. 
How are your PhD studies connected to the topic of trans rights?
I've spent many years creating tools, resources, and knowledge to situate the intersections of structural violence and oppression on the lived experiences and realities of queer and trans people and our resilience, survival and thriving. It's changed the way I think of, and help others to think of, what it means to have mental health impacts and to recover. I am bringing my body of clinical practice knowledge and innovations into the academy to elevate my work and increase our understanding of the nuances of mental health impacts of transphobic erasure, genocide, homophobic, racist, colonial, sexist systems and societies. We have many ways to reclaim ourselves, support each other, create resiliency and thrive and we need broader society to recognize this as a collective goal and project. 
What inspired this focus?
We are at a critical moment in society where increasing hatred and fear are being projected onto marginalized, racialized, queer, disabled, and trans communities just as we are crucially liberating ourselves from these structures. I think it is imperative to help illuminate some of the invisible structures of violence which categorically deny our existence and seek to erase segments of our society. 2SLGBTQ people in general are a gift to this world, and our ways of being and knowing contribute to the health and global welfare of all individuals in a pluralistic society.
---
Read more Q&As with PhD students whose research and work focuses on trans health and rights:
---
Trans Awareness Week 2022