Addressing intersectional stigma and discrimination is essential to ending the HIV epidemic
Categories: Carmen Logie, Faculty, Research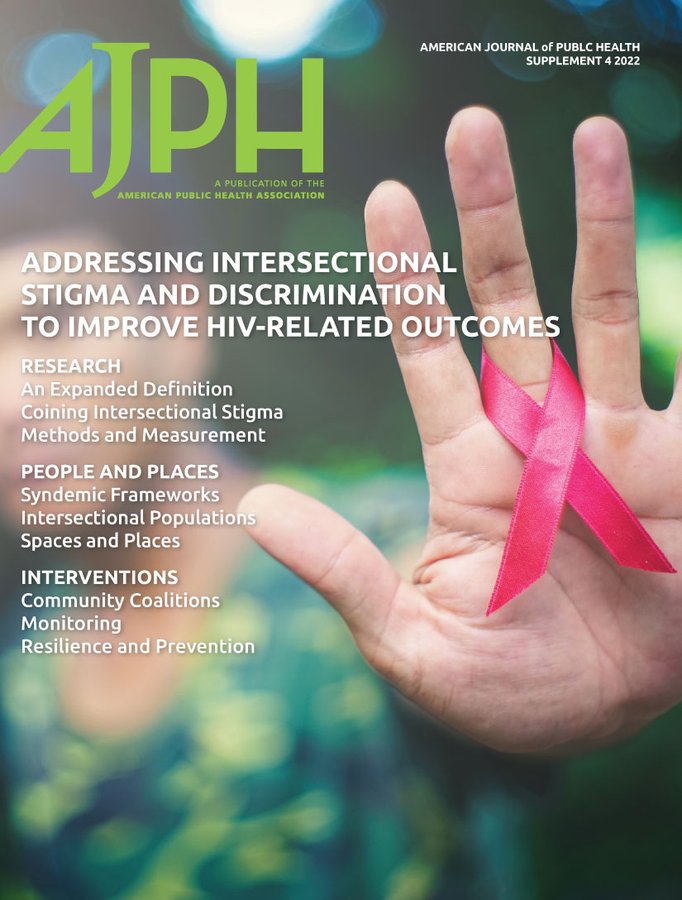 In June 2022, the American Journal of Public Health published a special issue titled Addressing Intersectional Stigma and Discrimination to improve HIV-Related Outcomes.
The issue was co-edited by Carmen Logie, an associate professor at the Factor-Inwentash Faculty of Social Work, alongside George Ayala, from the Alameda County Public Health Department in Calafornia; Lisa Bowleg, a professor from the department of psychological & Brain Sciences at the Columbian College of Arts & Sciences; and Sannisha Dale, an associate professor in the Department of Psychology at the University of Miami.
The open access publication will be celebrated in July with an official launch as part of AIDS 2022, the world's largest conference on HIV and AIDS, which takes place this year from July 29 – August 2. A satellite session on the special issue and the topic of HIV-related intersectional stigma and discrimination will be held on Sunday, July 31.
Building on research on HIV and stigma conducted over the past 35 years, the research, theory and community insights provided in the special issue aim to inspire actions to reduce the intersectional stigma and discrimination that pose critical barriers to HIV services and drive HIV inequities. Intersectional stigma provides a lens to examine how multiple disadvantages come together to create systematic differences in HIV testing, prevention, treatment, and care.
"Ending the HIV epidemic will not be possible without addressing how intersectional stigma prevents people from accessing programs and tools to support their health and the health of their communities," said Logie. "But building understanding is not enough, we must also work apply this knowledge to the development and testing of new interventions for and with people affected by HIV. This is at the core of my research and work, and it has been invigorating to collaborate with other experts in this field."
Articles included in the special issue cover topics including the essential role that resistance to oppression and resilience within communities plays in responses to HIV; the strengths and weaknesses of the way that past research has approached intersectional stigma; the value of supporting collective action and giving power to community voices; advances in HIV-related intersectional stigma and discrimination research, measures, interventions — and more.
The special issue was sponsored by the National Institutes of Health (NIH) Office of AIDS Research (OAR) and the National Institute of Mental Health (NIMH) with particular leadership, support and contributions by Paul Gaist and Amber Wilson of the NIH OAR and by Gregory Greenwood of the NIMH. They are among those at the NIH who have been championing HIV stigma and intersectional stigma as research priorities.
"While there is a recognition that HIV-related stigma intersects with multiple aspects of life, social identity, and societal positions, our understanding of intersectionality within the context of HIV is still limited," said Gaist, senior science advisor and health scientist at the NIH OAR and co-author of an article in the special issue.
"I hope this special issue will encourage researchers, practitioners, and policymakers to more fully consider the implications of the intersectional stigma for people living with and most affected by HIV," said Greenwood, branch chief at the NIMH Division of AIDS Research and special issue co-author.
In addition to her role at FIFSW, Logie is the Canada Research Chair in Global Health Equity and Social Justice with Marginalized Populations, an Adjunct Scientist at Women's College Research Institute, an Adjunct Professor at the United Nations University Institute for Water, Environment & Health, and a  Research Scientist at the Centre for Gender & Sexual Health Equity. She is Deputy Editor at the Journal of the International AIDS Society and on the editorial boards for Social Science & Medicine Mental Health and PLOS Global Health. In 2020, Logie launched the Everybody Hates Me: Let's Talk About Stigma podcast hosting guest stigma experts from across the world, with 13.1k downloads as of August 2021, found everywhere that podcasts are found.
---
Related: