2022-2023 Year in Review

A message from Dean Charmaine Williams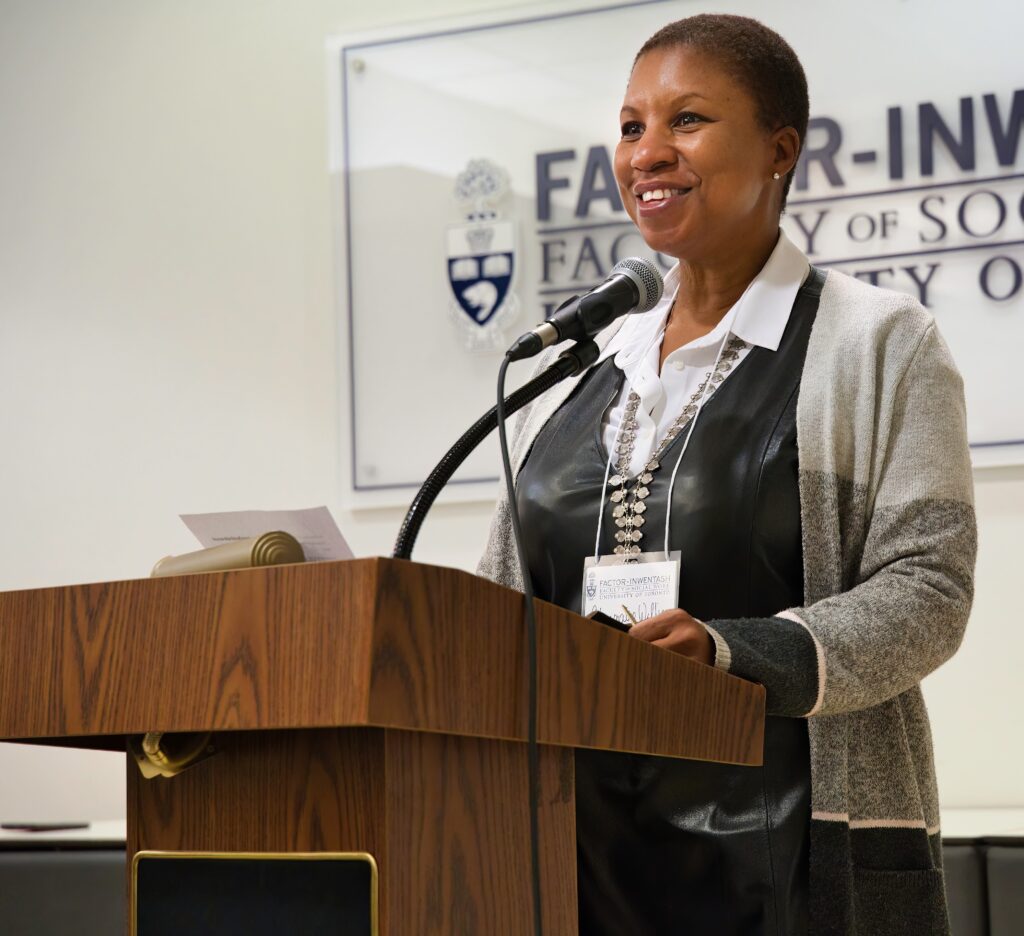 On January 1, 2023, after a year as Interim Dean, I was officially appointed Dean of the Factor-Inwentash Faculty of Social Work for a five-year term. I was tremendously excited to step into leadership at a school of social work that means so much to me.
Over the past year, my focus has included laying the vital groundwork needed for our community to work together to further strengthen social work education and research. Efforts have included hiring new staff; stewarding faculty promotions; taking action to infuse equity, diversity and inclusion into our recruitment processes and curriculum; connecting with our stakeholders in the community; and strengthening support for our students with help from our generous alumni and donors.
Throughout all of this, we have also increased efforts to build public awareness of the important work that social workers do and their growing role as leaders in addressing the challenges that impact health and well-being.
The Factor-Inwentash Faculty of Social Work has earned a top international ranking based on research that informs innovations in practice and policy; exceptional learning experiences; and important service to the profession, our communities, and the world. Over the past decade, the core elements of FIFSWs 2012-2022 strategic plan — to mobilize knowledge; promote wellbeing and equity; foster innovative learning; and collaborate locally, nationally and globally — have become embedded in everything that we do. In the coming year, FIFSW will start the process of creating a new strategic plan, and I look forward to working with our faculty, students, alumni, staff and community partners to determine our priorities for the years ahead.
This work takes place at a time of incredible transformation for the field — one that challenges us to consider the way we think about social work, who we include, and how we can better represent and be responsive to the communities we serve. Equally important, given the years we have just had, is charting the path toward ensuring the health and well-being of social workers who are meeting those challenges. It is my hope that we will become a leader in this area.
It gives me immense pleasure to share this report, which provides a glimpse into the amazing things that are happening at this Faculty. As I look back on the 2022-2023 academic year, I am incredibly proud of how our faculty, students, alumni, and staff continue to challenge and strengthen the profession, build ties with communities and across disciplines, and lead advocacy for change at local and global levels. In the years that follow, we will continue to build on FIFSW's stellar international reputation as a leader in social work education, innovation and research. This is truly a collaborative effort because our Faculty's achievements would not be possible without our alumni and friends who support us.
Thank you to everyone who has contributed to our success over this past year. I look forward to sharing stories of how your efforts contribute to Factor-Inwentash Faculty of Social Work impact in the months and years to come.
With best wishes,
Charmaine C. Williams
Dean and Professor
Sandra Rotman Chair in Social Work
Factor-Inwentash Faculty of Social Work
University of Toronto
---
Read FIFSW's Year in Review
Read the Year in Review via: