2022-2023 Year In Review: Alumni engagement and impact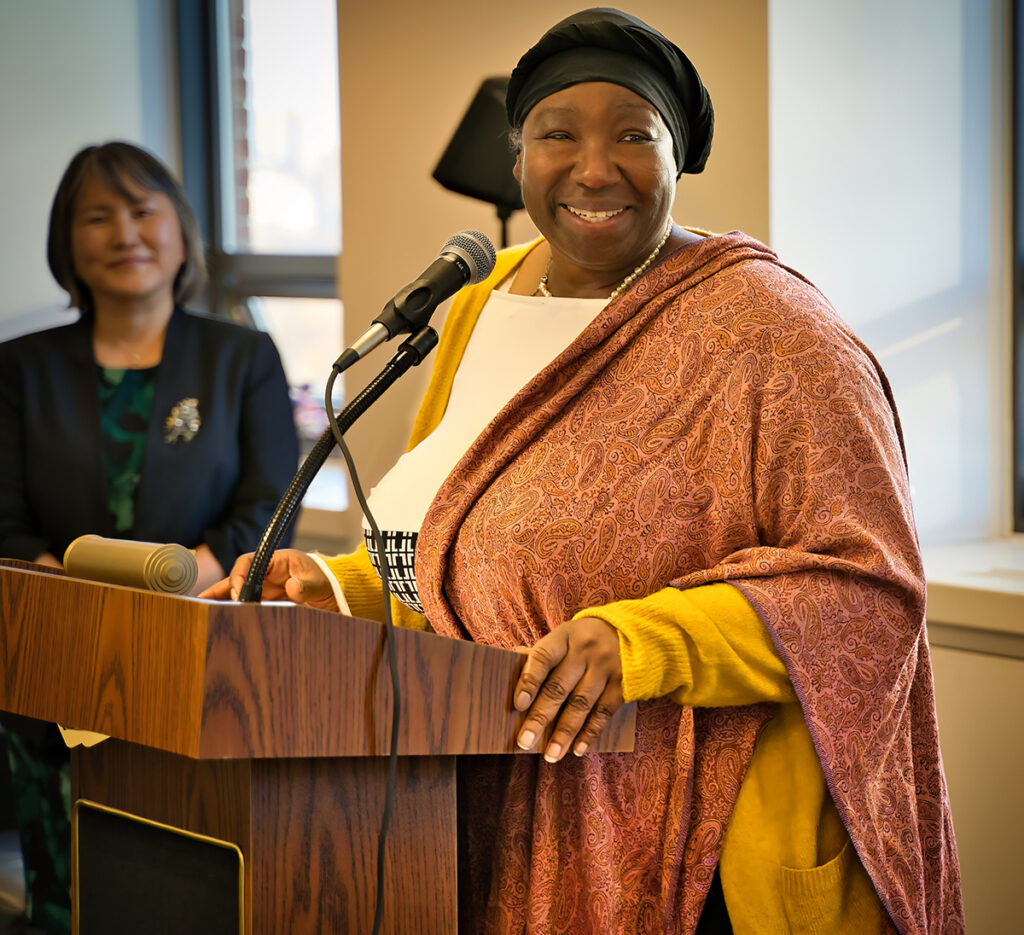 Staying connected
In 2022-2023, Factor-Inwentash Faculty of Social Work Alumni Association planned and hosted five online events, including a reading club. It also welcomed the return of its annual in-person Distinguished Speaker Series. Created in 2014, the Distinguished Speaker Series brings leading thinkers to the Faculty annually to foster debate and dialogue on crucial societal challenges. This year's featured speaker, Dr. Robert Maunder spoke about the lifelong impact of childhood adversity and trauma-informed care and prevention in healthcare, and received high praise for his talk from both our in-person and online audiences.
The academic year also boasted three in-person convocation celebrations, including a long-awaited ceremony and reception for those who graduated during the pandemic in 2020 and 2021. It was wonderful to be able to come together in person to celebrate the accomplishments of this particular group.
In addition to participating in and attending events, members of FIFSW's alumni community have contributed time and expertise as field instructors, speakers, mentors, and members of committees focused on admissions; field instruction; and diversity, equity and inclusion. The Faculty is incredibly grateful for our alumni's continued engagement and support.
"After you graduate, it's very easy to get caught up in your career. Coming back feels like a reunion. It has been such an honour to meet people who graduated 20 or 30 years before me and find out that they are still motivated to be involved with the Faculty." —Andria Allen, as told to U of T Magazine, 2022
---
Miss an event? Join us online!
Visit FIFSW's YouTube channel to view our public lectures on demand, including:
Somatic Experiencing© & Indigenous Ways:

Strengthening Trauma-informed Care & Practice

, with Anita Charleson-Touchie

Critical Conversations: Working with Parts and Ego State Therapy, Practical Tools to Boost your Mental Health this Winter

,

with Jennifer Shields

Harm Reduction: Not What I Thought

,

with Candice Bremner, Joanna Dickinson, Michelle Lewis and Hope Ramsay

Clinical Conversations: A Guide to Clinical Hypnosis for Mental Wellbeing

,

with Jennifer Shields

The Effects of Early Trauma on Brain Development: Relevance in 2023

, with Geraldine Crisci

Distinguished Speakers Series —

Revolution through Relationship: Caring for Adult Survivors of Childhood Trauma

, with Robert Maunder.

The Janis Rotman Distinguished Lecture on Mental Wellness
On October 6, FIFSW presented the inaugural Janis Rotman Distinguished Lecture on Mental Wellness at Innis Town Hall. The event featured an engaging talk by Dr. Monnica Williams (pictured above with Prof. Lin Fang). Dr. Williams' lecture "Racial Trauma: How Racism Can Cause PTSD," is among the featured videos on FIFSW's YouTube channel.
Did you know?
The Institute for Life Course and Aging (ILCA) — U of T's hub for interdisciplinary collaborative specialization in Aging, Palliative and Supportive Care across the Life Course — delivered 9 online workshops for health professionalsin 2022-2023 and has an impressive 143 educational videos available on its YouTube channel.
An intimate conversation with Delores Mullings
During Black Mental Health Week, FIFSW hosted a talk and Q&A with Delores V. Mullings, Professor and Vice-Provost, Equity, Diversity, Inclusion and Anti-Racism at Memorial University. Mullings is also lead editor of the book Africentric Social Work. Her talk "E(Racing) the Masters' tools: Africentric Social Work by and for People of African Descent," took place on March 9. (Unfortunately, due to technical difficulties, this event is not available online.)
Introducing the Social Work in Global Context Lecture Series
Many factors affecting individuals, families and communities extend beyond borders, with solutions that require a global understanding and approach. FIFSW's new Social Work in Global Context Lecture Series convenes multidisciplinary discussions on the complex issues that arise in our globalized world. The series launched on June 12, 2023 with a talk byAmal Elsana Alh'jooj (pictured, right) who spoke about growing up as an Indigenous Bedouin Palestinian woman in Israel and the role that social work can play in empowering the most marginalized among us to lead social change. Stay tuned for more talks in 2023-2024.
---
Learn how our alumni are making a difference in their communities and transforming the field
Read about our alumni's impact as clinicians, advocates, teachers, policy-makers, researchers and more.
Sajedeh Zahraei

MSW 1996, PhD 2014
Improving mental health support for immigrant, refugee and racialized women

Kaitlin Schwan

PhD 2016
Leading researcher on homelessness and national advocate for the right to housing

Terry Cheng

PhD 2010
Developed a program to help Chinese women navigate cancer recovery

Kennes Lin

MSW 2019
Co-authored report on anti-Asian racism during the COVID-19 pandemic

Rebecca Detje

MSW 2020
Social Worker in the acute care unit at Mount Sinai Hospital

Jheanelle Anderson

MSW 2020
Researcher, policy development officer and advocate for Black people with disabilities

Ellen Sue Mesbur

MSW 1967
Internationally recognized expert in social group work and a leader in social work education

Lisa Robinson

MSW-ITR 2017
Using western and Nuu-Chah-Nulth healing practices to address the impact of sexual abuse and assault
---
Field Instructor appreciation
On May 16, FIFSW's Practicum Office hosted a Field Instructor Recognition and Knowledge Exchange event. FIFSW Field Instructors mixed and mingled with staff, faculty members and each other in FIFSW's seventh floor lounge. After some words of appreciation from Dean Charmaine Williams and Eileen McKee, Assistant Dean, Field Education, the Field Instructors broke out into groups with faculty Field of Study Coordinators for a knowledge exchange that will help inform course content in the future.
"Field Instructors play a vital role in our students' education by providing them with opportunities to develop social work competencies that prepares them for professional practice" says McKee. "We are extremely appreciative of their dedication and support."
Interested in becoming a practicum Field Instructor? Contact practicum.fsw@utoronto.ca to learn more and apply!
---
Arbor Awards
The University of Toronto's Arbor Awards recognize exceptional and longstanding volunteer service. Congratulations to FIFSW's 2022 recipients:
Reem Abdul Qadir

David Brownstone

Dale Kuehl

, and

Terese Weisberg.
Our 2022 recepients have shown an incredible commitment to FIFSW students, programs and outreach. The volunteer activities of this group include roles such as preceptors and education practice leaders who help increase FIFSW's capacity to offer field education placements, Association of Teaching Centres members, and FIFSW Alumni Association board members and fundraisers. We are thankful for their continued contributions.
---
Your generosity makes a difference
FIFSW is truly grateful to everyone who has contributed to the success of our research, education and outreach. Your support makes our programs more accessible to students, helps build public understanding of social work issues, and strengthens our ability to produce research for and with communities that is informing important changes to policy and practice.
Three new student awards
The Marion Bogo Award

assists students who show great promise and commitment to clinical social work in their field education.

The Dr. Mary A. Wright Scholarship

supports incoming Master of Social Work students on the basis of financial need, with preference given to Black and/or Indigenous students.

The George and Iris Brown Social Work Bursary

supports Master of Social Work students on the basis of financial need, with an emphasis on community development.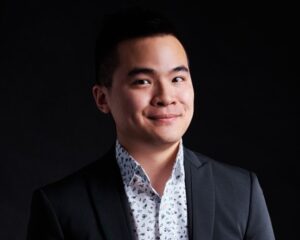 Donor support has benefited students such as Titus Chan who is working towards a career focused on policy and health systems change for the benefit of older adults across Canada. Read our Q&A with Chan.
Making social work research accessible to all
The Sophie Lucyk Virtual Library (SLVL) is an ongoing strategic partnership between FIFSW and the University of Toronto Libraries. Its goal: to make FIFSW research freely available to the public.
The open access virtual library honours alumna and social worker Sophie Lucyk and was created through the vision of alumna Rosemary Slivinskas, executor of her estate.
Over the last year (June 2022 to May 2023), the SLVL TSpace collection averaged 1,517 views and 2,499 downloads per month. A total of 32,492 downloads occurred over the last year. The library now boasts 624 items, up from 554 last year.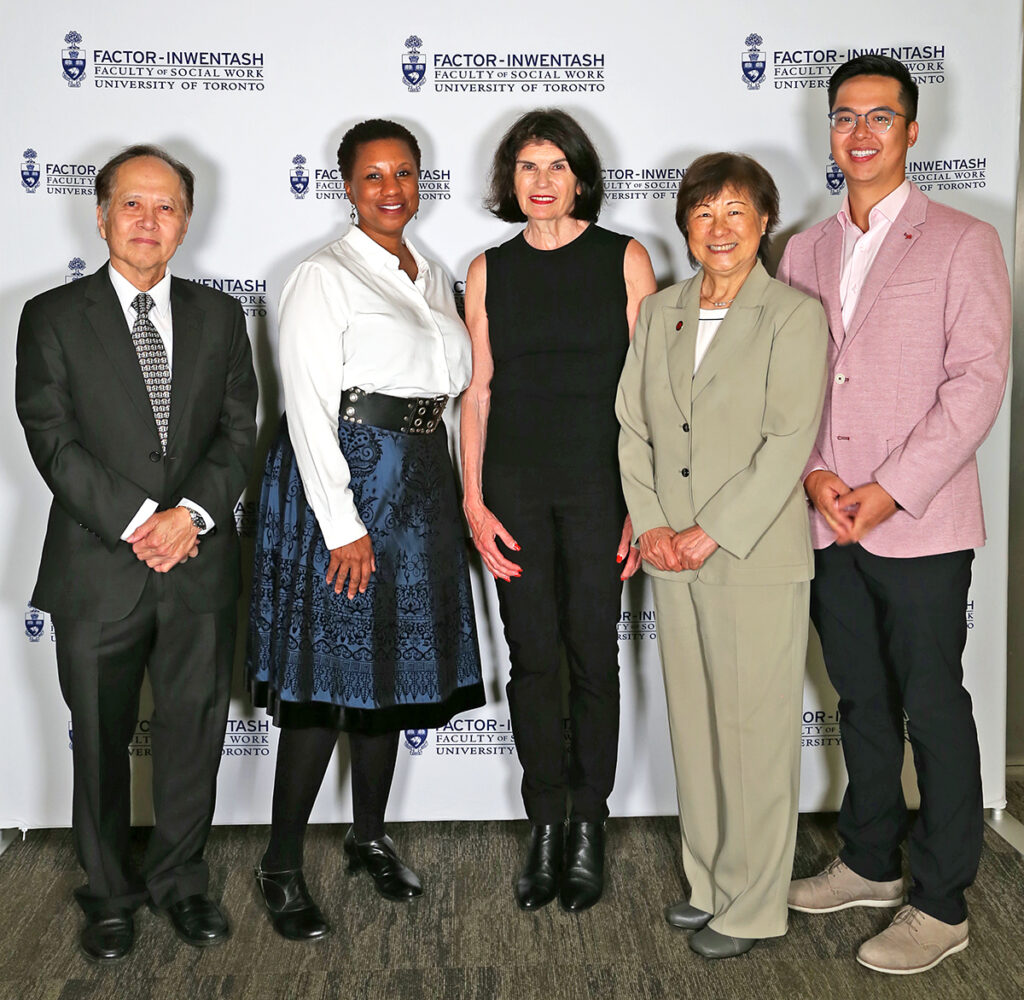 Champions of student success
The Fu Hui Education Foundation is a dedicated and generous supporter of FIFSW's unique Indigenous Trauma and Resiliency (ITR) field of study. Ensuring that the program is accessible to Indigenous students from communities across Canada, including those that are remote, has been essential to the field of study's success.
Grounded in the North American Indigenous values and inspired by Indigenous traditions from around the globe, the ITR field of study is dedicated to preparing social work professionals to work with individuals, families and communities who have been affected by historical and generational trauma. FIFSW is deeply grateful to the Fu Hui Education Foundation for the vital role it has played in helping sustain this important program and its students.
Interested in supporting FIFSW students and research? Visit our Donate page or contact fund.fifsw@utoronto.ca.
The Fu Hui Education Foundation has a distinguished record of supporting and empowering communities through education, and we are deeply grateful for their incredible support of our program and its students." — Charmaine Williams, Dean & Professor
---
Read more from FIFSW's 2022-2023 Year in Review: