2022-2023 Year in Review: Research Highlights
Research that counts
FIFSW research is reshaping policy and practice, informing advocacy, engaging and empowering communities, enhancing wellbeing and equity, and addressing issues that extend beyond our borders.
By the numbers
5 Canada Research Chairs
11 Endowed chairs
22 faculty members received funding for 57 projects totalling over $5 million
$106K Average amount of funding received per project
75 Percentage of faculty members holding grants as Principal Investigators
21 Projects funded by SSHRC
5 Projects funded by CIHR
199 Publications 2 books 11 Book Chapters 186 peer-reviewed journal articles
238 Conference presentations and invited talks

Top scholars
FIFSW researchers Cheryl Regehr, Faye Mishna, Ramona Alaggia and the late Marion Bogo are among the top 100 most impactful global contributors to social work journal scholarship, according to a study published in the journal Research on Social Work Practice. U of T placed second in the number of social work scholars in the top 100.
---
Reshaping policy and practice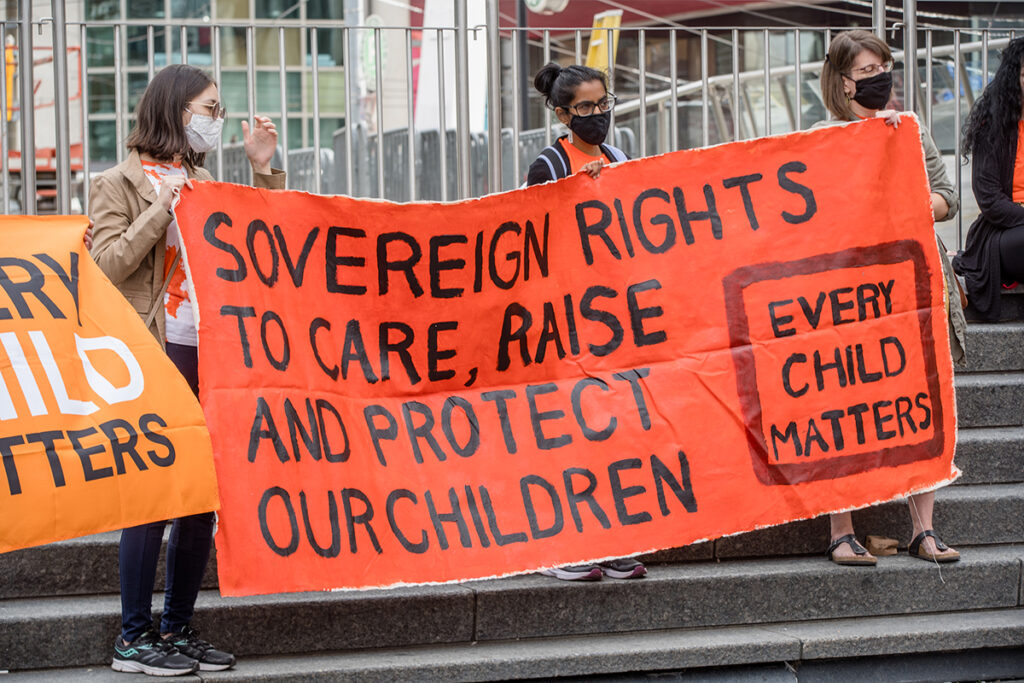 (Photo by Shawn Goldberg/SOPA Images/LightRocket via Getty Images)
Building a foundation of truth
When the first Ontario Incidence Study of Reported Child Abuse and Neglect (OIS) was published in 1993, province-wide knowledge of child welfare investigation rates and outcomes was scarce.
Researchers have since produced a new Ontario study every five years, with the seventh iteration – led by Professor Barbara Fallon – launching later this year. Fallon stepped into the role of principal investigator of OIS after serving as project manager on the 1998 study. The remarkable 30-year research undertaking, which includes four Canada-wide studies and two studies specific to First Nations, has revealed hard truths related to racism and deep inequalities for First Nations as well as Black, Latin American and other racialized communities.
"This type of data allows us to push for change at those systemic levels often held within government policies and legislation," says Cindy Blackstock, executive director of the Caring Society and a professor at McGill University's School of Social Work. Blackstock earned a PhD in social work from U of T in 2009.
"You have to remember that data represent children and families," says Fallon. "That's a child and a parent who are really struggling and can be very symptomatic of what is structural inequity, that I think we, as Canadian citizens, have the power to change."
Read the full article, "A bitter truth: 30 years of child welfare data collection reveals deep systemic inequities, racism and harm." 
Studies informing structural change
Examples of evidence-based research informs the policies and practices that support the health and wellbeing of our communities:
Strengthening Health Canada policies
Increasing our understanding of eating disorders, body dissatisfaction and how healthcare providers, including social workers, can better screen for potential risks is what drives Assistant Professor Kyle Ganson's work. He's now developing policy recommendations to address the lack of Health Canada regulations around muscle-building and performance-enhancing substances.
Confronting elder mistreatment
RISE is an evidence-based, community-based elder mistreatment response program that operates at Relational, Individual, Social, and Environmental levels. The program works in partnership with other systems (such as adult protective services and healthcare) to support and respond to cases involving older adults who are at risk of or experiencing elder mistreatment or self-neglect. Developed by Professor David Burnes and colleagues, RISE has been scaled throughout the entire state of Maine and was written into the annual state operating budget. It is also now being implemented and tested in Toronto, New Hampshire, and Washington State.
Increasing primary care capacity
Professors Keith Adamson and Rachelle Ashcroft are leading a project that aims to strengthen the integration of social workers in primary care across Canada. Their work will contribute to a national vision and further the capacity of social workers in patient care.
Strengthening practice for under-resourced 2SLGBTQI+ populations
In 2022, the Substance Abuse and Mental Health Services Administration (SAMHSA) — part of the U.S. Department of Health and Human Services — featured AFFIRM in its resource guide on research supporting adaptations of evidence-based practices for under-resourced populations. AFFIRM is a CBT intervention created by Professor Shelley Craig that focuses on reducing depression and improving coping and sexual self-efficacy for 2SLGBTQI+ youth and adults.
Improving culturally appropriate services for Muslims in Ontario
A study initiated by FIFSW MSW and PhD students is exploring the social service needs of Ontario's Muslim population. The research will help social workers better understand the barriers Muslim people face in accessing culturally appropriate support. Supported by a Social Sciences and Humanities Research Council (SSHRC) Partnership Development Grant, the much-needed investigation will ultimately inform recommendations on how to improve services for this diverse population.
"All the partnership relationships were established by our graduate students and we have seen overwhelming support from the Muslim community," said Professor Ka Tat Tsang, the project's principal investigator.
---
Advocates for change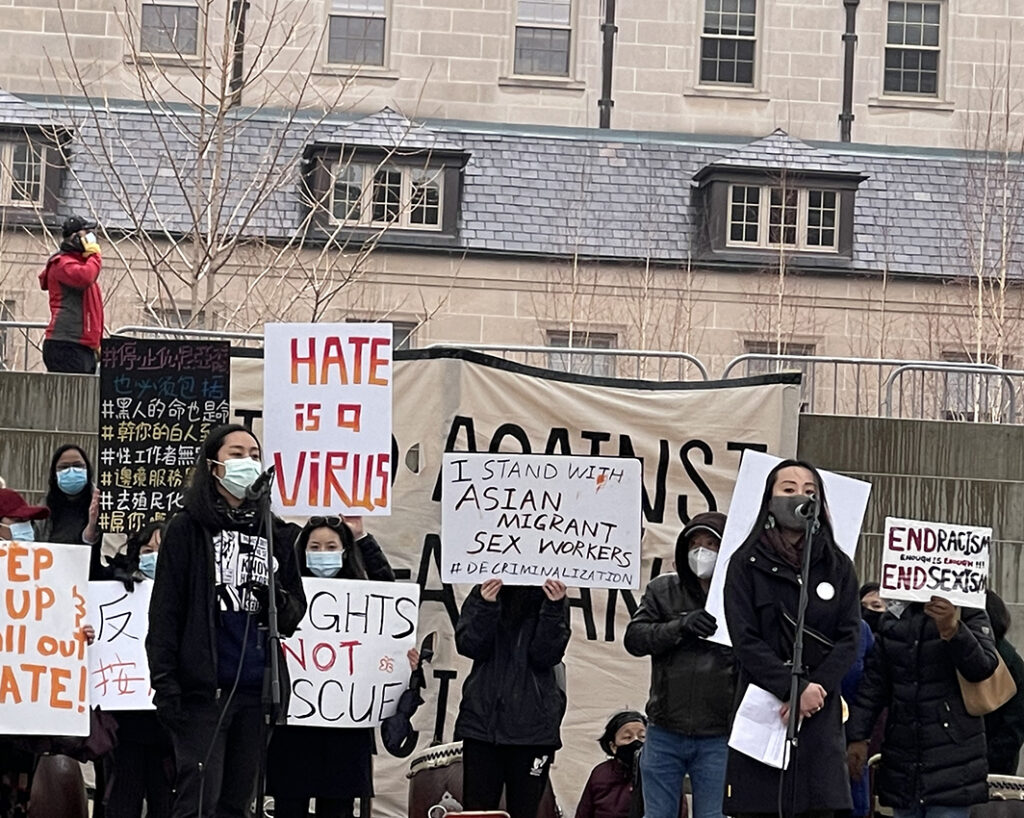 Leading
evidence-informed calls to action
A new report published in March by the Chinese Canadian National Council Toronto Chapter (CCNCTO) and FIFSW highlights the anti-Asian racism that members of Toronto's Asian communities experienced before and during the COVID-19 pandemic.
The study fills a gap in community-based research and clearly outlines Calls to Action — for governments, for schools, for those in the social work and human services fields, and others — to address anti-Asian racism on the ground.
"The alarming upsurge of anti-Asian racism during the pandemic has brought global attention to the violence facing the Asian diaspora, and thrusted members of the Asian Canadian community to speak out against racial injustice like not been seen before," said Associate Professor Izumi Sakamoto one of the authors of the report.
The report was covered by the Toronto Star, CBC television and radio programs, CTV, CP24 and Fairchild TV. Co-author and recent MSW graduate Hogan Lam published an opinion piece in the Toronto Star titled "How many reports do we need to prove that anti-Asian racism exists?"
Read the full report 2020 in Hindsight: Intergenerational conversations on Anti-Asian Racism during the COVID-19 pandemic and find links to media coverage on FIFSW's website.
Campaigns for change
Examples of how FIFSW faculty are speaking out and raising awareness about issues that impact diverse communities:
Advocating for strong support for families affected by mental health
In any given year, 1 in 5 Canadians experiences a mental illness and 1 in 2 adults over the age of 40 has a history of mental illness. For each person, there is a family doing their best to support and care for their loved one. In February, the Family Caregiving Project, a multi-year research study led by Dean & Professor Charmaine Williams, launched a petition to urge provincial leaders to create a strategy to increase family-centered services, improve access to mental health care for families, and support equitable distribution of funding by directing targeted resources to families who care for Ontarians living with serious and persistent mental illnesses.
Tracking police-involved deaths
"A historic and persistent lack of transparent data is one of the key factors that have prevented researchers, policymakers, advocates, and communities most impacted by police violence from effectively calling attention to police use of force and police-involved deaths," says Associate Professor Tanya Sharpe. Sharpe helped lead the Tracking (In)Justice project — a publicly accessible online database launched in February 2023 that tracks police-involved deaths in Canada. The project received nation-wide media attention.
---
Community-engaged, community driven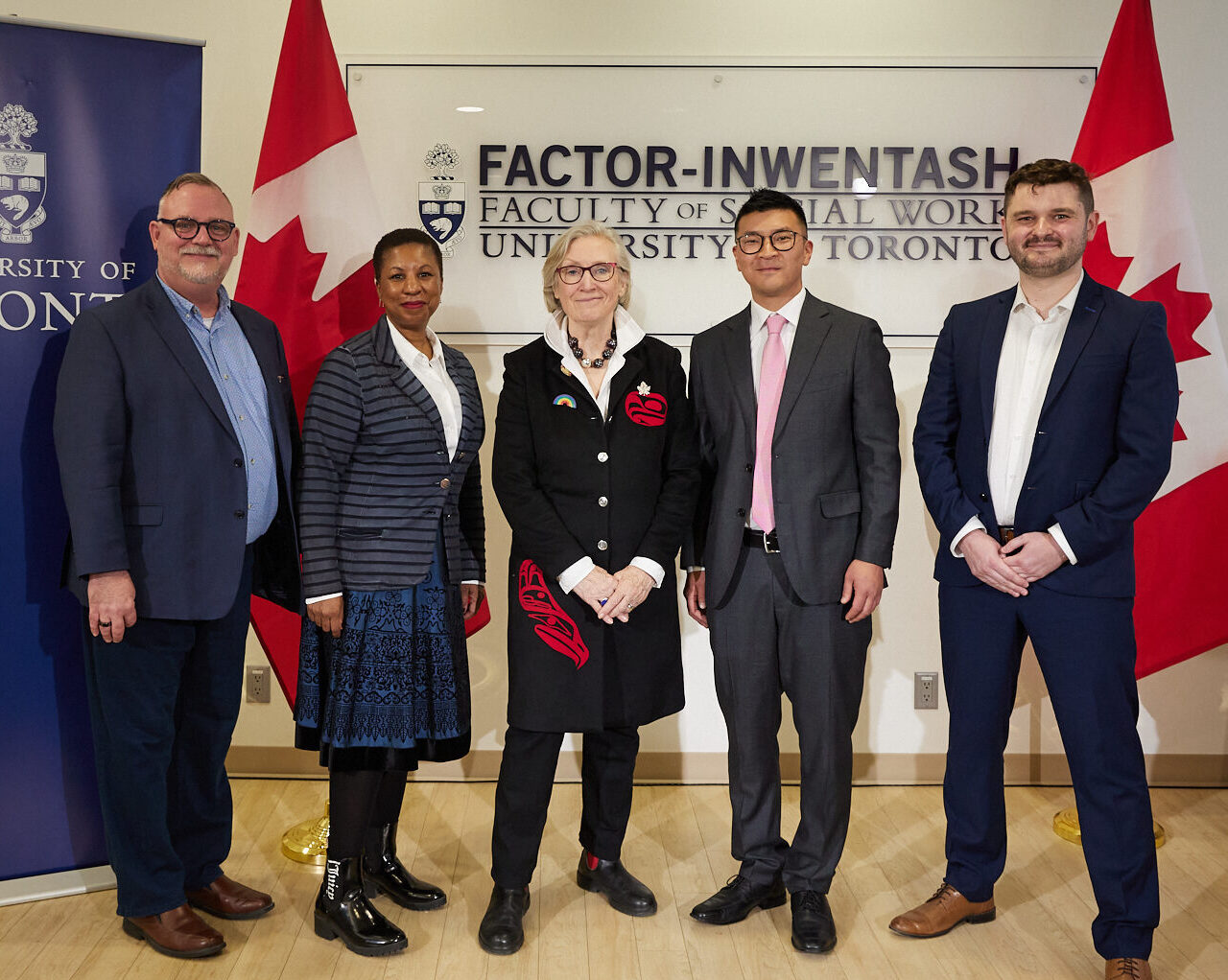 Empowering community members as peers in research
On May 1, Carolyn Bennett, Minister of Mental Health and Addictions and Associate Minister of Health came to FIFSW to announce $2.8 million in funding for the Community-Based Research Centre. The funding supports CBRC's Investigaytors program — a 2SLGBTQI+ focused initiative that equips participants to be peer researchers.
In Toronto, Investigators runs in partnership with CRUISElab, led by Professor David Brennan.
"The focus on community-engaged mental health initiatives is a critical lifeline for 2SLGBTQIA+ people," said Brennan, who spoke at the announcement. "We know there is a greater possibility of better mental health outcomes if researchers, policymakers, service providers, and governments work together for and with the 2SLGBTQIA+ communities."
The Investigaytors program addresses a national and provincial need to engage youth in sexual health calls for action. The initiative develops community capacity in queer people's health research, helps participants develop transferable research skills, and provides meaningful connections with other organizations in the field.
Read "The Government of Canada announces $2.8 million to support 2SLGBTQI+ Mental Health," on FIFSW's website.
Working for and with communities
Engaging, empowering and partnering with people and groups is key to research throughout the Faculty.
Empowering Asian youth and families
Led by Associate Professor Lin Fang, My Script My Voice is a university-community-based research project that empowers youth and their families to share their experiences of anti-Asian racism. In partnership with Asian communities across the GTA, the project aims to build participants' capacity to talk openly about the racism in their lives. The project's new website showcases past and current studies and serves a hub for its creative youth-based initiatives. Visit myscriptmyvoice.com to learn more.
Addressing barriers to abortion access
On May 9, the Canadian Government announced more than $4.2 million in funding to strengthen access to abortion services. A portion of the funds is allowing Associate Professor Stephanie Begun to lead a project with the University of British Columbia's Contraception and Abortion Research Team (CART) to address barriers for underserved populations. Her work involves the Youth Wellness Lab, a research collaborative she co-founded and co-directs that engages youth as partners and leaders in research. "Youths' intersectional perspectives are essential to building optimal approaches to care," says Begun.
Connecting queer researchers
During Pride Month, the International Partnership for Queer Youth Resilience (INQYR) hosted Rainbow Rendezvous, a Queer Research Mixer, organized to highlight the voices and experiences of queer academics and scholars and provide them with opportunities to connect. PhD student Kaitrin Doll and Dane Marco Di Cesare, Chair, Canada Regional Nework for INQYR co-organized the event, which included a panel on intersectional queer research, roundtable discussions and a networking session.
Support for survivors of homicide victims
On September 13, The Centre for Research & Innovation for Black Survivors of Homicide Victims (The CRIB)presented Invisible Wounds: Stories of Survivorship at Innis Town Hall. The Invisible Wounds project engaged African, Caribbean, and Black (ACB) survivors of homicide victims in digital storytelling in order to better understand the impact of murder on their wellbeing, their coping strategies and the unmet needs of ACB Canadian survivors of homicide victims in Toronto.
Invisible Wounds project participant DeShawn Hibbert said that being a part of the Invisible Wounds project allowed him to not just identify what he was experiencing as grief but to 'deal with it on a deeper, healthier level' with the support of project participants and team members.
---
Enhancing wellbeing and equity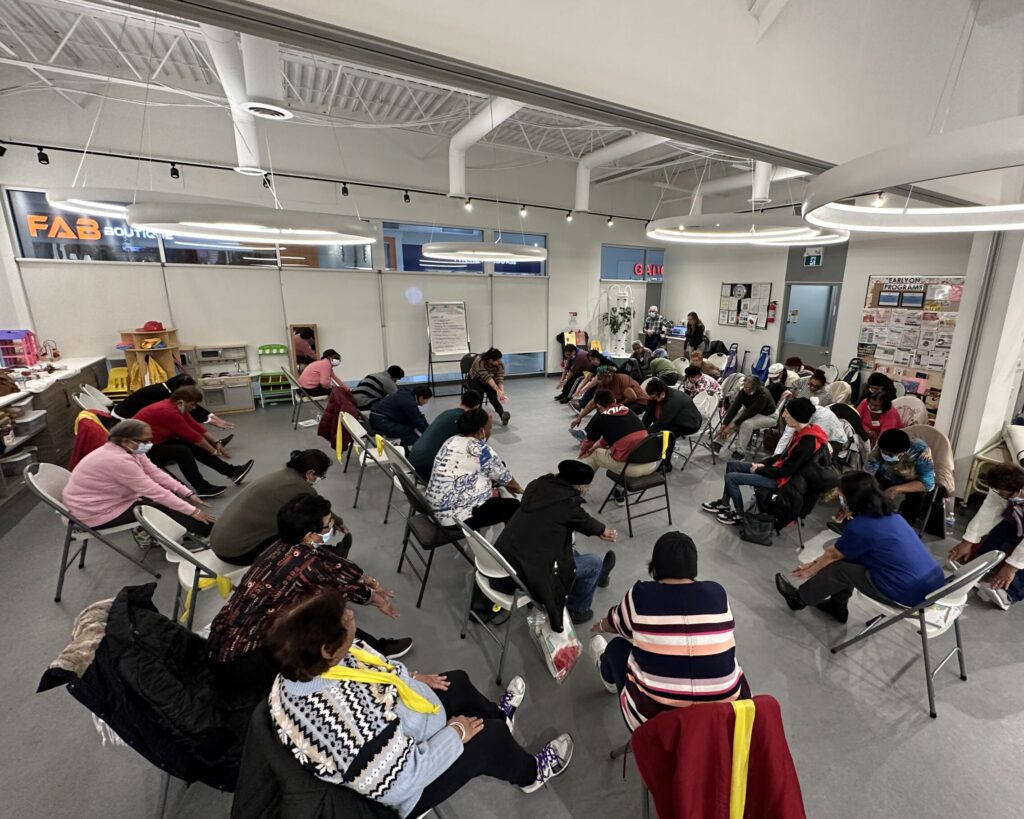 Marrying mental and physical health
It's Friday morning and the Jane/Finch Centre is rocking to the soca groove of Kevin Rougier and Mr. Legz. Inside, the revelers, all of them seniors, are up out of their chairs. One 83-year-old woman, encouraged by a livewire program worker named Sandra Anderson, is leading a dance of joy. "A lot of these people live alone," says Anderson, a senior herself. "This is their escape."
And then something magical happens. Gradually, organically, the participants doing exercises begin to sync up. What had started as a roomful of individuals, each in their own bubble, has become one thing, a team, a troupe. Anderson is a little in awe. "I've seen so many seniors who couldn't move, wouldn't move, and now I look at them and oh my goodness," she says.
"The stretching, the rubber-band work. That is a tribute to the Talk It Out, Work It Out team that came and showed them the techniques."
Talk It Out / Work It Out is a groundbreaking pilot project partnering two U of T brain trusts: the Factor-Inwentash Faculty of Social Work and the Faculty of Kinesiology and Physical Education. Students from each contributed to the curriculum that clients at the Jane-and-Finch seniors enjoyed. Associate Professor Lin Fang spearheaded the creation ofthe program with KPE Professor Catherine Sabiston.
The third point of the triangle is the community partner, in this case the Jane/Finch Centre, which delivers the clients to the academics with a "warm handoff" of earned trust. People have synced up not just physically but emotionally. Real friendships have been made.
Read "Talk It Out, Work It Out marries mental and physical health," on FIFSW's website.
Mobilizing mental health knowledge
Understanding the factors that affect our wellbeing is vital to improving the support that social workers can offer.
Family violence
An expanded and updated third edition of the book Cruel But Not Unusual examines the latest research, thinking and strategies to address family violence in Canada. Co-edited by Professor Ramona Alaggia and social worker Cathy Vine, the publication includes new chapters and a broader exploration of the many forms of violence that persist within relationships and families and how the systems charged with responding and helping can respond in trauma-informed ways.
Social worker health and wellbeing
A study led by Professor Ramona Alaggia found that Social workers experienced depression, PTSD, and anxiety at alarming rates during pandemic, with 40% of the Ontario social workers sampled reporting depression. The rate of reported depression among social workers was four times higher than the general population and substantially higher than other health care professionals working in COVID-19 related conditions, 24% of which reported depression. Co-authors included Professor Esme Fuller-Thomson and PhD students, Carolyn O'Connor and Keri West.
The power of social connections
Research by Professor Esme Fuller-Thomson and Assistant Professor Harry Taylor point to the importance of social connections and the impact of loneliness on our health. "Loneliness is related to almost every health outcome you can think of," Taylor told Zoomer magazine, who wrote about his research in its April/May issue. Fuller-Thomson's research was featured in the Toronto Star in January. In one study, Fuller-Thomson found that "People with COPD, who had even one confidant, were seven times more likely to be in excellent mental health compared to people who didn't." A CBC syndicated radio story highlighted both Taylor and Fuller-Thomson's work.
Creating positive learning environments for LGBTQ+ social work students
The Social Work Speaks Out project, developed by Professor Shelley Craig and collaborators, including alumnus Gio Iacono (pictured left), surveyed more than 1,000 LGBTQ+ students in 126 social work programs across 44 states and seven provinces. Overall, one-third of the respondents said they encountered homophobia in their programs. The project has led to the development of best practices for affirmative social work education. Craig co-developed a tool to help educators effectively address microaggressions against LGBTQ+ students in their classrooms and co-authored guidelines for the Council on Social Work Education on enhancing the climate for transgender and LGBTQ+ social work students.
A publication based on research from the Social Work Speaks Out project received the 2022 award for Best Qualitative Article from the Journal of Social Work Education.
---
Social work in global context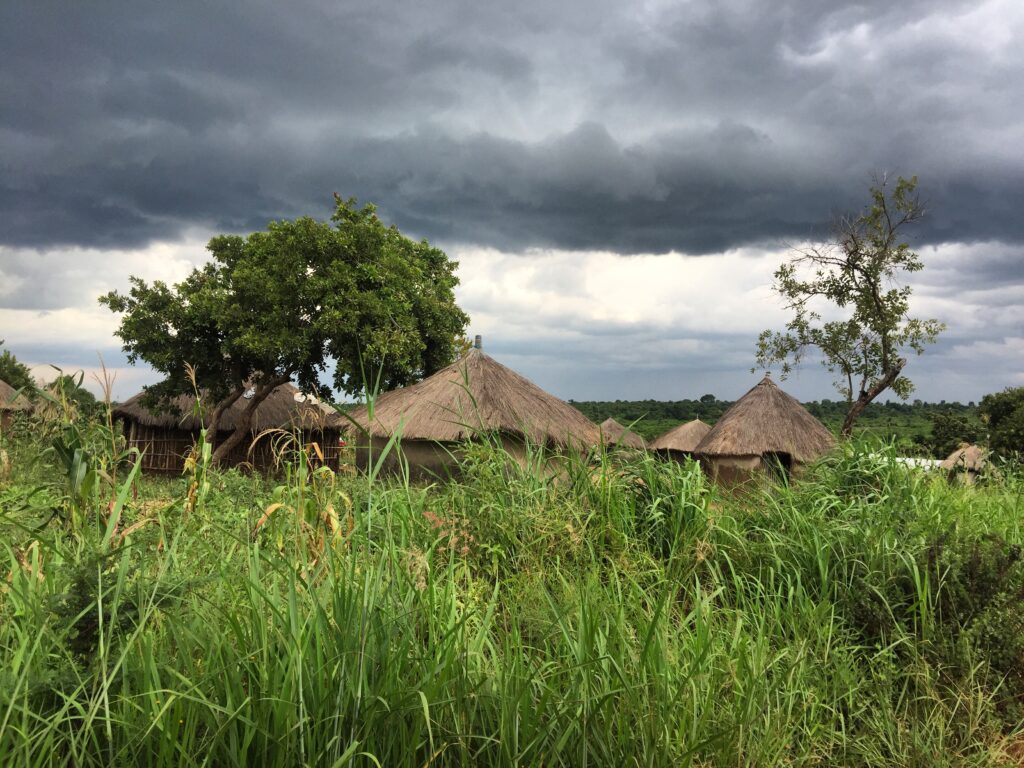 Community-based art interventions for prevention and care
As the Canada Research Chair in Global Health Equity and Social Justice with Marginalized Populations, Professor Carmen Logie (who is also an Adjunct Professor at the United Nations University Institute for Water, Environment & Health) leads global research focused on sexual health and rights. After discovering there was a scarcity of research on post-rape care for forcibly displaced youth in refugee settlements, she and her collaborators received a Grand Challenges grant to test an intervention using comic books in Uganda's Bidi Bidi refugee settlement.
To start, they used qualitative data to develop a comic book series that addresses issues , such as sexual violence, stigma, support for survivors, and forced marriage. They then provided youth with a blank version of the book to fill out so they could share their own perspectives and solutions.
"After the workshop, we found reduced sexual violence stigma and depression, increased bystander practices and resilient coping strategies among other benefits," said Logie. "We are now using comic books in a new HIV testing study in Bidi Bidi."
The comic book intervention is just one example of arts-based methods that Logie has been exploring. Past projects have included a digital storytelling project and virtual reality intervention. More recently, she has been testing a multi-media participatory mapping tool to identify interconnections between social, health, and environmental well-being among young adolescents in climate-affected regions of Kenya.
Read our "World AIDS Day Q&A" with Professor Carmen Logie on FIFSW's website.
Work grounded in global awareness
FIFSW is engaged in work throughout the world and addresses issues that extend beyond our borders.
Supporting the mental health and resilience of gender and sexual minority youth
Led by Professor Shelley Craig, INQYR brings together over 50 academic and community partners from Canada, the US, Latin America, and the UK — and is the first international partnership to explore how information and communication technologies impacts the resilience of gender and sexual minority youth (GSMY). With a 7-year $5.5 million Social Sciences and Humanities Research Council (SSHRC) Partnership Grant, INQYR supports a growing need for collaborative international approaches to GSMY wellbeing.
LGBTQ+ inclusion in Asia
With support from a Social Sciences and Humanities Research Council (SSHRC) Partnership Grant, Professor Peter Newman is leading a project addressing crucial research and knowledge gaps in LGBTIQ inclusion in Asia. The multidisciplinary partnership includes 5 core research teams and 26 community partners in Bangladesh, Hong Kong, India, Thailand, and Taiwan, as well as the Asia Pacific Forum and United Nations Development Programme (UNDP).
---
Read more from FIFSW's 2022-2023 Year in Review: