2022-2023 Year in Review: Faculty news and student success

FIFSW Faculty in the Media
FIFSW research and initiatives received over 200 media hits in the 2022-2023 academic year. Notable coverage included:
Features in

The New York Times

,

Maclean's

and

Time

magazine on research by Professor

Shelley Craig

on the benefits of social media for 2SLGBTQI+ youth.

Assistant Professor

Kyle Ganson

appeared on

CTV

's

Your Morning

and

CBC's Fresh Air

to talk about his research on body dysmorphia among boys and young men.

Research on the importance of social connections by professors

Esme Fuller-Thomson

and

Harry Taylor

 was featured on

CBC

radio stations across Canada. More recent research by Fuller-Thomson that found a relationship between warmer weather and poor eyesight received coverage in more than 15 publications.

National Public Radio (NPR)

in the U.S. covered research by Professor

Carmen Logie

on the relationship between food insecurity sex work and increasing HIV risk.

The Tracking (In)Justice project co-lead by Associate Professor

Tanya Sharpe

received more than 15 media hits after its launch, including coverage in the

Globe and Mail,

The Toronto Star

and

CBC

radio.

A report on anti-Asian racism co-authored by

Izumi Sakamoto

received coverage from

CBC

radio and television,

CTV, CP24

and the

Toronto Star

.

Professor

David Hulchanski

was interviewed about affordable housing for feature stories reported by

The Toronto Star

,

The Globe and Mail

,

The Walrus

magazine and the

CBC

.
---
Faculty news
Promotions
Rupaleem Bhuyan and David Burnes were promoted to the rank of full professor on July 1, 2023. Bhuyan is the Director of FIFSW's PhD program. Her research explores how temporary and precarious immigration impacts immigrants' access to social and health care services, including immigrants' response to gender-based violence. Burnes is the Canada Research Chair on Older Adult Mistreatment Prevention. His research includes the design, evaluation and measurement of interventions to prevent and respond to elder mistreatment.
Stephanie Begun received tenure promotion to the rank of Associate Professor. A co-founder and co-director of the Youth Wellness Lab, Begun's research focuses on improving the health and wellness of marginalized youth, with particular attention paid to youths' reproductive and sexual health access, education, and outcomes.
Leadership
Keith Adamson, Associate Professor, was appointed a Deputy Director of the University of Toronto's Centre for Teaching Support & Innovation (CTSI). In this role, he will work to help CTSI better support the diverse needs of teaching staff and teaching assistants across U of T and provide guidance on creating accessible and inclusive learning environments and transformative educational experiences.
Professor Barbara Fallon was appointed the University of Toronto's Associate Vice-President, Research in the spring of 2022. In this role, Fallon works to boost the quality, impact and resourcing of research across U of T's three campuses.
"Research must be informed by both service and community impact and teaching," says Fallon. "Helping to support vast and varied programs of research across U of T is something that I'm really excited about."
Retirement
On July 1, Associate Professor Susan Stern officially retired from FIFSW. "I have learned so much from the students, faculty, and staff of FIFSW and amazing community collaborators and would like to thank everyone for how they have enriched my career and life," wrote Stern in FIFSW's monthly newsletter. Stern wrote the opening message to mark Jewish Heritage month in May.
View past newsletters on FIFSW's 'About' page.
Farewell
Toula Kourgiantakis, Associate Professor, Teaching Stream, accepted a new position as Associate Professor, Tenure Stream at Université Laval. FIFSW bid farewell to Prof. Kourgiantakis at the end of July 2023. "Her departure will unquestionably be felt, but her contributions and her legacy as a respected academic and mentor will endure," said Dean Charmaine Williams.
Awards
Notisha Massaquoi, received a 2023 YWCA Toronto Woman of Distincton Award celebrating wormen who further gender equity in their field. Massaquoi is an Assistant Professor in Health Education and Promotion with the Department of Health and Society at the University of Toronto Scarborough Campus, An FIFSW alumna, she also holds a graduate cross-appointment at FIFSW. In 2022, Massaquoi was also listed as one of Toronto Life's 50 most influential people for her work to expose racism in policing. Rounding out her awards for the 2022-2023 academic year is a 2023 FIFSW Teaching Excellence Award, presented each year to a faculty member for their outstanding contributions to education through the development and advancement of innovative teaching approaches, experiential and inclusive learning, and student support.
Professor Barbara Fallon, received FIFSW's 2023 FIFSW Supervision Excellence Award. This award recognizes a member of the Teaching Faculty for outstanding contributions in supervision that inspires, guides and empowers students to achieve excellence in scholarship by fostering a strong sense of academic integrity and by enabling students to develop expertise in social work knowledge, theories, research methodologies, and dissemination.
Assistant Professor Harry Taylor received a 2023 Connaught New Researcher Award, established to foster excellence at U of T. Taylor joined FIFSW as an assistant professor in 2021. His research addresses the prevalence, risk factors, and associative health outcomes of social isolation and loneliness among older adult Black Americans.
Associate Professor Tanya Sharpe received the 2023 Aaron Rosen Lecture Award from the Society for Social Work Research. The annual award is presented to a scholar who has accumulated a body of significant and innovative scholarship relevant to practice. Sharpe presented the public lecture for SSWR "Beyond a Seat at 'the table': Building a Legacy of Research for Black Suvivors of Homicide Victims" on April 19th.
Samantha Anthony, Health Scientist and Associate Professor, Status Only, received the 2023 Beverley Antle Leadership Award from the Ontario Association of Social Workers. Anthony is the first and only Canadian Health Clinician-Scientist in social work.
Professor Carmen Logie was presented with the CAHR-CANFAR Excellence in Research Award in the social sciences category at the 32nd Canadian Conference on HIV/AIDS Research (CAHR 2023). A leader in HIV research, she has been shining a much-needed light on understudied populations.
Research chairs
Associate Professor Stephanie Begun was appointed by Provostial approval to the RBC Chair in Applied Social Work Research (2023-2028). Provostial approval was also received for the re-appointments of Professor Lin Fang to the Factor-Inwentash Chair in Children's Mental Health, Professor Tanya Sharpe to the Factor-Inwentash Chair in Social Work in the Global Community, and Professor Michael Saini to the Factor-Inwentash Chair in Law and Social Work for five-year terms.
On January 1, 2023, Professor Charmaine Williams became the Sandra Rotman Chair in Social Work, which supports research on emerging social work trends that will ultimately inform continual improvement of the social work curriculum.
In memoriam
Winnifred Anne Herington, a professor at the University of Toronto's Social Work Faculty from 1965 to 1989, passed away peacefully on November 17, 2022."Professor Herington was a very gracious person and a leader in our faculty, in our field, and in the community," says Dean Charmaine Williams. "It was clear how much she was respected and beloved."
Professor Herington graduated from the U of T with a Bachelor of Science in Social Work in 1947 and worked in practice for 20 years before returning to the university as a teacher in 1965. Professor Herington's career and contributions have been an inspiration to students, alumni and colleagues, alike. She will be greatly missed.
Donald Meeks, a Professor Emeritus at the University of Toronto's Factor-Inwentash Faculty of Social Work, passed away peacefully on January 17 at 92 years old. Dr. Meeks' impact both locally and abroad was remarkable. In 2006, he was awarded the Order of Canada in recognition of his career as a social work professor, a groundbreaking and internationally renowned addictions expert, and a leader in human rights and race relations.
As described in Martin L. Friedland's The University of Toronto: A History, it is likely that Dr. Meeks was the first Black person at the University of Toronto to receive a tenure-stream appointment. He was also the first Black professor to attain the rank of full professor at U of T's social work Faculty. While at U of T, he introduced courses on drug dependence into the social work curriculum and helped create the collaborative graduate program in Alcohol, Tobacco and Other Psychotropic Drugs (now the Collaborative Specialization in Addiction Studies).
At his family's request, donations in Dr. Meeks' memory, can be made to FIFSW's Dr. Daniel G. Hill Sr. Scholarship. Contact fund.fifsw@utoronto.ca to learn more.
---
Spotlight on students
Learn how FIFSW students are making a difference and achieving their goals through awards, research, outreach and practice.
| | | |
| --- | --- | --- |
| Yiwei (Patricia) Quan's MSW research on the experiences of international students received a 2022 Clara Mayo Grant. | Travonne Edwards was named a 2023-2024 Connaught PhDs for Public Impact Fellow. | Sly Sarkosova's PhD research includes intergenerational trauma, legacies of colonial violence and its impact on 2SLGBTQ identities and mental health. |
| PhD student Amina Hussain, co-founded the Muslim Human Service Alliance. | Fall 2022 MSW-ITR graduate Charlotte Sampson-Elliott helps Indigenous children and families struggling with intergenerational trauma. | Spring 2023 PhD graduate Ran Hu explores structural and epistemic inequities contributing to trafficking and gender-based violence against sex workers |
| Spring MSW graduate Frances Li is dedicated to supporting better educational experiences for students, particularly those from abroad. | Spring 2023 MSW graduate Ayse Kumsal Tekirdag-Kosar supports women as a counsellor at the Jean Tweed Centre for Women & Their Families. | Fall 2022 MSW graduate Ava Bowen, is building a career in gerontological social work to improve care for older adults |
7 PhD dissertations examining critical issues
Gwendolyn Fearing
Understanding Caregivers' Help-Seeking for Child and Adolescent Mental Health Through the Lens of Mental Health Literacy
Christina Hyland
The Lived Experience of Street-Involved and Homeless Youth who have Eating Struggles while Living in Situations of Food Insecurity
Andrea Geenblatt
Meaning-Making and Mental Health: Capturing Youth's Voices
Ran Hu
Leveraging Twitter Data and Activists' Lived Experiences to Explore Digital Advocacy for Sex Work Decriminalization in the United States
Shani Kipang
Retooling Social Work Education: New Applications for Collaborative Knowledge Creation, Experiential Learning and Engagement of Experts by Experience
Wing Leung
Cultural Socialization Among Chinese Parents in Canada and the United States: Role of Racism, Co-ethnic Social Capital, and Regional-level Characteristics
Aaron Turpin
Supporting Social Work Management Practice: The Critical Role of Social Entrepreneurial Orientation
PhD student research highlights
Kedi Zhao, received an Outstanding Student Proposal Award from the Canadian Association for Social Work Education for a project on identity building within Chinese communities in Canada.
Vivian Leung's research on immigration and anti-Asian racism is supporting families and social work practitioners. The PhD graduate is now a researcher with the Toronto Catholic District School Board.
Current PhD students Ali Pearson, Sly Sarkisova and Kaitrin Doll are pursuing research focused on trans health and rights. Each shared insight into their work during Trans Awareness Week in November.
Yu Lung received an Emerging Scholars Grant from the Canadian Research Data Centre Network (CRDCN), which will support Yu's research on the impact of precarious employment on immigrants' mental health.
---
Fostering innovative learning and student success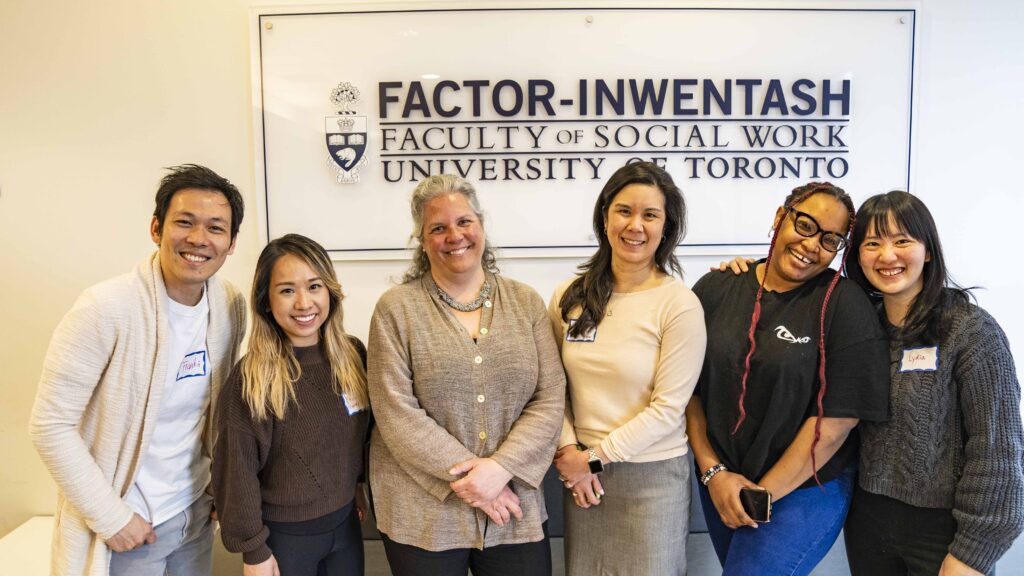 International students and staff (left to right) Franki (Tsan Wing) Li, Frances Li, Megan Davies (Simulation Coordinator), Mai Truong King (Registrar), Chidinma Okafor, and Lydia (Tin Wing) Tam
International students
Improving support and programming for international students was a key priority this past year. Initiatives included a series of events for incoming international students to support their transition, as well as ongoing co-curricular and social events throughout the academic year. A community-based practitioner was engaged to host an International Student Practice Consultation Group for MSW students to receive mentorship. Meanwhile, an Internaional Student Faculty Advisor provided focused academic advising.
New courses
The 2022-2023 academic year marked the launch of two new courses as part of FIFSW's commitment to increased EDI integration. The courses included Anti-Black Racism and Transformative Social Work Practice, taught by Notisha Massaquoi, and Critical Social Work Analysis with Indigenous Peoples, taught by Ashley Quinn. The course Social Work with Immigrants and Refugees was also relaunched with a newly updated curriculum.
EDI Lunchtime Speaker Series
Lunch and learn lecture series, organized by the Office of the Associate Dean, Academic, offered students the opportunity to hear from speakers with different perspectives, lived experiences and insights. Speakers from the past academic year included Eva Philipp, who shared her experience as a young Jewish girl growing up in Hungary during the Nazi occupation; Shaheen Azmi, who spoke about an Islamic faith-based approach to social work; Msenwa Oliver, a social worker and practitioner of change management and diversity, equity and inclusion, and Christina Hyland, who discussed eating struggles and body image challenges experienced by food-insecure youth enduring homelessness and/or street involvement.
New staff supporting students
FIFSW welcomed new staff its practicum office this year, increasing the support and expertise provided to students. In the fall, Samar Hossain and Matthew Cho joined the team as Practicum Coordinator and Practicum Assistant, respectively. They joined Alexandra Sparaggis, who came on board as a practicum coordinator in August 2022 and Leah Potash, whose role as Practicum Coordinator became permanent in 2023. The new practicum staff are all Master of Social Work graduates. Hossain, Sparaggis and Potash are alumni of FIFSW. Drawing from their own experiences as students who completed practicums in thepast and their subsequence professional experience in the field, the new practicum staff are passionate about supporting accessible, diverse, and meaningful opportunities for FIFSW students.
In spring 2023, FIFSW welcomed Lauren Akbar to FIFSW as Acting Coordinator, Indigenous Trauma and Resiliency field of study for a year-long term. In this role, Lauren provides both practicum and academic program support and is a first point of contact for students with general questions.
Mai Truong King joined FIFSW in October as Assistant Dean, Student Services & Registrar — a key leadership role that supports MSW and PhD students from application to graduation in the areas of registration, course enrolments, program progression, student finances, and student life. King is an enthusiastic advocate of lifelong learning with over 20 years of higher education experience supporting students in awards, financial aid, registrarial and student services.
As FIFSW's new PhD Program Assistant, Constance Chan supports PhD Director Professor Rupaleem Bhyuan in the administration of the PhD program. Her work includes managing the PhD student digest, supporting events and facilitating efforts to strengthen the program.
Jenny Wang is a new Administrative Assistant in FIFSW's Main Office and the face of the Faculty's Office of Student Services and the Registrar. She is the first point of contact for general inquiries from current and prospective students and maintains student and course information on ROSI among other key duties.
Fast facts
FIFSW offered 673 remote, in-person and hybrid Practicum 1 and Practicum 2 opportunities across the GTA, Ontario and beyond in 2022-2023. Of these, 451 were matched with MSW students at U of T
In May 2023, The Edvocate listed FIFSW among the best colleges and universities in the world for clinical/medical social work.
---
Read more from FIFSW's 2022-2023 Year in Review: