FIFSW Transitions by Angelina Coccimiglio reflects on the grad school experience as a neurodivergent individual
Categories: Art Wall, Student Art, Students

Over the month of May and leading up to FIFSW's convocation on June 17, we'll be sharing creative work by students, including drawings, paintings, collage, video projects and more. A number of these art-based projects were created as part of course work. Some were produced as part of a co-curricular initiatives. All offer an alternative way to explore, understand, and communicate knowledge, ideas and experiences — as well as inspire action and foster a sense of community.
FIFSW Transitions
by Angelina Coccimiglio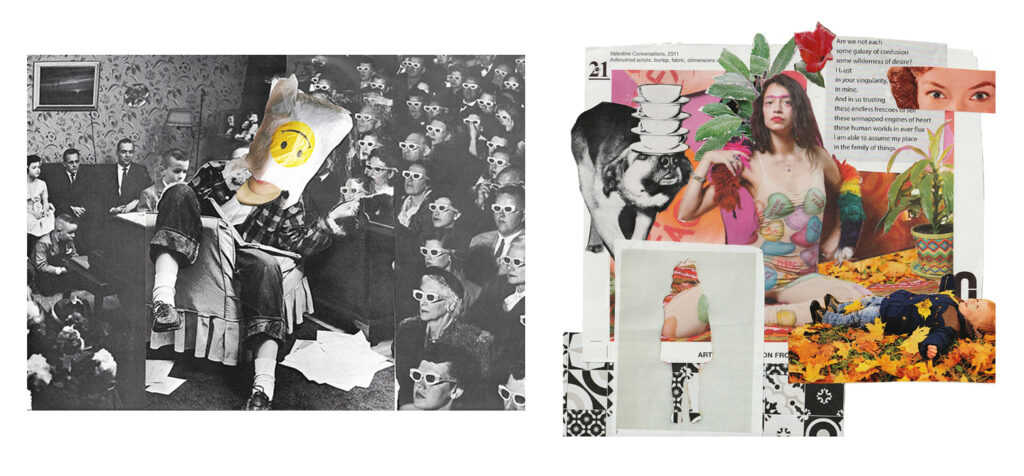 Created almost exactly one year apart, the collages in this diptych were not made with each other in mind. It was only in hindsight that they came together, creating a dialogue in their contrast. Reflecting on the second piece, one which reimagines a world where "neurotypical" is no longer "typical," I was able to note the stark differences from the accidental counterpart that was constructed at the outset of my degree, a time I had had been deep in the imposter feelings. Together, the "Unprofessional Professional" standing alongside "NDs Rule the World" tracks the experience of being squeezed through the rigidity of academia, at first fighting against its ableist criterions to the point of exhaustion, before being liberated by finding identity, community, and empowerment not in spite of but in celebration of neurodiversity.
:::::::::::::::
FIFSW Transitions was created for the exhibition The Art of Resistance, curated by the collective FIFSW Art Action.
The Art of Resistance showcases the creative work of FIFSW students on the margins, who were invited to share their lived experiences of struggle and resistance in academia through art. For those who may have missed the Art Wall exhibition in April 2022 (and for those who would like to view it again), The Art of Resistance exhibition has been relaunched in a virtual gallery.
> Click here to learn about FIFSW's Art Wall
About Angelina Coccimiglio
Angelina (she/her) is a visual storyteller. Coming to social work by way of the arts, she is passionate about creativity, community, and collaboration.
She holds an Honours Bachelor of Fine Arts and diplomas in Applied Communication Arts and Professional Photography. She has just completed a Master of Social Work at the Factor-Inwentash Faculty of Social Work where she catalyzed a number of creative and community-building initiatives such as the MSW Outdoor Social event series which allowed peers to connect in a COVID-safe environment and the custom Class of 2022 apparel design that a number of fellow classmates now wear proudly to commemorate the exclusively virtual experience unique to the 2020-2022 cohort.
Much of her personal art practice involves working with found materials and she has been collecting scraps of handwriting found on the street for nearly 10 years. Standing on the precipice of this new path into social work, she looks forward to weaving her lived experiences, theoretical studies, and professional practice together to continue to work at the intersection of art and mental health.
Instagram handle: Found Handwriting @eavesdrop.series
---
Related: