Resilience by Ambreen Agha represents a woman's strength and desire to be her true, authentic self
Categories: Art Wall, Student Art, Students

Over the month of May and leading up to FIFSW's convocation on June 17, we're sharing creative work by students, including drawings, paintings, collage, video projects and more. A number of these art-based projects were created as part of course work. Some were produced as part of a co-curricular initiatives. All offer an alternative way to explore, understand, and communicate knowledge, ideas and experiences — as well as inspire action and foster a sense of community.
Resilience!
By Ambreen Agha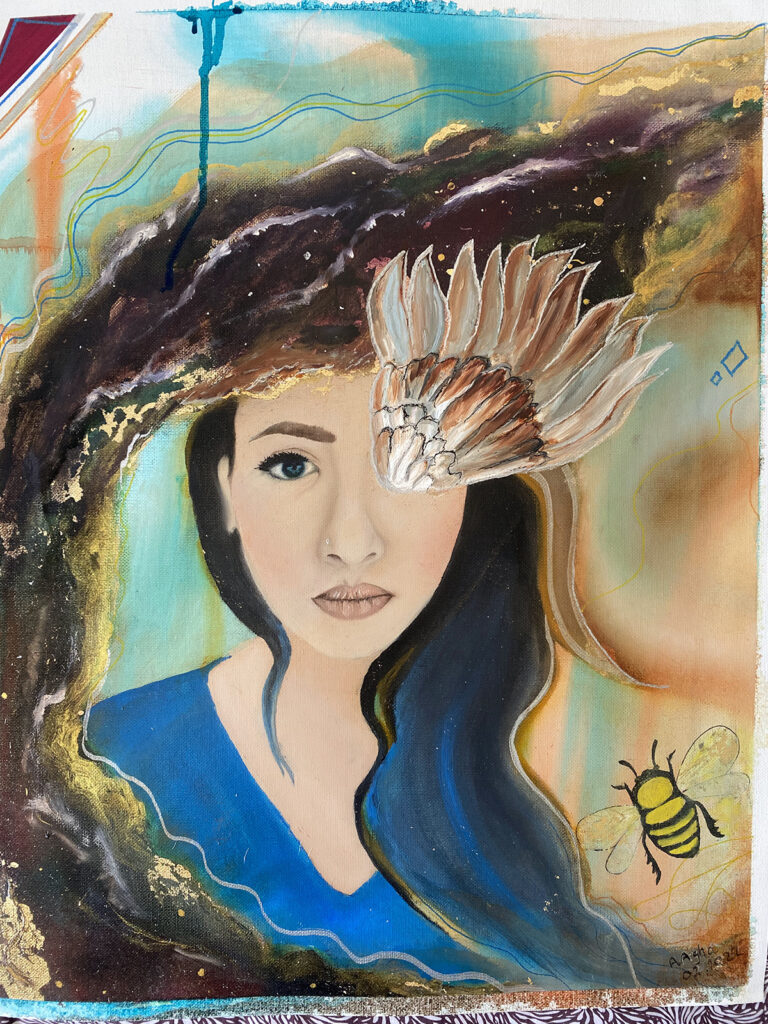 Writes Ambreen Agha:
This painting represents a Woman's mental health, her strength and her desire to be her true, authentic self. The woman in this painting is every women who – despite the pressure of society to live her life in a certain way – is strong as the vibrant colors, hardworking like a honey bee, free to dream like a bird, and embraces love to her core. Resilience is the combination of these beautiful qualities that exist in each and every woman.
This piece was created for the exhibition The Art of Resistance, curated by the collective FIFSW Art Action.
The Art of Resistance showcases the creative work of FIFSW students on the margins, who were invited to share their lived experiences of struggle and resistance in academia through art. For those who may have missed the Art Wall exhibition in April 2022 (and for those who would like to view it again), The Art of Resistance exhibition has been relaunched in a virtual gallery.
About Ambreen Agha
Ambreen Agha (she/her) is first and foremost, a loving Mother of 4 boys. She is a current Master of Social Work student at the University of Toronto, and earned her BSW from Toronto Metropolitan University (formerly Ryerson University) in 2020.
Pursuing this education has been no easy feat. Ambreen unexpectedly was diagnosed with a chronic illness. In her healing she learned that it was unhealed trauma that resulted in an illness that rendered her temporarily immobile.
It was in the midst of this that Ambreen discovered her love for painting. Art is a blessing, and Ambreen wishes to share this with the world! All of her art expresses this truth: You are enough.
Ambreen's art can be found on Instagram @Creative_Boutique5
---
Related: