#SafeHandsSafeHearts addresses the needs of racialized LGBTQIA+ communities in Thailand, India and Canada during COVID-19
Categories: Charmaine Williams, Peter Newman

Their project, #SafeHandsSafeHearts, is a university-community partnership that aims to reduce the risk of COVID-19 for racialized LGBTQIA+ populations by developing and evaluating a novel, online peer counselling intervention. The International Development Research Centre (IDRC)-funded project is being conducted in Mumbai, Bangkok and Toronto. In addition to promoting individual and community support and resilience, the researchers aim to inform public health and health system responses that engage racialized and LGBTQIA+ populations, often left out of pandemic response planning.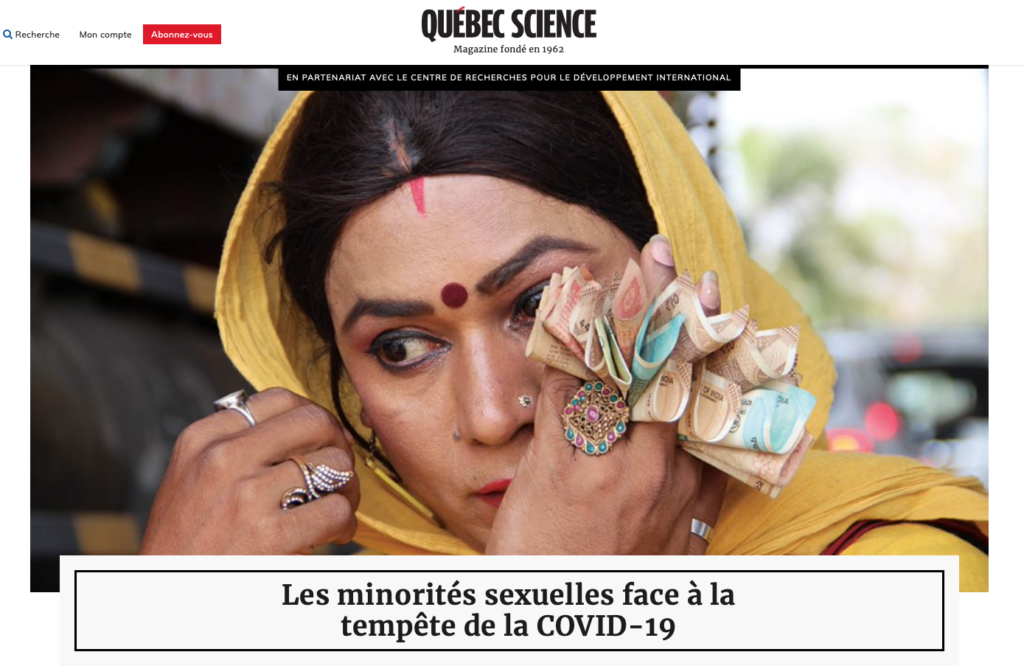 As Newman explains to Quebec Science, #SafeHandsSafeHearts goes beyond the collection of data — it includes community-driven work as well. For example, if participants are running out of food or medicine, peer counselors guide them to appropriate resources where they can find help. The project's client-centered, non-judgmental approach recognizes the fact that LGBTQIA+ and racialized communities often justifiably mistrust the institutions formed to help them due to their not being consulted in the process and the roles those institutions have historically played in contributing to their marginalization.
While the restrictions associated with the pandemic provide challenges for both researchers and the participants, silver linings have been discovered as well. From a translated version of the article:
The pandemic context, however, brings an additional challenge in the conduct of such a study: because of necessary public health measures, the three motivational interviews with each of the 900 study participants must be conducted in a completely virtual way, through videoconferencing. However, not all participants have access to these technologies or the digital skills necessary to use them. The exchanges are all the more complicated. This is not to mention the loss of human contact which, in itself, can weaken exchanges. Newman nonetheless sees in these tools a great potential for the future of community interventions. "The advantage is that you can reach a large part of the population without increasing the risk [of infection]. Even in non-pandemic times, eHealth interventions make it easier to reach people who are socially or geographically isolated. The fact that counsellors also largely identify themselves as belonging to a sexual/gender minority community also helps to build a climate of trust despite the distance," says the professor.
The Quebec Science article outlines some of the common challenges faced by LGBTQIA+ communities and the disproportionate impact that the pandemic continues to have on their lives. As Massaquoi points out in the article, it is expected that their research will shine a light on the discrimination that those with intersecting identities — based on race, sexual orientation and gender identity — face.