New community-based research by PhD student Travonne Edwards tackles the overrepresentation of Black families in the child welfare system
Categories:
Students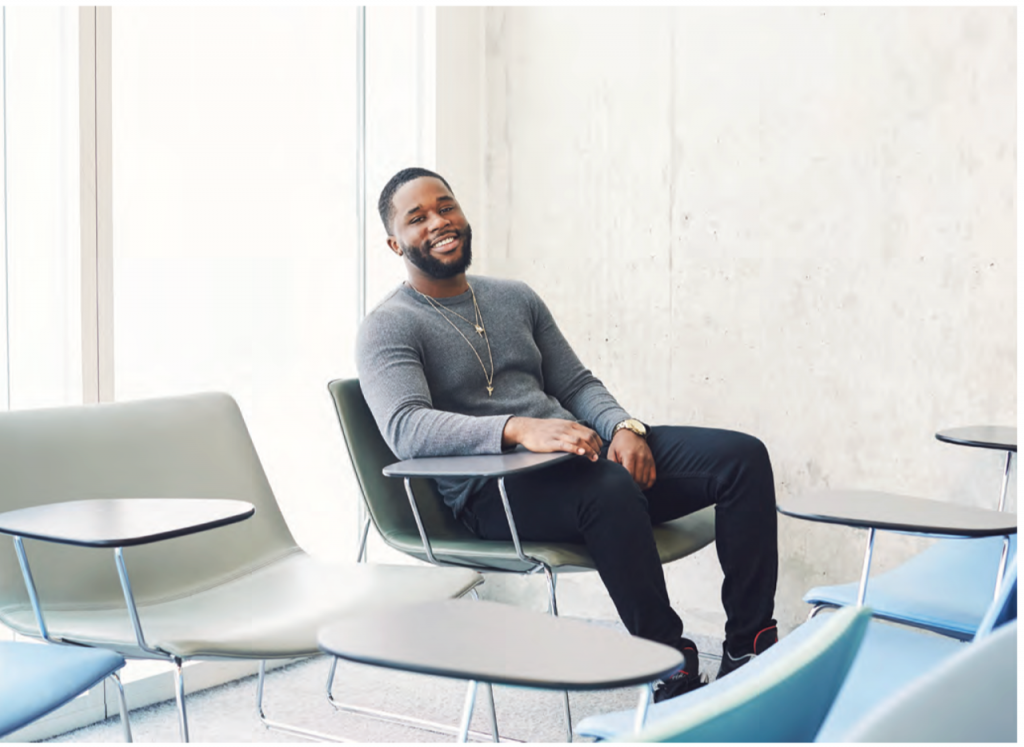 When Travonne Edwards was a child and youth care practitioner in the GTA, he saw firsthand how the child welfare system intervened more frequently and severely in Black families. He also witnessed the stark overrepresentation of Black youth in foster care and group homes.
Determined to help change these inequities, he started on a path that led him to doctoral studies at U of T's Factor-Inwentash Faculty of Social Work and a project investigating the over-reporting of Black families in the child welfare system.
"I was seeing and feeling the wrongs that were happening and trying to distrupt them at the front line, but that's the most difficult place to effect any change," says the second-year PhD student, who received the Richard 'Dick' Weiler Scholarship for social work students undertaking research on social justice in Canada. "I often felt stuck. That's what brought me to graduate studies and research, where I could question and explore how we could better serve Black families."
Black youth make up just seven per cent of Toronto's population, yet they represent 29 per cent of young people receiving child welfare services and almost 42 per cent of children in the care of the one of Toronto's child welfare agencies. "There's a lack of transparency with this kind of data," says Edwards, noting that Indigenous families are also over-represented in the system. He emphasizes the importance of making data available to better understand these issues. "It's only in recent years that we've seen an acknowledgement of this profound racial disparity, which created a space for more community-based research to tackle the issue."
At the Children's Aid Society of Toronto, Black children were more than five times as likely to be in foster care as White children — a disparity that is comparable to major cities in the United States. Yet the glaring differences in child welfare involvement between Black and White children is relatively underexplored in Canada compared with the United States. Edwards hopes to change that, and he recently received funding to support his efforts from U of T's School of Cities Anti-Black Racism Fund and the U of T International Health Program Community Engagement Project.
Community engagement and collaboration are central to Edwards' research. His current partners are the Black Community Action Network (BCAN) of Peel and the Youth Wellness Lab at U of T, a new hub for youth-led collaborative research led by assistant professors Stephanie Begun and Bryn King. Together, the collaborators have launched a study to analyze the reasons that Black families are reported to child welfare agencies, who is reporting them and how screening processes could be adjusted to reduce the over-reporting.
"Using administrative data from a children's aid society in the GTA, we're hoping to focus on the 'front door' to the system," says Edwards. "We know that once Black families go through that door, they're often subject to deeper levels of child welfare involvement."
Part of his research involves raising awareness of the larger historical and structural context for decision-making involving Black families in Ontario's child welfare system. "Anti-Black racism informs many policies and institutional practices, including eligibility criteria, just as it does in other systems such as education, the law and mental health," he says. "As a result, Black families are vulnerable to a lower threshold for reporting maltreatment concerns and risk of harm."
By applying an anti-Black racism lens, the study aims to improve the rigour and quality of the screening process. "At the same time," says Edwards, "we hope to increase understanding of the fact that reporting alone produces harm. The whole process is traumatic for families and children. If child welfare systems want to build trusting relationships, this shouldn't be the first interaction."
Another branch of Edwards' research focuses on the 'back end' of the system using the Akoma wraparound model, in cases where children and families have already received child welfare services. His team is evaluating the cultural appropriateness and effectiveness of these services for Black families. "We're also looking at how we can side-step child welfare involvement entirely by, for example, providing mental health services or financial support instead of intrusive and punitive interventions."
In the end, he says, he hopes his findings will inform new ways to support Black families' wellbeing. "I imagine a child welfare system in the future where Black families feel welcome and cared for, where their voices are heard and amplified rather than silenced, and where their experiences are validated rather than dismissed."
By Megan Easton
---
Related: