Orange Shirt Day: A national movement to recognize the experiences of survivors of residential schools in Canada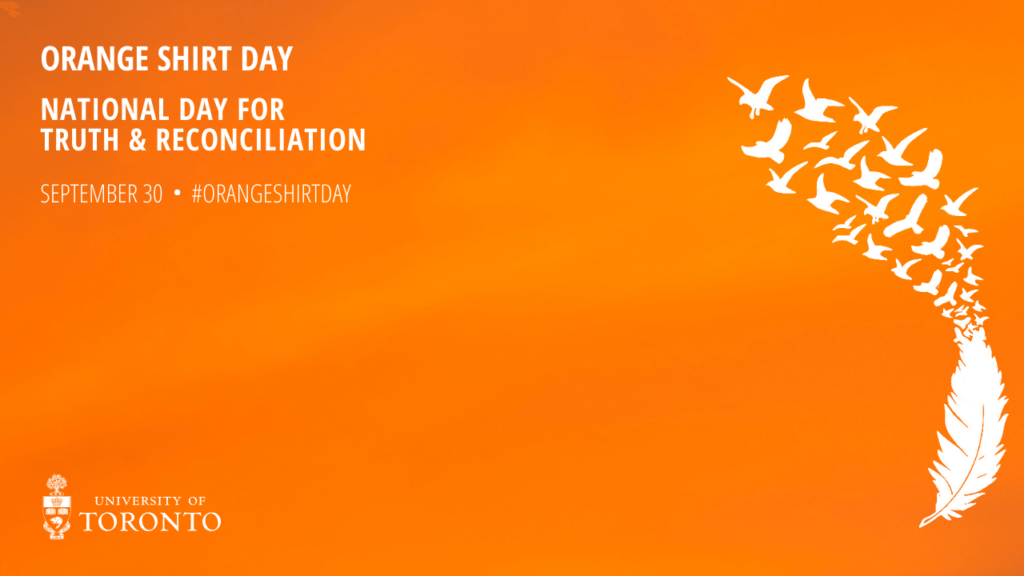 Orange Shirt Day, September 30, recognizes the experiences of survivors of residential schools in Canada. In the spirit of reconciliation and healing, Canadians are asked to wear an orange shirt on this day to acknowledge that every child matters.
Below are some of the events that have been organized across U of T, as part of this national movement.
---
September 28
6:30 – 9:00 PM – Join the Dalla Lana School of Public Health for a viewing of the film Indian Horse, an adaptation of the award-winning novel by Ojibway writer Richard Wagamese that sheds light on the dark history of Indigenous Residential Schools in Canada. A discussion will follow the screening, with special remarks by Elder and Indian Horse Actress Edna.
Wednesday, September 29
11:00 AM – Join the Indigenous Research Circle and The Division of the Vice-President of Research & Innovation (VPRI) for the official launch of the University of Toronto's Indigenous Research Network (IRN), a new Institutional Strategic Initiative launch. The Indigenous Research Network seeks to build an interconnected and collaborative community of researchers involved in Indigenous research at the University of Toronto. Tickets are available through Eventbrite.
12:00 – 1:00 PM – Join the Shingwauk Residential Schools Centre (SRSC) for a virtual narrated 360 degree photo tour of their site. Following the session, there will be a 10 minute question period and supports available for any participants.
---

Thursday, September 30
12:00 – 12:45 PM – Join the virtual presentation on the plans for the garden on McCaul Street, and learn more about the plants and their significance in Indigenous culture. This presentation will be delivered by Liat Margolis, director of the Daniels Faculty's Master of Landscape Architecture Program and Assistant Dean of Research.
2:00-3:00 PM –  Denouncing the Continued Overrepresentation of First Nations Children in Canadian Child Welfare Indigenous Access McGill and the Centre for Research on Children and Families will host a joint "teach in" in collaboration with the University of Toronto Factor Inwentash Faculty of Social Work on the First Nations/Canadians Incidence Study of Reported Child Abuse and Neglect – 2019. Please register ahead for this event.
2:00-3:30 PM – In the spirit of reconciliation and healing, join Hart House for a virtual event on Orange Shirt Day, a national movement in recognition of the experiences of survivors of residential schools in Canada. Information and registration details at this link.
5:30-7:00 PM – FIFSW and Wilfrid Laurier University's Lyle S.Hallman Faculty of Social Work would like to invite you to our National Day for Truth and Reconciliation Event: Intentional Reconciliation and Practices of Care : Our Responsibility of Reconciliation in Social Work. Attendees are asked to register ahead of time for this event.
---
Decolonizing Pathways Towards Integrative Healing in Social Work
This past spring, the Factor-Inwentash Faculty of Social Work held a two-hour workshop on Decolonizing Pathways Towards Integrative Healing in Social Work, inspired by Michael Yellow Bird and Kris Clarke's book of the same name. The event featured an introduction from Assistant Professor Jane Middelton-Moz,  a dialogue with the authors, and a panel discussion with two graduates from FIFSW's Master of Social Work Indigenous Trauma and Resiliency (ITR) Field of Study: grassroots community leaders Lisa Robinson and Germaine Elliot.
Hosted by Associate Professor Rupaleem Bhuyan and Assistant Professor Ashley Quinn, the workshop created a space for participants to strengthen their knowledge and commitment to holding social work accountable for its historic and ongoing complicity in colonial practices. The event explored social movements and Indigenous resistance to colonial violence, and aimed to create pathways for knowledge that has been closed by colonial systems.
Videos of the event have been published on FIFSW's YouTube channel and are embedded below.