Decolonizing Pathways Towards Integrative Healing in Social Work
April 9, 2021 @ 12:00 pm

-

2:00 pm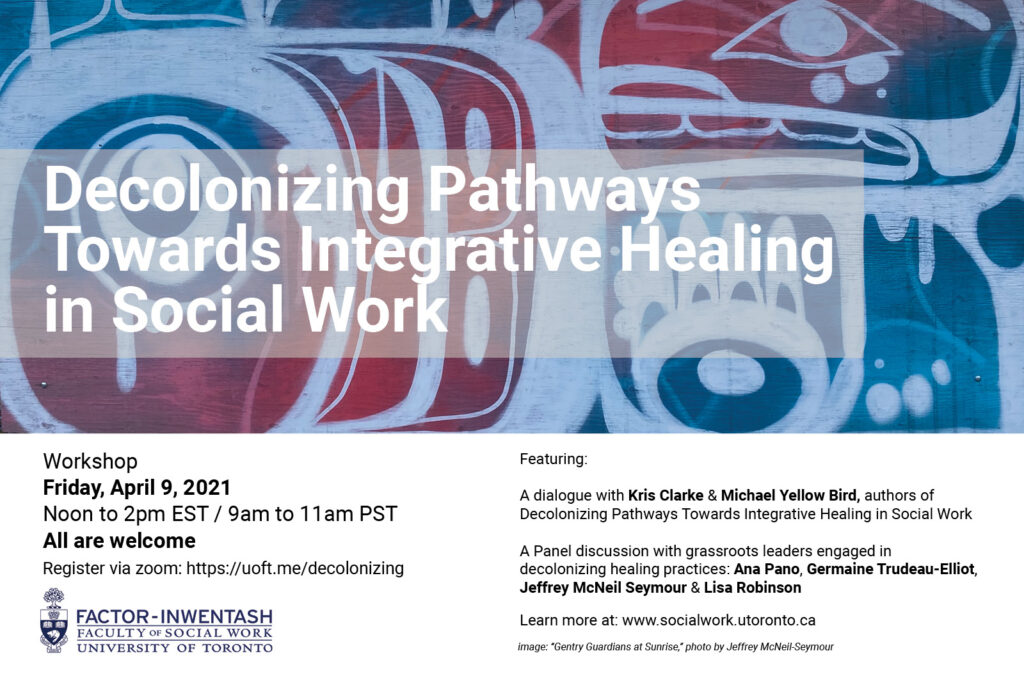 On Friday, April 9, the Factor-Inwentash Faculty of Social Work presents a two-hour workshop on Decolonizing Pathways Towards Integrative Healing in Social Work, inspired by Michael Yellow Bird and Kris Clarke's book of the same name. Featuring a dialogue with the authors and a panel discussion with grassroots community leaders, this workshop aims to create a space for social workers, and those interested in the field, to strengthen our knowledge and commitment to:
• Holding social work accountable for historic and ongoing complicity in colonial practices
• Learning from social movements and Indigenous resistance to colonial violence, and
• Creating pathways for knowledge that was closed by colonial systems to transform and decolonize social work theory and practice
---
Program
12:00 – 12:20pm: Opening song by Chris Walser + Welcome & Opening remarks from Jane Middelton-Moz.
12:20 – 1:00pm: Dialogue with the Authors: Kris Clarke and Michael Yellow Bird, authors of Decolonizing Pathways Towards Integrative Healing in Social Work
1:00 – 1:05pm: Body Break
1:05 – 1:50pm: Panel Discussion: Grassroots Leaders Engaged in Decolonizing Healing Practices. Featuring: Germaine Trudeau-Elliot, Lisa Robinson, Jeffrey McNeil Seymour, Ana Pano
1:50 – 2:00pm: Closing Reflections, "Journey Song" by Chris Wasler, and Thank Yous
---
Pre-event Suggested Reading & Listening
• Clarke, K. And Yellowbird, M. (2021). Decolonizing Pathways towards Integrative Healing in Social Work. Routledge.
---
Opening remarks
Jane Middelton-Moz is an Assistant Professor in the Factor-Inwentash Faculty of Social Work and Director of the Middelton-Moz Institute with over fifty years of experience in consultation, training and community intervention. She is internationally recognized for her work in the areas of adult children of alcoholics, multi-generational grief and trauma in individuals, families and communities, trauma informed care, ethnic and cultural awareness, domestic violence, sexual abuse, anger, bullying in schools and in the workplace, lateral violence, empowering employees and creating positive workplace environments, and community intervention. She is an author and has been honored with the distinction of being an Honorary Witness for the Truth and Reconciliation Committe of Canada. She was active in developing the MSW Indigenous Trauma and Resiliency (ITR) Field of Study and teaches the intensive courses on trauma and resiliency (including intergenerational) and its effects.
Featured speakers
Michael Yellow Bird
Michael Yellow Bird is Dean and Professor of the Faculty of Social Work at the University of Manitoba. He is an enrolled member of the MHA Nation (Mandan, Hidatsa, and Arikara) in North Dakota, USA. His research focuses on the effects of colonization and methods of decolonization, ancestral health, intermittent fasting, Indigenous mindfulness, neurodecolonization, mindful decolonization, and the cultural significance of Rez dogs. He is the founder, director, and principal investigator of The Centre for Mindful Decolonization and Reconciliation at the University of Manitoba. His most recent co-authored mindfulness article, Defunding Mindfulness: While We Sit on Our Cushions, Systemic Racism Runs Rampant (October, 2020), can be found on the website Zero to Three.
Kris Clarke
Kris Clarke is an Associate Professor of Social Work at the University of Helsinki, Finland. Originally from Fresno, California, she has lived in Finland for over 20 years. Kris' research has evolved from multicultural social work and care in the field of HIV towards themes related to decolonization. Her research interests now center on decolonization, critical social work, and the significance of place and social memory. She is currently collaborating on a project that employs critical race analyses of the carceral state to explore how civic space and conceptions of community have been reconfigured through a case study in Fresno, California.
Germaine Trudeau-Elliott
Germaine Trudeau-Elliott is Anishinaabe Kwe, of the fish clan from Serpent River First Nation.  She is currently working for the Barrie Area Native Advisory Circle as the Executive Director of the Mamaway Wiidokdaadwin Interprofessional Primary  Care Team.  Since 2019 she has chaired the Indigenous Health Circle of the Simcoe Muskoka region .
In 2018, Germaine graduated from the University of Toronto's Master of Social Work Program with a specialization in Indigenous Trauma and Resiliency. As part of the first cohort of this program, she had the opportunity to study intensively with Jane Middelton Moz, Rebecca Martel, and the best instructors at the Factor Inwentash School of Social Work.   She applies trauma-informed practice in the delivery of Indigenous primary health care, which includes creating and supporting a trauma-informed work environment. Germaine is a mother of four and grandmother of nine.
Lisa Robinson
Lisa Robinson comes from Hesqiuat First Nation,  located on the West Coast of Vancouver Island. She gained her BA in First Nations Studies & Political Science and completed her Masters in Social Work in Indigenous Trauma & Resiliency at the University of Toronto. Lisa is the Executive Director of Kackaamin Family Development Centre. The Centre works primarily with First Nations' Families many of whom are intergenerational survivors and suffer with complex trauma and delayed grief.  It was through the Factor-Inwentash Faculty of Social Work's MSW-ITR program that she began to merge her understanding of her Indigenous ways of knowing with the latest research in attachment theory and neuro-science as it relates to trauma and create programming that is effective for the families that the Kackaamin Family Development Centre works with.
Jeffrey McNeil Seymour
Jeffrey McNeil-Seymour – a two-spirit T k'emlúpsemc and fourth generation English Settler –  is a grassroots appointed speaker by matriarchs for his Secwepemc Nation. Jeffrey is an Assistant Professor to Ryerson University's School of Social Work. Jeffrey was also invited to provide evidence as an Expert Witness to Canada's MMIW Inquiry hearings in Iqaluit, Nunavut. He inextricably links actioning land/water defense to social work, citing CASWE's ethical code and values and self-reflexive practice, and by example. Jeffrey was honoured to be invited and deliver the 2019 Keynote address at Montreal's annual two-spirit conference and appears as this years Guest Curator for the Queer Art Festival 2021 Vancouver, Coast Salish Territories.
Ana Pano
Ana Pano is a community organizer and social worker in the traditional homelands of the Yokuts, also known as Fresno, California. Ana migrated to the United States from Southern Mexico at a young age and the experiences of having been undocumented, growing up poor, and impacted by immigration systems profoundly shaped her worldviews and interests in decolonial social work, trauma work, and Native hip hop.
Anishnaabe Songs
Chris Walser
Chris Walser is Anishnaabe from Beausoleil First Nation. His spirit name is Little wolf. Chris has developed skills as a storyteller and as an artist making traditional clothing and items. Chris continues to learn about his culture as he works with Traditional Healers and Knowledge keepers. Chris is proud to share his knowledge surrounding the teachings he has learned on his life path. Chris and his wife Melissa often host Craft workshops for Indigenous Communities and organizations. 
Hosts and Moderators
Rupaleem Bhuyan
Rupaleem Bhuyan is an Associate Professor and an affiliate of the Women and Gender Studies Institute and a Fellow with the Centre for Critical Qualitative Research at the University of Toronto. Her interdisciplinary background in International Studies, Cultural Anthropology and Social Welfare allows her to integrate interpretive policy analysis and community-based participatory action research to address the sociocultural and political context of migration, social rights, and gender-based violence. Rupaleem explores how temporary and precarious immigration impacts immigrants' access to social and health care services, including immigrants' response to gender-based violence.
Ashley Quinn
Ashley Quinn completed a Ph.D. at the University of Toronto, Factor-Inwentash Faculty of Social Work, where she received a Joseph Armand Bombardier SSHRC scholarship for doctoral research on the factors contributing to cultural identity and the development of community-based outcome measures for Indigenous families involved in the child welfare system. Her research interests focus on Indigenous research methods and ethics protocols including further exploration of culturally engaged caregiving in the child welfare system, Indigenous Alternative Dispute Resolution programs for Indigenous families who have had their children apprehended by the child welfare system, the application of Indigenous historical, contextual and contemporary factors in criminal, family and child welfare law matters, and wholistic approaches and Indigenous perspectives in social work education. Ashley provides students with wholistic approaches to social work practice utilizing a cultural interface. She teaches from a relational perspective, which values authentic and genuine engagement with social work students.
About the book: Decolonizing Pathways Towards Integrative Healing in Social Work
Taking a new and innovative angle on social work, Decolonizing Pathways Towards Integrative Healing in Social Workseeks to remedy the lack of holistic perspectives currently used in Western social work practice by exploring Indigenous and other culturally diverse understandings and experiences of healing.
This book examines six core areas of healing through a holistic lens that is grounded in a decolonizing perspective. Situating integrative healing within social work education and theory, the book takes an interdisciplinary approach, drawing from social memory and historical trauma, contemplative traditions, storytelling, healing literatures, integrative health, and the traditional environmental knowledge of Indigenous Peoples.