How primary health care teams are providing care during the COVID-19 pandemic
Categories: Keith Adamson, Rachelle Ashcroft, Toula Kourgiantakis

When COVID-19 appeared in Canada, Assistant Professor Rachelle Ashcroft wanted to know how the pandemic would affect the way primary health care teams supported their patients.

Together with a team of collaborators, including recent MSW graduate Simon Lam, she conducted surveys and interviews with primary care teams to learn about the adjustments they made to support their communities and patients. The perspective of patients' experiences with virtual care were also sought.

"Virtually overnight, primary care providers adopted virtual care modalities — all without funding and change management support," stated one of the research participants.

Ashcroft and FIFSW Assistant Professors Keith Adamson and Toula Kourgiantakis, along with others from U of T and elsewhere, also collaborated on a policy-oriented action plan to strengthen mental health services.

Poster presentations of the results of these studies were presented at the TRILLIUM-PHC conference. Both the posters and the video presentation can be viewed on the Association of Family Health Teams of Ontario website.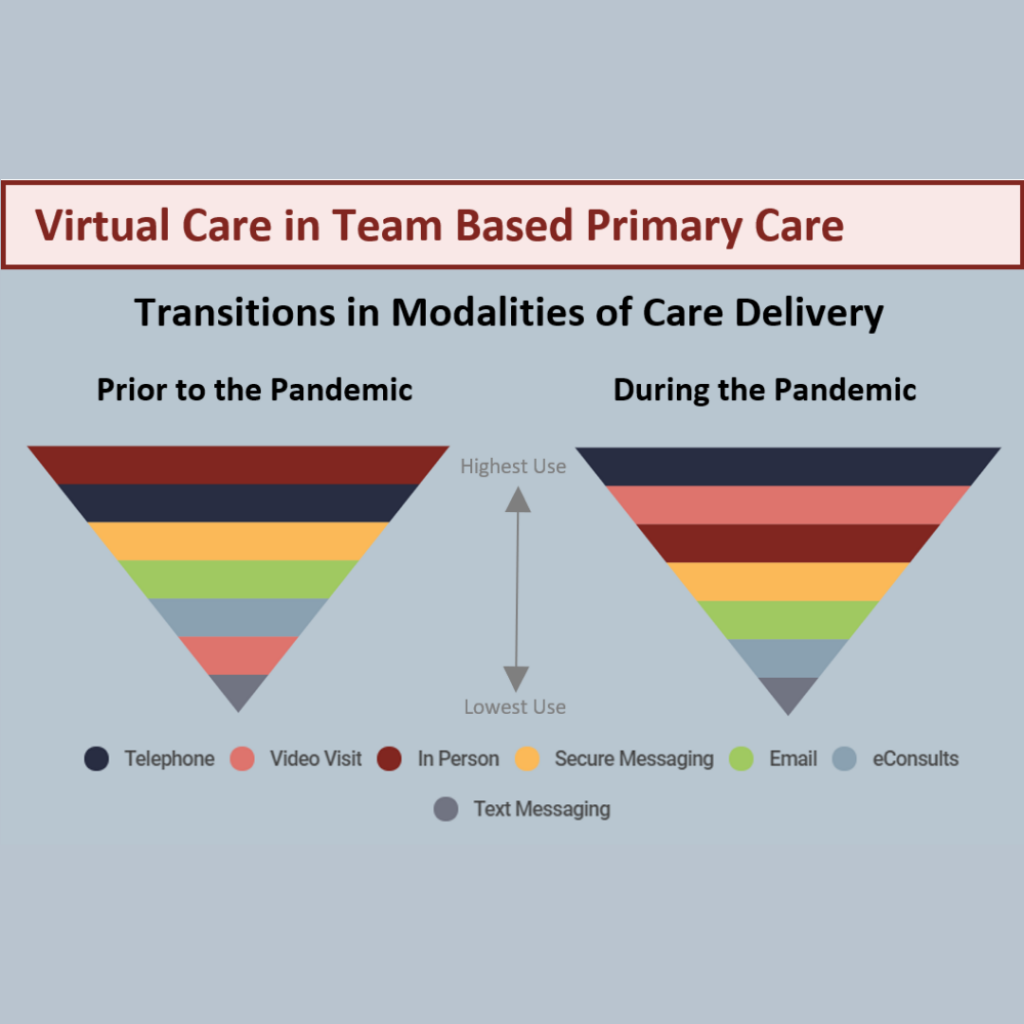 Perhaps unsurprisingly virtual care appointments by telephone and video increased significantly during the pandemic. The researchers found that even after the pandemic subsides, it is expected that virtual care will in part remain.
Share your experiences & help improve virtual health care in Ontario
If you have had at least on real-time virtual health care appointment (i.e. by video or phone) with a primary care provider during COVID-19, FIFSW researchers want to hear from you.
Assistant Professor Rachelle Ashcroft is part of a research team surveying individuals from Ontario who have had virtual care appointments with a primary care provider or another healthcare professional in that family practice (family doctor, general practitioner, or nurse practitioner).
Results from the survey will help inform recommendations to the Ontario government on how to provide high quality health care through the use of virtual care appointments.
The online survey is anonymous and takes 15 to 20 minutes to complete. Survey participants will also have the opportunity to enter into a draw for one of five $100 gift cards of your choice.
A Patient Advisory Committee composed of individuals from across the province who have lived experience with the health care system was created to inform this study, by assisting with developing research tools, recruitment, and identifying key areas to address. Members on the committee were carefully selected to ensure representation of Ontario's diverse communities and are consulted on a regular basis.
Learn more about the study on patients' experiences with virtual care in Ontario via the poster below.