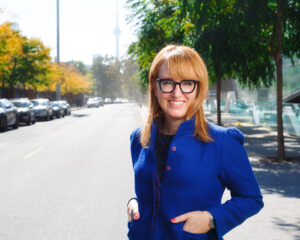 Rachelle Ashcroft
Assistant Professor
Ph.D., Wilfrid Laurier University
Phone Number:
416-978-3842
Research Interests:
primary health care
mental health care
social determinants of health
health & mental health policy
health equity
Biography:
Rachelle Ashcroft joined the Factor-Inwentash Faculty of Social Work in 2016 as an Assistant Professor from the School of Social Work at Renison University College, University of Waterloo. She completed the Social Aetiology of Mental Illness (SAMI) post-doctoral training program at the Centre for Addiction and Mental Health (CAMH). Dr. Ashcroft has >14 years of social work practice in various health care environments including community HIV and community mental health organizations. She then practiced as a social worker in Winnipeg's Health Science Centre in trauma, psychiatry, bone marrow transplant, nephrology, and neurosurgery.
Her research has particular interest in the integration of social work in primary health care (PHC), as well as mental health care in PHC settings. As principal investigator (PI), Dr. Ashcroft is conducting two qualitative investigations 1. CIHR-funded study investigating incentives that help support quality mental health care in Ontario Family Health Teams; and 2. Understanding patient's perspectives on the quality mental health care in primary health care settings.
Dr. Ashcroft is the Vice-President, Social and Professional Advocacy at the Ontario Association of Social Workers.
Presently she is a Co-I on four projects: 1. CIHR funded, Comparative Analysis of Centralized Waitlists for Connecting Unattached Patients to PHC (2019-2022, E.Marshall); 2. SSHRC funded, Consensual and Non-Consensual Sexting in Adolescence (2019-2022, F.Mishna); 3. Unité de Soutien funded, Integration of Social Workers in PHC in Quebec (2018-2021, M.E.Poitras); and 4. MOHLTC funded, Interprofessional Collaboration in PHC (2018-2020, C.Donnelly).
Dr. Ashcroft is a Co-I and mentor in the TUTOR-PHC program, a pan-Canadian interdisciplinary research capacity-building program that has been training PHC researchers since 2003. The program is led by 30 co-investigators from a breadth of PHC disciplines, representing 14 universities and five provinces across Canada.