Framing Migrant Resilience as a Civic Responsibility: A new study by Rupaleem Bhuyan and Vivian Leung examines how governments mobilize the concept of resilience
Categories: Rupaleem Bhuyan, Students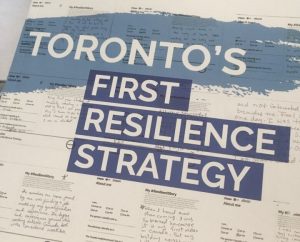 The latest edition of the Building Migrant Resilience in Cities (BMRC) research digest highlights new research by Associate Professor Rupaleem Bhuyan and doctoral candidate Vivian Leung. Recently published in the British Journal of Social Work, their study examines how migrant resilience is framed in Ontario  and City of Toronto policies on immigrant integration and inclusion.
"Research on migrant resilience commonly examines migrants' inner capability to adapt to adversities associated with migration and resettlement, including the resources provided by social networks and the broader social environment," write Bhuyan and Leung in the digest. "There is emerging consensus, however, that resilience involves a dynamic interaction between individuals and their social environment that enables individuals and communities to respond to adversity."
After examining 14 documents related to resilience and migrants published between 2008 and 2018 by the Ontario Government and the City of Toronto, the researchers found that "Although government discourse acknowledges some of the structural inequities migrants face that require resilience (e.g. poverty, systemic racism, precarious employment), the discourse on migrant resilience notably omits government responsibility to enact structural solutions."
Bhuyan and Leung conclude that governments must go beyond "mobilizing the concept of resilience to signal their commitment to marginalized groups" and "commit to transformative structural changes that ensure affordable housing, childcare, and decent work, which are fundamental to enabling individual and social resilience for all." They argue that this is particularly important in the wake of COVID-19, which has disproportionately impacted migrant communities.
---
Related: