Vivian W. Y. Leung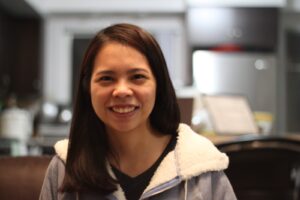 MA (Social Policy) – The Chinese University of Hong Kong
BSocSc (Psychology) – The University of Hong Kong
Email: wingyeung.leung@mail.utoronto.ca
Research interests: Immigration, children and families, parenting, diversity and anti-racism, inter-ethnic relations, social policy, LGBTQ+ youth
Vivian Leung is a PhD Candidate & Research Coordinator at FIFSW, University of Toronto. Her thesis project examines parental cultural socialization by Chinese parents in Canada and the United States, and the influence of racism and parents' social network in the process. She has been involved in multiple research projects related to settlement experiences, immigration policy analysis, and practice-based research. Vivian is also engaged in the migrant community in Toronto through her work with several community-based organizations.
Publications:
Leung, V. W. Y., Lam, C. M., & Liang, Y. (in press). Parents' expectations of familial elder care under the neoliberal Hong Kong society. Journal of Family Issues.
Leung, V. W. Y., Zhu, Y., Peng, H., & Tsang, A. K. T. (2019). Chinese immigrant mothers negotiating family and career: Intersectionality and the role of social support. The British Journal of Social Work, 49(3), 742-761.
Craig, S. L., Eaton, A. D., McInroy, L. B., D'Souza, S. A., Krishnan, S., Wells, G. A., Twum-Siaw, L., & Leung, V. W. Y. (in press). Navigating negativity: A grounded theory and integrative mixed methods investigation of how sexual and gender minority youth cope with negative comments online. Psychology and Sexuality.
Craig, S. L., McInroy, L. B., Eaton, A. D., Iacono, G., Leung, V. W. Y., Austin, A., Dobinson, C. (2019). An affirmative coping skills intervention to improve the mental and sexual health of sexual and gender minority youth (Project Youth AFFIRM): Protocol for an implementation study. JMIR Research Protocol, 8(6), e13462.
Mclnroy, L., Craig, S., & Leung, V. W. Y. (2019). Platforms and Patterns for Practice: LGBTQ+ Youths' Use of Information and Communication Technologies. Child and Adolescent Social Work Journal, 36(5), 507-520.