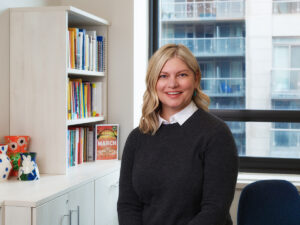 Stephanie Begun
Assistant Professor
Ph.D., University of Denver Graduate School of Social Work
Phone Number:
416-978-5900
Research Interests:
Reproductive Justice
Youth Homelessness
Youth-led Research and Social Change
Human-Centered Design
Arts-Informed Research
Social Network Analysis
Biography:
Stephanie Begun joined the Factor-Inwentash Faculty of Social Work as an Assistant Professor in July 2017. Prior to this, Stephanie completed her doctoral training at the University of Denver Graduate School of Social Work, where her externally-funded dissertation focused on family planning attitudes, experiences, and social network influences among youth experiencing homelessness. Stephanie also served as Co-PI on a federally-funded (U.S.) grant which sought to develop technology-enabled innovations for reducing teen pregnancy through the use of human-centered design. Stephanie's current research focuses on improving the health and wellness of marginalized youth, with particular attention paid to youths' reproductive and sexual health access, education, and outcomes. Her practice-based experiences in family planning policy and community organizing inspired her career in social work research and teaching.
Stephanie was recently awarded several competitive, externally-funded grants (e.g., SSHRC, CIHR) to facilitate marginalized youths' opportunities to make self-determined, safe, and medically accurate decisions regarding their health and wellness. Her research contributions have also been recognized through awards received at academic conferences, including the North American Forum on Family Planning and the American Public Health Association Annual Meeting. Stephanie co-founded and co-directs the Youth Wellness Lab at the University of Toronto. She is also Cross-Appointed Affiliated Faculty with the Munk School of Global Affairs and Public Policy, University of Toronto, the University of Toronto School of Cities, and is an Instructor with the University of Toronto Centre for Critical Qualitative Health.