Charmaine Williams talks about racism and mental health on the Catch up on Kids Mental Health podcast
Categories:
Charmaine Williams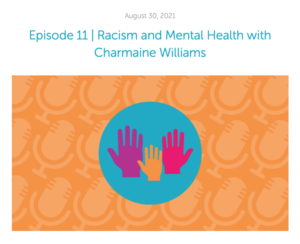 On August 30, Professor Charmaine Williams was Janet Morrison's guest on the "Catch-Up on Kids Mental Health" podcast, where she discussed issues of inequality and how it affects mental health. The episode focused on racism and mental health, including internalized and systemic racism, how to talk to children about the topic, and what it really means to be anti-racist.
"Catch-Up on Kids Mental Health" is a podcast series created by the organization Catch to help parents, teachers, and caregivers better understand and support children as they navigate mental health challenges and the everyday stresses of life. In each episode, child-focused therapist Janet Morrison shares stories and evidence-based research covering a variety of topics related to children's mental health today.
Williams' research bridges practice and access and equity issues that affect various populations including racial minority women, LGBTQ individuals in local and international context, and individuals and families affected by serious and persistent mental illnesses. The majority of her practice experience has been in the mental health care system where she worked in inpatient and outpatient services, providing interventions for individuals, families and groups. She has also been involved in organizational change initiatives in the health care sector, and has extensive experience developing and delivering professional education in the areas of anti-racism, cultural competence, mental health and addictions.
---
Related: