Practicum during a pandemic: MSW student Rahma Ismail and her Field Instructor Sara Rahmani-Azad share their experience
Categories:
Students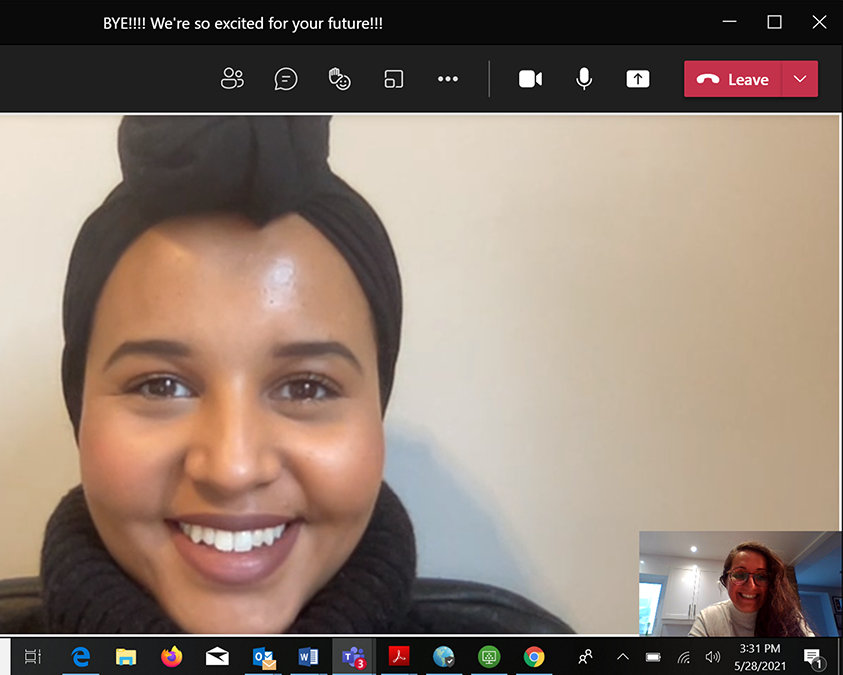 Students may not know exactly what to expect from a first-year practicum, but Rahma Ismail's experience at Women's College Hospital was particularly unpredictable. "When she applied to do her placement with me, what I described turned out to be completely different a week later because the second wave of COVID-19 hit us, says Ismail's field instructor, social worker Sara Rahmani-Azad.
"I typically work on the chronic pain team, but I was redeployed to a program called COVIDCare@Home. We met under a crazy set of pressures and circumstances that are so unique, and she just weathered it with style and grace from the beginning," says Rahmani-Azad. "What she expected was not what she got. Not only was she willing to take it on, but she thrived."
"I just went in with a grateful attitude, given that I'm a practicum student during a pandemic," says Ismail, who is halfway through her two-year Master of Social Work program at the Factor-Inwentash Faculty of Social Work at the University of Toronto.
Ismail's family fled civil war in Somalia in the late 1980s and early 1990s. Growing up in a Toronto community labelled "at risk", she observed many social inequities, she says "and doing my undergrad at York, I learned about health and illness in a social and economic context; that's why I was really drawn to the Social Work program at the University of Toronto."
During her practicum, Ismail found herself acting in various capacities, from being a participant-observer in virtual patient sessions to compiling a list of family doctors currently accepting new patients.
"I really looked to Sara as a mentor, not only as a supervisor," she says. "She taught me some really valuable and important skills: the importance of reading a chart review of a patient prior to meeting them, just to get a glimpse of who they are, their medical history, what their story is. She taught me a lot about different mental health issues; these are things that I'll be learning about next year. She taught me about being in the present moment when you talk to patients, just following along where the patient takes you."
Besides the COVID program, Ismail had the opportunity to work with the Toronto Academic Pain Medicine Institute (TAPMI) and to participate in a Mindfulness Based Stress Reduction (MBSR) treatment group. "One of the things I took away was the practice of mindful listening. I found it really helpful in my own personal practice working with COVIDCare@Home," she says. "I really learned the importance of teamwork, especially in a healthcare setting. These are skills that I hope to take with me for the rest of my life."
Ismail entered the practicum with a list of learning goals; she says she fulfilled her aim to learn how to regulate her own emotions in her practice through MBSR. Her wish to continue to receive critical feedback from her supervisors and other team members was satisfied at TAPMI.
"Prior to starting this practicum, I didn't know how to picture myself post-graduation, but now I picture myself in a hospital," says Ismail, who intends to specialize in the Mental Health and Health field of study next year.
"My goal is to work in a healthcare setting to help families and patients address the impact of their illness and treatment and to work with a healthcare professional team to do that while providing cultural safety in my clinical practice and to really break those disparities within the healthcare system."
Her advice for new students? "Really to just be kind to yourself. It's not easy work. You're here to learn and to unlearn. Everybody's journey is different, but you are your own person, so really be kind to yourself."
By Sarah B. Hood
Photo: MSW student Rahma Ismail and her Field Instructor Sara Rahmani-Azad (bottom right) meet on zoom
---
More student stories: