New book, co-edited by Eunjung Lee, examines the intricate relationships between race, ethnicity, culture and mental health
Categories: Eunjung Lee, Faculty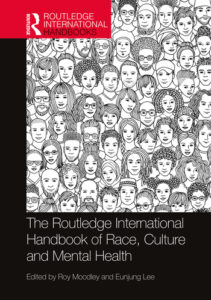 A new book co-edited by Eunjung Lee, an associate professor at the Factor-Inwentash Faculty of Social Work, examines the intricate relationships between race, ethnicity, culture and mental health — including the history, subsequent transformations, and discourses generated from past and present mental health and wellness practices.
Lee edited the book with Roy Moodley, an associate professor of counselling and clinical psychology at the University of Toronto.
Titled The Routledge International Handbook of Race, Culture and Mental Health, the seven-part book includes chapters on culture and gender in mental health, by Professor Charmaine Williams; and culture, mental health and older people, by Professor Amanda Grenier with Blessing Ojembe. Lee wrote a chapter on culture and social work in mental health with contributor Marjorie Johnstone.
From the book description on Routledge's website:
The text demonstrates how socio-cultural identities including race, gender, class, sexual orientation, disability, religion, and age intersect with clinical work in a range of settings. Case vignettes and recommendations for best practice help ground each in a clinical focus, guiding practitioners and educators to actively increase their understanding of non-Western and indigenous healing techniques, as well as their awareness of contemporary mental health theories as a product of Western culture with a particular historical and cultural perspective. The international contributors also discuss ways in which global mental health practices transcend racial, cultural, ethnic, linguistic, and political boundaries.

The Routledge International Handbook of Race, Culture and Mental Health is an essential resource for students, researchers, and professionals alike as it addresses the complexity of mental health issues from a critical, global perspective.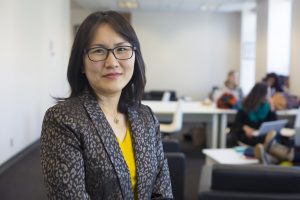 Eunjung Lee has over 20 years of experience in clinical social work practice in various mental health fields serving marginalized populations who have experienced trauma and violence. Lee's research focuses on the psychotherapy process researcher, particularly cross-cultural clinical practice in community explores everyday interactions in clinical practice and simulation-based learning in social work education.
Analyzing social policy and media studies, her research also examines how policy and its underlying politics construct dominant discourses that impact immigrants and refugees in a global neoliberal era and theorize Canadian multiculturalism and the welfare state. Lee is The Factor-Inwentash Chair in Social Work in Mental Health & Health.