Lessons from the front lines: Master of Social Work student Mariah Douglas applies foundational skills developed at FIFSW to her work at CAMH
Categories:
Students
On any given day during the pandemic, the news is full of stories about how the crisis is affecting people's mental health. For Mariah Douglas, those stories come to life every time she works the night shift in the emergency room at the Centre for Addiction and Mental Health (CAMH).
Douglas, who just completed her first year in the University of Toronto's Master of Social Work program, is a program assistant at CAMH. It's her part-time job, not her practicum placement, but she says she's constantly learning — especially during the COVID-19 emergency. "The number of people looking for mental health services has definitely increased," she says, "and so has the pace of my work."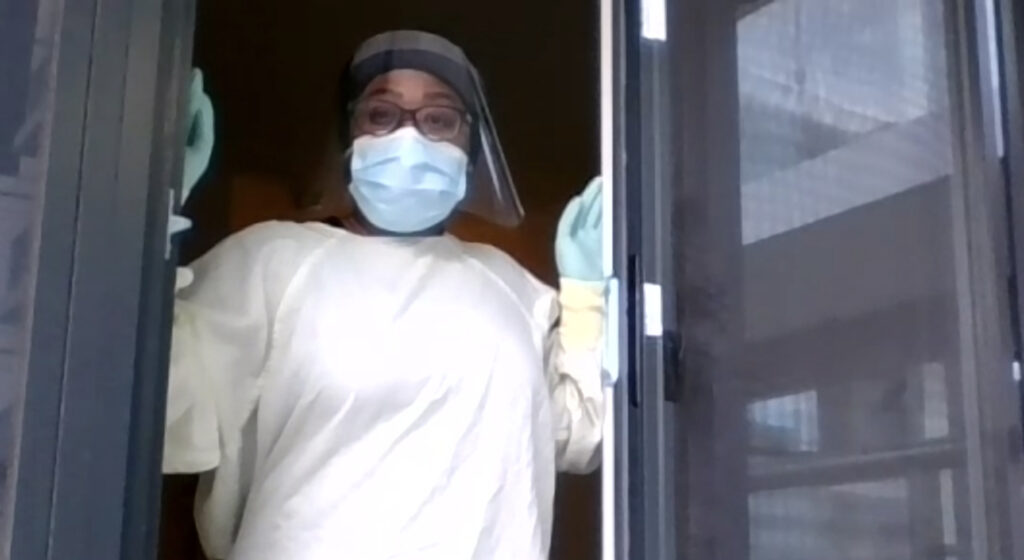 Above: Mariah Douglas poses in full PPE. Photo taken via Zoom. 
Many individuals with pre-existing mental illnesses are struggling extra hard these days, which comes as no surprise to her. But there's also a whole new cohort seeking help for the first time because they're experiencing symptoms of anxiety and depression as a result of social isolation, financial strain and other pandemic-related pressures. "We're seeing people in the emergency department who have never used the mental health-care system," she says. "They come here because they feel lost and don't know where to start."
Almost every part of Douglas's job has been changed or complicated by COVID-19, including how she supports clients waiting to see a doctor. Wearing full protective gear, for example, can inhibit relationship-building. "Safety trumps everything, of course," she says. "But it's challenging to connect with people in distress through the mask and face shield. And physical distancing prevents me from sitting near them on a chair to get down to their eye level."

Despite these barriers, Douglas says she still draws on the foundational skills she learned in her first year at the Factor-Inwentash Faculty of Social Work. Lessons from the Elements of Social Work Practice, a course taught by Professor Marion Bogo were particularly helpful. "I put theories like active listening into practice all the time to navigate difficult interactions."
There's one tough conversation she has every single night now: telling family members of emergency clients that they can't come into the hospital. CAMH, like other hospitals, currently has a strict no-visitor policy. "That's one of my hardest tasks because usually family involvement is integral to our approach to care."
When she's not working directly with clients, Douglas is constantly busy with new duties related to COVID-19, such as working in partnership with the cleaning and food staff to ensure the environment is sanitized frequently. "I have to admit, I haven't found my balance yet in all this," she says. "I'm very tired, and it's stressful." Even at home, there's the added strain of physically distancing herself from family members. "Still, I find comfort in knowing that I'm not alone. It's been incredibly rewarding to see how we've come together as frontline workers with one common goal – the wellbeing of the wider community."
Next year, Douglas will enter the Mental Health and Health field of study at FIFSW. And after graduation, she plans to continue to build her career in mental health care. Based on her current frontline experience, she says she's hopeful that the field will undergo a profound shift after the pandemic subsides. "Instead of the old idea that only vulnerable people and those without coping skills are at risk for mental health challenges, I hope there's a recognition that It can happen to anyone."
— by Megan Easton 
---
Related news: