A letter to our Spring 2023 graduates from Andria Allen, president of the FIFSW Alumni Association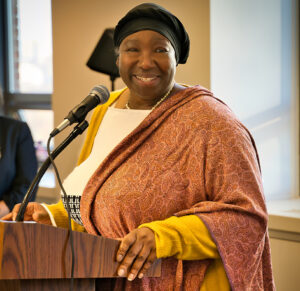 Dear Graduates,
On behalf of the FIFSW Alumni Association, I wish to congratulate you on reaching this important milestone. As graduates of the Factor-Inwentash Faculty of Social Work, you are now members of our Alumni Association, and it is my pleasure to welcome you to this prestigious group. Our alumni play an important role in our Faculty and in our communities in Toronto and around the world.
I would like to encourage you to continue to engage with your fellow alumni and the Faculty after graduation by participating in our Association. On Monday, June 19, for example, the FIFSW Alumni Association will hold its Annual General Meeting and will be welcoming nominations to join the Association Board. This meeting will also feature a presentation from Associate Professor Rupaleem Bhuyan on the impact of epistemic ignorance on the family policing of racialized immigrants in Canada. We hope that you can join us.
There are many exciting ways to stay connected to the Faculty and the University, whether it's mentoring a student, becoming a field instructor or playing an active role in the Alumni Association. As active alumni, you also have the ability to make a positive impact on this Faculty through feedback, support, mentorship and participation in FIFSW activities.
As connected alumni you will benefit from networking with colleagues and peers, and from staying informed of the latest news and developments in research and practice within our profession. The University of Toronto offers a number of additional benefits for alumni as well, including a discount on courses at the School of Continuing Studies (SCS) within five years of graduation.
Further information on U of T's alumni benefits can be found online here.
We urge you to stay involved and look forward to your continued connection with FIFSW and the Alumni Association. Congratulations again on all that you have achieved!
Andria Allen, MSW, RSW President, Alumni Association