A historic turning point: Thanks to your efforts, a Canada-wide Early Learning and Child Care system has received support in this year's federal budget
Categories:
Ramona Alaggia
This week, the federal government announced new investments totaling $30 billion over 5 years to support an affordable child care system in Canada. It has also committed to investing $8.3 billion, ongoing, for Early Learning and Child Care and Indigenous Early Learning and Child Care.
This welcome news comes on the heels of the Factor-Inwentash Faculty of Social Work's campaign, in partnership with alumna Margaret McCain, to advocate for a universal Canada-wide Early Learning and Child Care system.
We would like to give a whole hearted thank you to everyone who participated in reaching out to federal representatives in support of this initiative. We heard from so many of you — students, faculty members, alumni, and social work scholars and professionals — who wrote letters advocating for a Canada-wide system.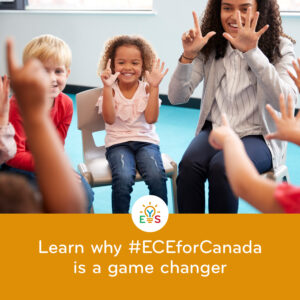 "I am convinced this is both a unique and once-in-a generation opportunity to make a real and measurable difference in the lives of Canadian families," says the Honourable Margaret Norrie MCain, an alumna of the Factor-Inwentash Faculty and author of the Early Years Study.
"Increased funding for Canada-wide early learning and child care with a focus on quality will help address the aggravated levels of inequality that have particularly pushed the burdens of COVID-19 onto low-income families."
Social work researchers, practitioners and students are acutely aware of the immense benefits that a universal early learning and child care system will have on society.
"The decision to fund a universal child care system to support the formative early years of a child's development is what will make a profound difference in the health and mental health well-being of children going forward-especially in the wake of COVID-19," says Professor Ramona Alaggia, who holds the Margaret & Wallace McCain Family Chair in Child & Family at the Factor-Inwentash Faculty of Social Work. ​
"Supporting all families through equitable delivery of high quality, affordable child care under this universal system will ensure that no child will be left behind. Providing resilient environments and communities are key to raising resilient children."
"We, and generations to come, will mark this as the day Canada addressed one of its major challenges and took the opportunity to ensure success now and in the future," said McCain.
Read more via the links below about the federal budget and the government's commitment to fund affordable early learning and child care.
---
Learn more about recently announced support for Early Learning and Child Care
Government of Canada
Budget 2021: A Canada-wide Early Learning and Child Care Plan
Media
Liberals promise $30B over 5 years to create national child-care system
Liberals promise $10-a-day child care with a federal budget that looks beyond the pandemic
'People were in tears': Jubilation among child care advocates turns to focus on the work ahead
Ottawa promised $10-a-day child care in the 2021 federal budget. How would that work? A guide
Federal budget 2021: Ottawa proposes establishing national child-care program
Federal budget 2021: 7 actions to ensure Canada's 'child-care plan' is about education