Dean Dexter Voisin speaks to CTV News about the higher rate of COVID-19-related infections and deaths among Black Americans
Categories: Dexter Voisin, Faculty

CTV News interviewed Professor Dexter Voisin, Dean of the Factor-Inwentash Faculty of Social Work, about the structural inequalities that have contributed to an increased vulnerability to COVID-19 among Black Americans.

Homelessness, lack of education, lack of access to healthcare, and race-related stress are examples of some of the things that may lead to higher rates of infection and death, he says.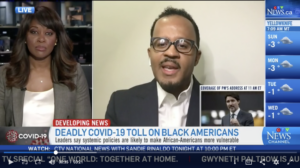 In the U.S. it has been found that Black individuals are contracting COVID at a higher rate than the rest of the population and represent a disproportionate number of COVID mortalities. The same is likely true in Canada.
"Data tells us that although all individuals are susceptible to COVID-19, not all are affected in the same way," says Voisin. He argues that it is important to collect data that is aggregated by race, place, and class.
Voisin recently participated in an Instagram Live talk with Associate Professor Tanya Sharpe about structural inequalities that affect people's experiences of the global COVID-19 pandemic. The full interview is now also available on The CRIB's website.
---
Related news: