New online series presented by The CRIB explores the impact of COVID-19 on vulnerable populations
Categories:
Tanya Sharpe
On Wednesday, April 15, The Centre for Research and Innovation for Black Survivors of Homicide Victims (The CRIB) launches 30@8:30 — a weekly, 7-part series of Instagram Live talks focused on COVID-19's impact on vulnerable populations throughout our global community.
Each week, host Dr. Tanya L. Sharpe — Associate Professor at the Factor-Inwentash Faculty of Social Work and Founder and Director of The CRIB — will engage leading scholars, community leaders, and social work professionals in a 30-minute dialogue that explores how the current global pandemic is affecting vulnerable populations— and how we can ensure that we are responding to their needs.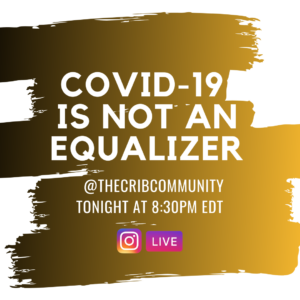 Topics will include the relationship between COVID-19 and structural violence, traumatic stress and grief, gun violence, the impact on the incarcerated, and the erasure of our healthcare system.
Six dialogues will take place on Instagram Live. The seventh and final episode, on May 27th, will bring all featured guest speakers together via Zoom for an interactive Q&A. A complete list of guest speakers will be announced soon.
How to watch 30@8:30: The Impact of COVID-19 on Vulnerable Communities:
Follow @thecribcommunity on Instagram
Tune into @thecribcommunity on Instagram Live every Wednesday at 8:30pm starting April 15th
The final event in the series will take place on May 27th on Zoom. (We'll be sharing the link on this page and in the FIFSW event calendar soon.)
Each episode will also be recorded and shared at a later date on The CRIB's website.
Tune in to @thecribcommunity on Instagram Live at 8:30pm on April 8th for an introduction to "30@8:30: The Impact of COVID-19 on Vulnerable Populations" presented by Dr. Sharpe.