Islamic Heritage Month 2023
Categories: Alumni + Friends, Faculty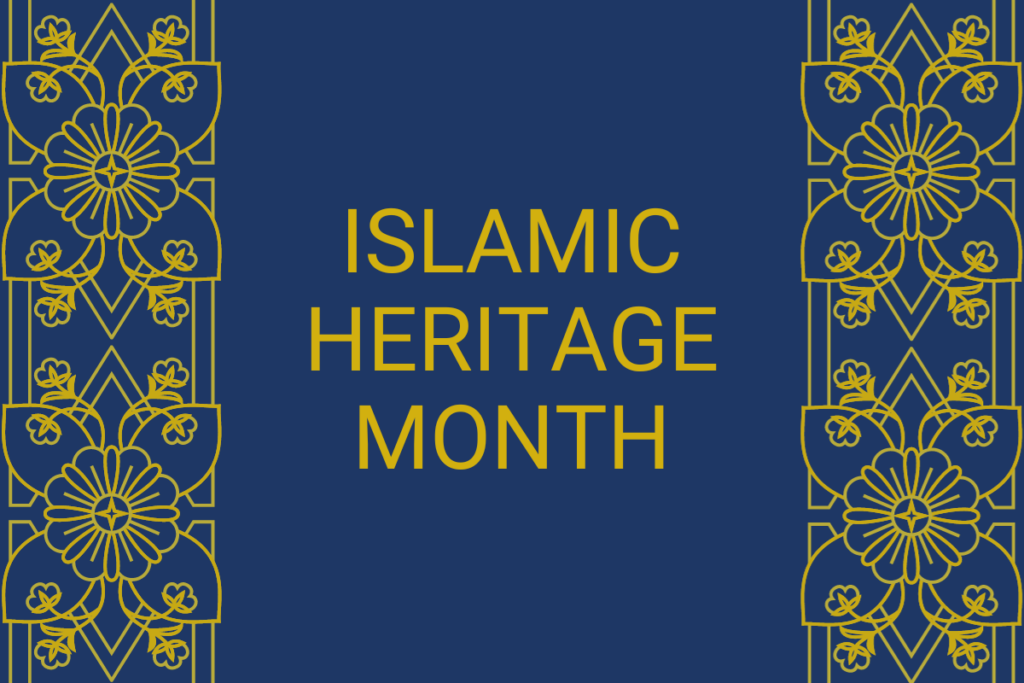 The Parliament of Canada proclaimed October Canadian Islamic History Month in 2007 in recognition of significant contributions Muslims  have made to Canadian society. Islamic Heritage Month is a time to reflect, celebrate, learn, and appreciate the diversity within Canada's Muslim communities. From poetry, film, and the arts to spiritual and philosophical knowledge, Muslims continue to enrich the multicultural social fabric  around the world and in Canada. 
The IHMC Theme for 2023 is Celebrating Muslim Women in the Arts & Sciences. 
Learn more via the Islamic History Month Canada website. 
---
GOVERNMENT STATEMENT
Statement by Minister Khera on Canadian Islamic History Month Celebrating Muslim Women in the Arts & Sciences
OTTAWA, October 1, 2023 — Today marks the beginning of Canadian Islamic History Month, and for the very first time, we are celebrating it with the support of Amira Elghawaby, Canada's first Special Representative on Combatting Islamophobia. 
Muslim communities have played a significant role in shaping the Canada we know today. In the first official census in 1871, there were about ten Muslims in the country. Today, nearly 5 percent of the Canadian population is Muslim, representing a diverse range of backgrounds and origins from every continent. 
Read the Minister Khera's full statement.
---
FIFSW STUDENT EVENT
Addressing Islamophobia, Anti-Muslim rhetoric and the Social Service Needs of Muslim's Living in Ontario
October 17, 2023
12:15 to 1:15pm
Speakers: Amina Hussain and Emad Alarashi
Further details will be shared with students in the MSW student digest
Amina Hussain is clinical supervisor, course instructor, and doctoral candidate at the University of Toronto and the current president of the Muslim Human Service Alliance. Amina previously worked as a clinical supervisor at a Muslim mental health agency in the GTA. She has also worked at CAMH, Ontario Shores, Women's College Hospital, Baycrest, and is currently a clinical supervisor at the Talk It Out Clinic at the FIFSW. She actively mentors MSW students providing culturally inclusive, AOP based, and trauma informed care. She grounds her work in evidence-based research and has 23 publications related to improving social work practice, particularly with diverse communities.
Emad Alarashi is a Registered Social Worker with a Masters of Social Work degree from University of Toronto's Factor-Inwentash Faculty of Social Work where he specialized in Human Services Management and Leadership. Emad has ten years of experience working with diverse communities including those who identify as racialized, visible minority, newcomers, and marginalized populations within the GTA. Emad is currently employed with the City of Toronto's Community Safety & Wellbeing Unit overseeing City-funded partner agencies providing the Community Violence Wellbeing & Recovery Project — a trauma informed counselling, case management, and holistic community healing approach to residents impacted directly and indirectly with violence. Emad is also employed as a Clinician and Community Outreach Manager with Khalil Center, a psychological and spiritual community wellness center advancing the professional practice of psychology rooted in Islamic principles. As a Constituency Council member with the Center for Addiction and Mental Health (CAMH) Emad supports the exploration of the impacts of addiction and mental health on Muslim populations. Emad also sits as a board member of Ansaar Foundation.
---
U OF T EVENT
Critical Conversations on Islamophobia: Higher Education, Sports and Society
Tuesday, October 31
8:15am – 1:00pm EST
All faculty, staff, librarians and students at the University of Toronto are invited to attend this conference.
Learn more and register.
Informed by anti-racist and inclusive pedagogies, the event will address the intersectionality of the Muslim experience in higher education, industry, sports and society, to increase knowledge and awareness of systemic forms of discrimination and challenging biases. The panel will be followed by roundtable discussions on the multifaceted ways that anti-muslim racism can be countered to create a more inclusive space. The dynamic panel discussion will be moderated by Dr. Suleyman Dost, Assistant Professor of Late Antiquity and Early Islam.
Panelists:
Dr. Jasmin Zine, Professor of Sociology and Religion and Culture, Wilfrid Laurier University
Mohammed Hashim, Executive Director, Canadian Race Relations Foundation
Shireen Ahmed, Sports Journalist and advocate
---
FIFSW COMMUNITY
Learn how members of the Factor-Inwentash Faculty of Social Work are working to strengthen social work's capacity to provide culturally informed care for Muslim individuals, families and communities.
Social work students inspire much needed research on the social services needs of Ontario's Muslim population
A collaborative research project initiated by FIFSW students is filling a gaping hole in social work research on the social service needs of Ontario's Muslim population. Supported by a Social Sciences and Humanities Research Council (SSHRC) Partnership Development Grant, the study will help social workers better understand the barriers Muslim people face in accessing culturally appropriate support. The research will ultimately inform recommendations on how to improve services for this diverse population. 
Alumna Sajedeh Zahraei is leading efforts to improve mental health support for immigrant, refugee and racialized women
Sajedeh Zahraei is a leader in efforts to improve mental health support for immigrant, refugee and racialized populations, with a particular focus on BIPOC women. Her research has also investigated the silence and complicity that can occur in social work around structural violence, racism, and Islamophobia. In 2017, she took on a senior role at the Ontario Council of Agencies Serving Immigrants, where she is leading several projects addressing mental health, gender-based violence, and 2SLGBTQ issues. She launched her own part-time psychotherapy practice – Saleemeh Wellness Centre for Women – for immigrant, refugee and racialized women in 2021. 
Practicum partner spotlight: Q&A with Dr. Taaha Muhammad, Counselling Lead, Naseeha
Founded over 15 years ago, Naseeha provides counselling services seven days a week to individuals from Muslim communities and non-Muslim communities through a confidential helpline. It also works with communities to provide them with the tools they need to address mental health. The organization's efforts include educational programs and advocacy to raise awareness around the stigma associated with mental health. We spoke to Naseeha's Counselling Lead, Dr. Taaha Muhammad, to learn more about the agency, the practicum opportunities it offers Master of Social Work students, and how social workers can better serve Muslim populations. 
---
RESOURCES
The following resources were shared by Amina Hussain and Emad Alarashi as part of their October 17th talk for students on "Addressing Islamophobia, Anti-Muslim rhetoric and the Social Service Needs of Muslim's Living in Ontario."
ICNA Sisters Canada: Islamic History Month resources
Islamic Circle of North America (ICNA) Sisters Canada website includes informational posters, videos and PDF resources for Islamic History Month.
'Islamophobia is' Video Series
Using short, engaging and linguistically-accessible animated videos, this five-part series brings academic knowledge and analysis on normalized Islamophobia to mainstream audiences.
The Canadian Islamophobia Industry: Mapping Islamophobia's Ecosystem in the Great White North
This report — published in 2022 by Jasmin Zine, the Islamophobia Research & Documentation Project and Islamophobia Studies Center in Berkeley, California — shares the results of a study that mapped the political, ideological, institutional, and economic networks, strategies and discourses that foment Islamophobic fear and moral panic in Canada.
Book recommendations
The Ottawa Public Library book together a book list in honour of Islamic Heritage Month.
Under Siege: Islamophobia and the 9/11 Generation
Published in 2022, this book by Jasmin Zine explores the lives of Canadian Muslim youth belonging to the 9/11 generation as they navigate these fraught times of global war and terror. Twenty years after the 9/11 attacks, Zine reveals how the global war on terror and heightened anti-Muslim racism have affected a generation of Canadians who were socialized into a world where their faith and identity are under siege.
---
Did you know? January 29 marks the National Day of Remembrance of the Québec City Mosque Attack and Action Against Islamophobia. The Day of Remembrance was established to remember and honour the sons, brothers, fathers, husbands, and community members senselessly killed and to actively oppose the myriad ways, both blatant and subtle, that Islamophobia expresses itself in our public and private lives. Read U of T's 20223 statement and list of tri-campus supports.
---
Do you have a resource or event related to Islamic Heritage Month that you would like to share? Email dale.duncan@utoronto.ca.