From clinical social work to organizational and systems-level change: How alumna Sajedeh Zahraei is leading efforts to improve mental health support for immigrant, refugee and racialized women
Categories: Alumni + Friends, Leadership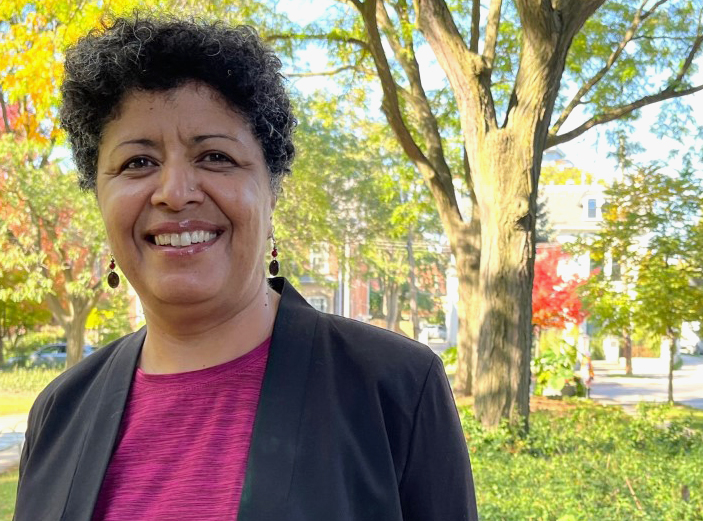 When Sajedeh Zahraei arrived in Canada as a refugee claimant from Iran via Kuwait at 19 years old, she carried the trauma of war and violence in her home country. But life in Canada brought different stresses, from racism and racial profiling to a lack of culturally appropriate services. Like many others in her situation, she struggled with systemic barriers and policies that impacted her mental health. Today, more than 30 years later, Zahraei is a leader in efforts to improve mental health support for immigrant, refugee and racialized populations, with a particular focus on BIPOC women.
"I or my family members experienced a lot of the challenges I've tried to address over my career," says Zahraei, a graduate of both the master's and doctoral programs at U of T's Factor-Inwentash Faculty of Social Work. "I was in limbo for six years waiting for permanent resident status, for example, something that's hard to describe if you haven't lived it." She knew that she wanted to combine this firsthand knowledge with her social work expertise to help bridge the gap in mental health resources for other newcomers.
Zahraei's contributions in this area are wide-ranging. While her roots are in clinical social work, she shifted to organizational change, community development and systems-level work to address institutional and structural barriers.
"These avenues allowed me to pursue what has always been my main interest: the intersection of immigration policy, mental health, gender, culture and race," she says. "Immigrants confronting the cumulative effects of systemic racism — along with barriers to education, employment and adequate housing — develop mental health issues. Then cultural stigma around mental health and lack of culturally appropriate supports can add an extra layer of complexity."
At the Centre for Addiction and Mental Health, where she spent 18 years, Zahraei was a key player in health equity and system level initiatives to make services more accessible to immigrant and racialized communities. Despite some real progress, however, the same problems persisted.
"Decades after my time as a refugee claimant, I was still seeing people confront the difficulties I dealt with," she says, pointing to things like a loss of social support, financial strain, systemic racism, and cultural and language barriers.
To gain a deeper understanding of these problems, Zahraei decided to return to U of T for a PhD in social work. Her doctoral research focused on the impact that the "war on terror" had on Iraqi refugee women who came to Canada after the 2003 U.S. invasion of Iraq. "I wanted to see how the 'war on terror' following 9/11 impacted these women's experiences in Canada. I also wanted to challenge historical stereotypes and prevailing beliefs about Arab Muslim women that were used to justify the invasion," says Zahraei.
Her research involved tracing the historical roots of Western interventions in Iraq and analyzing Canada's immigration and anti-terrorism policies to understand Iraqi women's experiences of the trauma of the "war on terror". She also interviewed Iraqi refugee women and the service providers who worked with them to understand their experiences in Canada and how trauma manifested in their lives. Rather than viewing the invasion as a single traumatic event, she showed how the women continued to experience trauma and social exclusion in Canada due to structural violence, systemic racism, and Islamphobic policies.
"In interviewing them, I found that Islamophobic policy, racial profiling and other forms of structural violence also inflicted trauma," says Zahraei. "This challenged the tradition of separating immigrants' pre-migration histories of war, violence and trauma from what happens after they arrive. I was redefining trauma as a continuity and intersection of women's lives before and after they came to Canada."
Zahraei's research also investigated the silence and complicity that can occur in social work around structural violence, racism, and Islamophobia. "I found that some service providers held the same racist attitudes and prevailing stereotypes of the Iraqi refugee women that they were working with," she says. "This impeded their ability to understand their experiences and provide the appropriate support," she says.
Following her PhD, Zahraei directed her career to focus more exclusively on mental health promotion, community-level interventions, cross-sectoral collaboration and advocacy. In 2017, she took on a senior role at the Ontario Council of Agencies Serving Immigrants, where she is leading several projects addressing mental health, gender-based violence, and 2SLGBTQ issues.
Her first major project aimed to expand the capacity of organizations serving immigrants and refugees to promote mental health. While these organizations' mandates generally don't include mental health support, in providing resources in areas such as housing and employment, they frequently confront clients' complex mental health concerns. Zahraei's project involved developing Mental Health Promotion Guidelines for the sector and supporting agencies in implementing them.
Zahraei and her team also developed a new, holistic model for integrated mental health service delivery for immigrant and refugee serving organizations.
"We start with comprehensive organizational assessments in partnership with the agencies to get a sense of what they currently have in place. We then work with them over a period of six months to strengthen their collaborations with the primary health and mental health sectors, and finally develop policies and protocols around mental health promotion and trauma- and violence-informed approaches," she says. "It's a holistic, organizational change model with a long-term vision, rather than giving agencies a workshop over a couple of days." The project has also involved the development of Trauma and Violence Informed Guidelines and a number of capacity building activities to support their implementation.
The model doesn't just address client mental health, but agency staff mental health and wellbeing. The new mental health promotion model provides comprehensive training in skills such as Mental Health First Aid and hands-on support in establishing wellness initiative for frontline staff.
"It's important to recognize that frontline workers are often recent immigrants themselves," she says. "They could be facing some of the same challenges as their clients."
But that shared struggle is also a strength, says Zahraei, who launched her own part-time psychotherapy practice – Saleemeh Wellness Centre for Women – for immigrant, refugee and racialized women in 2021.
"I've been thinking about doing this off and on throughout my career because I have something unique to offer. I'm bringing together my personal experience, my commitment and passion, and a perspective that comes from social work at the clinical, community and systems level," says Zahraei. "There's also such a limited number of BIPOC therapists that can address issues from the different intersections of immigration, culture, race and language. My clients can just reference a period in time or a political event, and I understand the context and the kind of pain they're feeling." She cites the current uprising in Iran sparked by the case of Mahsa Amini as an example of the interconnections between immigrants' lives in Canada and back home, and the mental health impacts on their transnational identities.
"When women have to tell their stories over and over to social workers, nurses or other mental health service providers who don't have any personal experience or knowledge of those impacts, everything is more difficult for them," she says. For clients at her centre, however, there's instant common ground. "They don't have to explain a lot of things. Each of our experiences is individual, but there's always some shared history and cultural understanding."
By Megan Easton
---
Related: