Shannon Brown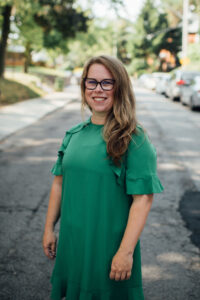 Shannon Brown is a first year PhD. Student at the Factor-Inwentash Faculty of Social Work.  In 2018 Shannon received her MA in Child and Youth Care from Ryerson University.  She also holds a Child & Youth Worker Diploma from Humber college and a Bachelor of Arts in Criminology from the University of Toronto.
Shannon's research explores the ways that young people experience social media and technology.  Her Masters research, titled Exploring Opportunity and Risk in the Self Production of Sexual Images: An Adolescent Relational Perspective looked at the many relational experiences that young people seek when they create intimate content.  Her doctoral research is interested in how young people experience socially immersive virtual reality and the perils and possibilities that this technology may have on child development. Shannon is currently a TA for the course Online Relational Child and Youth Care Practice in the Master of Child and Youth Care program at Ryerson University.
Over the last several years, Shannon has coordinated several research projects including : A Way Forward: Supporting Young Victims of Human Trafficking (Ministry of Children, Community and Social Services, Ryerson & Boost CYAC); Sole Expression: A Trauma-Informed Dance Intervention (PHAC, Ryerson and Boost CYAC); Gap Analysis for Victims and Survivors of Online Child Sexual Exploitation in Canada (Department of Justice Canada and Ryerson);  and Evaluating the Impact of the ICE Counselling Program in Ontario (Department of Justice Canada and Ryerson).  Additionally, she has been a Research Assistant on Child Sexual Abuse Images Online: Identifying and Addressing Knowledge Gaps & Multilevel Barriers to Cross-Sectoral Responses (SSHRC and Ryerson); and the International and Canadian Child Rights Partnership (ICCRP) (SSHRC and Ryerson).