Jordanne Amos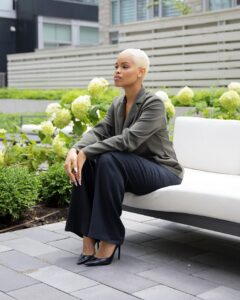 Jordanne Amos is a doctoral student at the Factor – Inwentash Faculty of Social Work. Jordanne's research focuses on exploring the impact of anti-Black and anti-Indigenous racism in the provision of child welfare services for the Black and Inuit population residing in the Canadian Arctic. Jordanne's doctoral research is rooted in feminist Afro-Caribbean and Afro-Indigenous epistemologies with a specific focus on the transnationalism and migration experience of the Black diaspora to the Canadian Arctic. Jordanne's research explores how the Black experience is commoditized on majority Indigenous territories and impacts the provision of culturally relevant child welfare services.
Jordanne holds a Masters of Social Work (MSW) degree from the University of Toronto and a Honours Bachelor of Science (H. BSc) degree in Neuroscience and Mental Health from the University of Toronto. She has had the opportunity to work as a Registered Social Worker for the ICU and Acute Medical Unit for Lakeridge Health Hospital and as a Crisis Intervention Counsellor for Herizon House (a domestic violence shelter for women and children). She also has over four years' experience working alongside the Inuit community in the Canadian Arctic of Nunavut as a Child Protection Worker, Family Violence Project Officer, Correctional Caseworker, and COVID19 Isolation Hub Project Manager. Her most recent work experience was focused on managing a family wellness and counselling team for a Toronto non-profit whose aim was to provide free counselling services for the Black and racialized community in Toronto.
Jordanne's areas of research interest are: child welfare, Black transnationalism, Afro-Indigenous epistemology, Afro-Caribbean feminist theories, Indigenous pedagogy, and the Canadian Arctic. Jordanne is currently engaged in academic research with the Youth Wellness Lab's "Racial Disparities Mapping Project" and the Making Spaces Lab's "African Caribbean and Black Families Family Group Conferencing Project". Both research projects focus on supporting Black, Indigenous, and racialized families at risk or involved in the child welfare system.